All Creatures of the Sea': Fish in Bible and Emblem Books
Bible Illustrations — Fish are frequently mentioned in the Holy Scriptures. Well-known Old Testament references to fish include God's creation of 'all creatures of the sea' on the Fifth Day of the First Week, the sea monster Leviathan, and the large fish.
The Leiden Arts in Society Blog is dedicating a week to fishes and to the exhibition Fish & Fiction which is currently on view at the Leiden University Library. The exhibition is a collaboration between the library and the LUCAS project A New History of Fishes. A long-term approach to fishes in science and culture, 1550-1880. The researchers of this project published a catalogue providing a theoretical background, from which we share content this week. The catalogue: Fish & Fiction. Aquatic Animals between Science and Imagination (1500–1900) can be purchased at the reception desk of the Leiden University Library.
The were sent by God, which swallowed, and regurgitated, the Prophet Jonah. The New Testament tells us the tales of the Miraculous Catch of Fish and the Miraculous Multiplication of Bread and Fish. Because the Bible gives no precise description of the fish in question, it was up to the artist to implement, at his sole discretion, the depiction of the fish motif. Therefore, Biblical paintings often say more about the artists or the intended audience than about the Bible text itself. Thus, while depicting the Miraculous Catch of Fish, the baroque painter Peter Paul Rubens (1577–1640) shows that he was more interested in the dramatic rendering of the astonished fishermen – the future apostles – than in the true-to-life representation of the caught fish (1.1). Likewise, in his two-part depiction of the story of Jonah (1.2 and 1.3), the painter Dirck Barendsz (1534–1592) didn't opt for a realistic rendering of the giant fish, but was probably inspired by the stylised fish, dolphins and sea monsters that populate the ornamental fountain sculptures of the Renaissance.
1.1 | Pieter Soutman after Peter Paul Rubens, The Miraculous Catch of Fish, s.l., s.d. [PK-P-111.573] — This engraving was made after a painting by Rubens from ca. 1610, now in the Wallraf-Richartz-Museum and Foundation Croboud at Cologne. See https:// www.bildindex.de/document/obj05011392
1.2 | Johannes Sadeler after Dirk Barendsz, Jonah is thrown overboard, and swallowed by a large fish, s.l., s.d. [PK-P-120.566]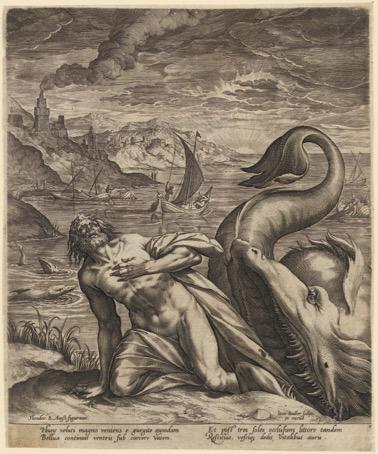 1.3 | Johannes Sadeler after Dirk Barendsz, The fish regurgitates Jonah onto dry land, s.l., s.d. [PK-P-120.567]
This was not the case for the Antwerp painter Maerten de Vos (1532–1603) in his detailed rendering of the Creation (1.4). Like his colleagues Joris Hoefnagel, Jan Brueghel the Elder, and Roeland Savery, De Vos aimed to give a pictorial 'up-dating' of the knowledge about Nature around 1600. De Vos's blowfish, sawfish and sea turtles featured regularly in contemporary cabinets of curiosities (see chapter 3). His other animals were inspired by the illustrations from some authoritative natural history works of that time, such as the Historia piscium (1558) by the Swiss scholar and physician Conrad Gessner, and the cosmographic works by Olaus Magnus on the subject of unknown Scandinavia, haunted by fearful marine monsters. Another source were the popular print series on fish and other animals executed by several Flemish artists who had specialised in animal printmaking, such as Abraham de Bruyn, Nicolaes de Bruyn (3.3), Marcus Gheeraerts de Oude, and Adriaen Collaert – series reissued until far into the seventeenth century. But not everything in De Vos's engraving expresses scientific topicality: we also see traditional elements: the represented whale is not dissimilar to Dirck Barendsz's classical giant fish, and the depicted griffin originates from a long classical and medieval tradition.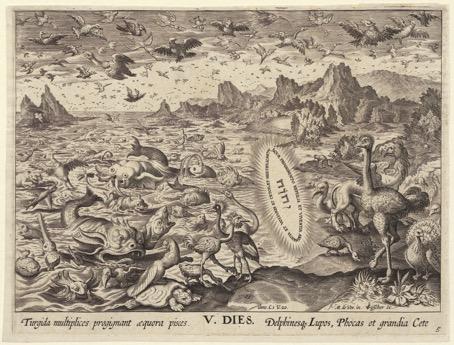 1.4 | Johannes Sadeler after Maerten de Vos, The Fifth Day of the Creation, s.l., C.J. Visscher, s.d. [UL PK-P-120.521] — Claes Jansz Visscher removed the depiction of the Divine Creator from Sadeler's original copper plate, and replaced it by a tetragrammaton (God's name in Hebrew characters), in accordance to Calvinist ideology. One notes the remarkable attention to element-crossing animals: next to the 'normal' swimming fish and flying birds, flying fish are seen, as well as aquatic and terrestrial birds, an aquatic mammal (beaver) and a marine reptile (sea turtle).
Emblem Books — Just like contemporary Biblical illustrations and paintings, the popular genre of the emblem book offers a good impression of the various ways in which fish were seen in the Early Modern Period. In the bi-medial genre of the emblem, word and image are joined together to make a three parted unite, consisting of a motto (often in the form of a proverb), a pictura (illustration) and a subscriptio (usually in the form of an epigram). Animals, including the aquatic fauna, are recurrent in emblem books. They were derived from classical mythology and natural history (especially Pliny the Elder's Historia naturalis) and from daily life as well, where fish and fishery were most common.
In the world's first emblem book, the Emblematum liber (1538), composed by the Italian scholar Andrea Alciato (1492–1550), numerous aquatic animals are addressed: remora, eel, moray eel, sea bream, oyster, crayfish, and several other aquatic creatures. One of Alciato's best-known aquatic animals is the dolphin curled around an anchor (1.5). This emblem is inspired by the printer's mark of the Venetian printer Aldus Manutius, expressing the Latin adage Festina lente (Hasten slowly – the dolphin symbolising urgency and vigour, the anchor diligence and thoughtfulness). It was to this adage that Erasmus devoted one of his most read Adagia, published by the same Manutius. Another example of Alciato's aquatic fauna can be found in the two consecutive emblems on marine creatures (1.6): the first one tells the fable about a rat wanting to eat an oyster, found on the shoreline (the rat must pay for his gluttony with death, for he is caught by the oyster); the other refers to the mythological tale of Phrixus and the Golden Fleece. The epigram (in translation) reads:
1.5 | 'Princeps subditorum incolumitatem procurans' (The Prince caring for the safety of his subjects). In: Andrea Alciato, Emblematum […] libri II, Antwerp, C. Plantin, 1565, p. 35. [764 G 5:1] — The epigram varies significantly from the traditional adage and motto Festina lente. It reads: 'Whenever the brothers of Titan race churn up the seas, then the dropped anchor aids the wretched sailors. The dolphin that cares for man wraps itself round the anchor so that it may grip more securely at the bottom of the sea. – How appropriate it is for kings to bear this symbol, mindful that what the anchor is to sailors, they are to their people.' (transl. Glasgow Emblem Project).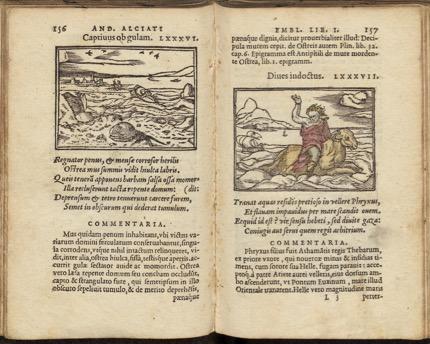 1.6 | 'Captivus ob gulam' (Caught by greed) and 'Dives indoctus' (The stupid rich man). In: Andrea Alciato, Emblematum […] libri II, Antwerp, C. Plantin, 1565, p. 156-157. [764 G 5:1]
Phrixus traverses the waters astride the precious fleece and fearlessly rides the golden sheep across the sea. - Whatever can this be? - A man dull of sense, but with rich coffers, whom the whim of wife or servant rules. (transl. Glasgow Emblem Project)
For the Dutch, fish and fishing were first and foremost essential in their daily life. This can be seen in the emblem books by 'father' Jacob Cats (1577–1660) and Roemer Visscher (1547–1620), the two most popular Dutch emblematists. Whereas Cats's emblem Kunst voor kracht (Art above strength; Who is not strong must be clever) alludes to the Dutch practice of whaling (1.7), his emblem Groote visschen scheuren 't net (Big fish tear up the net) is taken from the daily practice of inland fishing (1.8).
1.7 | J. Swelinck after A. van der Venne, 'Kunst voor kracht' (Art above power). In: Jacob Cats, Proteus ofte mine-beelden verandert in sinne-beelden […], Rotterdam, P. van Waesberge, 1627, p. 14. [1018 B 5] — Copperplate illustration by J. Swelinck after A. van der Venne, and coloured by F.H. vander Ley. The emblem's motto learns that, thanks to his ingenuity, man is able to overpower brute Nature.
1.8 | 'Grootte visschen scheuren 't net' (Big fish tear up the net). In: Jacob Cats, Groote Spiegel van den ouden ende nieuwe tijdt, The Hague, I. Burghoorn, 1632, p. 60-61. [1018 B 3] — This copy contains manuscript notes and corrections by Cats himself. To the motto 'Big fish tear up the net', Cats adds: 'soo ghy daer niet op en let' (if you are not careful). This addition was incorporated into later editions of the book.
Fish symbolism in emblem books is extremely diverse. Indeed, fish can denote, positively, intelligence and force among many other virtues, and, negatively, vices such as gluttony, lust and stupidity. It is noteworthy that the deeply religious interpretation of fish as a symbol for Christ (Ichthus) is not thematised in emblem books. In his emblem Dom is driest (Stupid is malapert) (1.9) Roemer Visscher gives an example of negative fish symbolism, without, however, denying the animal's symbolic polyvalence – in paraphrase:
1.9 | 'Dom is driest' (Stupid is malapert). In: Roemer Visscher, Zinne-poppen; alle verciert met rijmen, en sommighe met proze, Amsterdam, S. Wybrants and A. Vinck, 1678 [first ed. 1614], p. 63. [1019 G 6: 1] — Fish symbolise stupidity and brutality, but Visscher underlines also the symbolic polyvalence of fish.
I would not dare say if this emblem does justice to nature. If it did, it would imply that all fish are stupid. I take the liberty to symbolise by the fish a brutal man, an old fashioned-boorish Hollander.
From an ichthyological perspective the most interesting emblem book is the fourth century (a century is a volume of hundred emblems) of the four-part emblem series Symbolorum et Emblematum centuriae quatuor by the German scholar and physician Joachim Camerarius the Younger (1534–1598). In these emblematic volumes, Camerarius's motto, illustration and epigram on the right hand page are completed by a very learned commentary on the opposing left hand page, often based on information from the zoological works of his Swiss colleague Conrad Gessner, and from several other works, ancient and contemporary. The fourth century of this series is almost exclusively devoted to fish and other aquatilia, Emblem XXVI of this century addresses the barbel
(1.10). Its motto Non illaudata senectus (A not unpraiseworthy old age) is taken from Ausonius's poem on fish (Mosella, 4th century AD), to which the epigram also alludes. Camerarius's illustration depicts a very recognizable barbel, with its typical whiskerlike organs at the corners of its mouth. Camerarius's barbel is copied from Gessner's illustration of this fish. Camerarius's commentary presents a page full of quotations on the advantages of old age, which, in the case of the barbel, implies that old barbels taste better than young ones.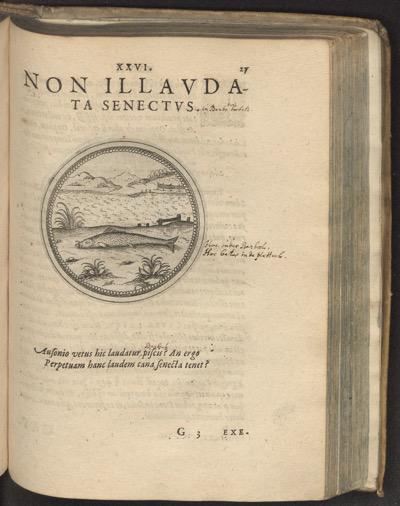 1.10 | Johann Siebmacher, 'Non illaudata senectus' (A not unpraiseworthy old age). In: Joachim Camerarius the Younger, Symbola et emblemata, book IV, Ex aquatilibus et reptilibus, Nuremberg, Gotthard and Philipp Vögelin, 1604, p. 27. [575 G 3] — This copy contains many manuscript notes and comments by several anony-mous readers. One of them adds to the motto: 'in Barbo bene barbato' (in a well-bearded barbel), and in Dutch to the illustration: 'Hoe ouder barbeels / Hoe beter in de platteels' (The elder the barbels / The better [they are] on the plate).
It is possible that Camerarius's emblematic centuries were inspired by the general sixteenth-century model of print series. Among these are the series by the above-mentioned Flemish animalists, such as Gheeraerts, and Collaert. In France, this printing tradition was continued by Albert Flamen (c. 1620-after 1669). His album of naturalist fish prints (1.11) is preceded by a frontispiece typical for this period (1.12). Within an ornamental frame formed by eels and two undefinable large fish, figures a realistic depiction of some fishing boats in action. Ichthyological and other zoological works from the seventeenth and eighteenth centuries are using similar combinations of classical ornament and zoological realism for their frontispieces.
1.11 | Albert Flamen, 'Halec, Le Harang' (Herring), Paris, s.n., 1664. [PK-P-114.923] — Albert Flamen was a Flemish engraver, working in France. He depicted common marine and freshwater fish in the naturalistic ('au naturel') tradition of Adriaen Collaert, mostly in the context of fishery. In doing so, he highlighted the importance of fish for the economy of France. Flamen's etchings were issued separately and in albums.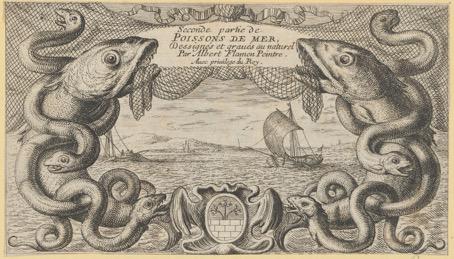 1.12 | Albert Flamen, Frontispiece of Seconde partie de poissons de mer, Paris, s.n., 1664. [PK-P-114.919] — In this title page illustration Flamen combines ornamental fish decoration with the depiction of the daily life reality of fish and fishing.
In his emblematic volumes Camerarius is also in line with the demand for print albums that were composed from the illustrations taken from the zoological works by Pierre Belon, Guillaume Rondelet, and Conrad Gessner. The publishers of these works sought to make money out of these illustrations by reissuing them in handsome volumes and thus focussing on a different readership. An example of this tendency is a booklet entitled De natura aquatilium carmen (1558), published by the Lyonnais printer Macé Bonhomme. In this work, all fish illustrations by Guillaume Rondelet are re-issued, and completed with Latin epigrams, written by the physician François Boussuet
(1.13). Boussuet's epigrams address the fish's culinary qualities, praising for instance the mackerel:
As mackerels begin to grow fat in the early spring, when the spring comes, they will be suitable for the gullet. Because they do not hurt the mouth, nor hit the throat with sharp bones, this dish is free from harmful bones. And they are praised for their sweet and pleasant taste in the month of April, only a fool rejects them. So if the cook serves them to me around that time, moderately roasted with butter, I will prefer them to all others. To everyone his own judgement, and may everyone decide for himself, but mackerel will always be a friend to me. (transl. Sophia Hendrikx)
1.13 | Two mackerel species. In: François Boussuet, De natura aquatilum carmen, Lyon, Macé Bonhomme, 1558, p. 78-79. [THYSIA 2185] — In this book, the printer Macé Bonhomme re-issued the woodcut illustrations from Guillaume Rondelet's Libri de piscibus marinis (1554). The physician François Boussuet wrote witty epigrams on the culinary qualities of the represented fish.
But, about the fish on the next page, the colias, a much rarer species, probably the Atlantic chub mackerel (Scomber colias), Boussuet notes wittingly:
The colias is inferior to the mackerel, because mackerel has more firm, fat and better meat. That's why no one is about to eat colias, when a soft abundance of mackerel is available.
Boussuet's fish book makes once again clear that the fish theme in emblem books and related works appealed to a very wide audience, from readers of father Cats to scholarly humanists, who did not refuse an appetising fish.
Further reading
Enenkel K.A.E. and P.J. Smith, 'Introduction: Emblems and the Natural World (ca. 1530–1700)'. In: K.A.E. Enenkel and P.J. Smith (eds.), Emblems and the Natural World, Leiden-Boston, Brill, p. 1-40.
Hendrikx S., 'Ichthyology and Emblematics in Conrad Gesner's Historia piscium and Joachim Camerarius the Younger's Symbola et Emblemata'. In: K.A.E. Enenkel and P.J. Smith (eds.), Emblems and the Natural World, Leiden-Boston, Brill, p. 184-226.
Jong E. de, 'De symboliek van vis, visser, visgerei en vangst'. In: L.M. Helmus (ed.), Vis. Stillevens van Hollandse en Vlaamse meesters 1550–1700, Utrecht, Centraal Museum 2004, p. 75-119.
Rikken M., Dieren verbeeld. Diervoorstellingen in tekeningen, prenten en schilderijen door kunstenaars uit de Zuidelijke Nederlanden tussen 1550 en 1630, Leiden, Doctoral thesis Leiden University, 2016.
© P. J. Smith and Leiden Arts in Society Blog, 2018. Unauthorised use and/or duplication of this material without express and written permission from this site's author and/or owner is strictly prohibited. Excerpts and links may be used, provided that full and clear credit is given to P. J. Smith and Leiden Arts in Society Blog with appropriate and specific direction to the original content.