A tribute to Ludovico Ariosto: Orlando furioso's legacy in pop culture
If you think that King Arthur is the only epic character who invaded pop culture, maybe you should read this post...
In Orlando furioso, Ariosto describes a very lively world full of knights and wizards in which the reader can resort to his/her own imagination. It has always been a major source of inspiration (for Vivaldi's operas or Ingres' paintings), and centuries after Ariosto's death, Orlando furioso is still inspiring multiple media, such as fantasy novels, comic books and even a movie adaptation...
Ariosto's new adventures in novels
Some writers are really fascinated by the epic world of Ariosto as they are trying to give it a second life in their own novel, and to draw near the universe of the Italian author. In the American novel The Castle of Iron written by L. Sprague de Camp and Fletcher Pratt, the hero Harold Shea - a psychologist traveling to several magical worlds which coexist with our own - discovers the Universe of Ariosto 's Orlando furioso.
The Castle of Iron cover (source: Wikipedia)
Chelsea Quinn Yarbro goes even further when she introduces Ariosto as a character in a uchrony: Ariosto furioso. The reader follows Ludovico Ariosto writing the sequel of Orlando furioso, which takes place in America. Soon enough, reality and the fantastic world meet each other.
The German author Walters Moers explores Ariosto's world in a different way. In A Wild Ride Through the Night, he tells the story of young Gustav Doré in an adventure to defy Death. Within one night, he faces many ordeals such as facing six giants and a dragon, rescuing a damsel in distress, traveling through a forest inhabited by evil spirits and encountering the Most Monstrous of all Monsters. The story is based on twelve engravings by Doré, including one inspired by Ariosto's canto 10 in which a giant sea monster appears.
Engraving by Gustave Doré which inspired Walter Moers for his novel (source: BnF)
The sword and the Balloon: Ariosto and Comic books
We can count several adaptations or inspirations taken from the Orlando furioso both in adult and children comic books such as Martin Mystère or Dylan Dog. In Ronscivalle, Martin Mystère investigates the legend of Orlando in Italy. This episode is a real tribute to Ariosto's masterpiece. For example, you can see Martin Mystère traveling in a parallel dimension which looks like the Moon in the Orlando furioso. In episode 270 of the adventure of Dylan Dog as well, the main character has a very strange dream in which he flies to the moon on the back of an hippogriff and finds a phial on the moon.
But the most surprising one is this adventure of Paperino (Donald Duck in English) written by Luciano Bottaro in 1966: "Paperin furioso". Paperino is traveling back in time, to the French medieval period at Charlemagne's court. It is part of a larger project of publication of parodies such as "Paperopoli liberata" inspired by Tasse's masterpiece "Gerusaleme liberata". "Paperino furioso" is subtitled with a lot of humor: "Poema poco cavalleresco", referring to the parodic tones of the comics, particularly in the episode of Orlando's fury. Some elements of the original story have been changed. There is a trip to the moon to find the phial to cure Paperino, but instead of his mind, the phial contains a potion for going back to present. Astolpho is now called Gastolpho and the majestic hippogriff became a machine made of iron and wood.
Paperino becoming mad (page 44, source : scribd)
Want to play a card game?
If you want to enjoy an Ariostean experience with some friends, you can try the playing cards: Orlando's War: lotta tra cavalieri, designed by Enrico Maria Giglioli, a researcher of Bologna University, in 2014 for the 540th anniversary of the birth of Ludovico Ariosto in Reggio Emilia.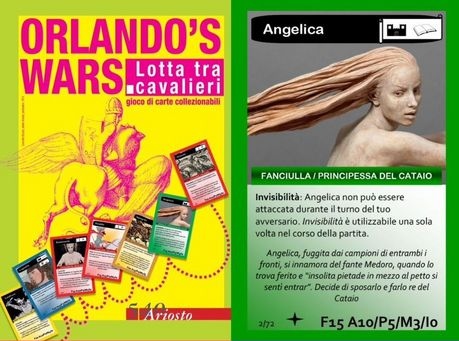 Card representing Angelica (source: gazetta di reggio]
It is a classical card battle game and the rules are really close to those you can find in the famous card game Magic: the Gathering. But here, it resorts to the features of each of Ariosto's characters. For example, the power on the card Angelica refers to the invisibility power she uses during an episode, thanks to a magical ring. Moreover, Giglioli illustrated the cards with artworks shown during the exhibition organized for Ariosto's anniversary: "L'Orlando furioso: incantamenti, passioni e follie. L'arte contemporanea legge l'Ariosto." You can find works of art by Vladimir Velickovic, Giuseppe Bergomi Aligi Sassu, Aldo Spoldi etc.
Angelica running away by Giuseppe Bergomi (source: pinterest)
Playing the cards could thus be a playful way to discover Ariosto's masterpiece and all the artistic creations inspired by his work.
Take one! Action!
Finally, after your playing card party, you will certainly want some rest and watch a movie.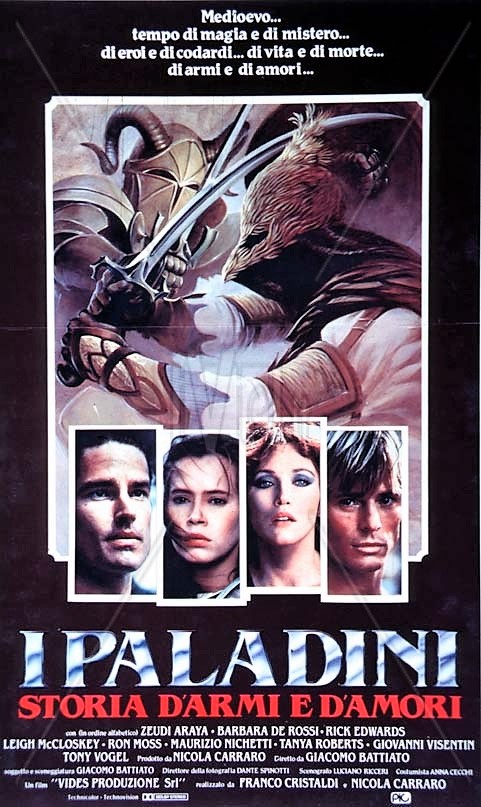 I Paladini's poster (source: italia-film)
I would recommend I Paladini, a sword and sorcery movie from the early eighties, a period that could be considered a golden age for this kind of movies (see Fire and Ice, The Beastmaster, Conan etc.). It is sometimes described as very similar to John Boorman's Excalibur, but whereas Excalibur follows quite Sir Thomas Mallory's Le Morte d'Arthur quite closely, I Paladini differs more from the original text. The director, Giacomo Battiato, uses some general elements of the original story and its main characters (e.g. the romance between Bradamante and Ruggiero, the war between Saracen and Christian people, the prophecy of Ruggiero's death) but there are some huge, unexplained differences with the book. How come that Roger's sister (Marfisa) become his fiancée? Also, Medoro disappeared and Angelica is still in love with Orlando. Even the great scene of Orlando's madness is quite disappointing; he just looks like an angry man, irritated because he cannot find his girlfriend. And after having killed a few Moors, he feels a lot better. Moreover, it is hard to get hooked by the story since there is an obvious lack of narrative. We do not really know the motivation of each character (except love and patriotism) and the movie just looks like a series of fight and love scenes.
Barbara De Rossi as Bradamante (source : usbd data)
But still, there are some great shots in this movie, (such as the view in the helmet ore some epic plans in great landscapes), and female characters are quite convincing thanks to the actress Barbara De Rossi (Bradamante) and Zeudi Araya Cristaldi (Marfisa).
Ariosto's masterpiece has nothing to be ashamed of in terms of popularity when compared to other major epic characters, such as King Arthur. Even if Orlando's legacy in pop culture it still mainly Italian (Dylan Dog, I Paladini…) several works prove that it also influenced foreign novelists such as L.Sprague de Camp, Fletcher Pratt or Walters Moers.
Further reading/watching
If you want to read Paperino's adventure : Paperin furioso
If you want to watch the movie : I Paladini
© Marion Bracq and Leiden Arts in Society Blog, 2017. Unauthorised use and/or duplication of this material without express and written permission from this site's author and/or owner is strictly prohibited. Excerpts and links may be used, provided that full and clear credit is given to Marion Bracq and Leiden Arts in Society Blog with appropriate and specific direction to the original content.