An American Dream
Looi van Kessel has just returned from a six-month research stay in the USA and talks about the value of conducting research abroad.
From November 2016 through April 2017 I spent some time in the United States to do research for my dissertation on the American author James Purdy. Of those six months, I spent four at Dartmouth College (Hanover, NH) and two at the Harry Ransom Center of the University of Texas at Austin. This blog post will be a brief account of the work I was doing while visiting the USA and the added value this trip has had for my dissertation.
Both: the Sanborn House, home to the English department, English Library and my office at Dartmouth.
Leg One: Dartmouth College
They say a change of scenery is good for you if you want to find new inspiration or creativity for your writing, and I couldn't agree more with this. The first leg of my grand tour through the USA brought me to Dartmouth College, which is a very exclusive Ivy League school. Because of its remoteness (just look up Hanover, NH) and elitist reputation (also look up its tuition fees), Dartmouth offered a much different work experience than Leiden University. This different environment, combined with the supervision of renowned professor of American Studies Donald Pease, proved to be an excellent background against which I could take my dissertation into new conceptual directions.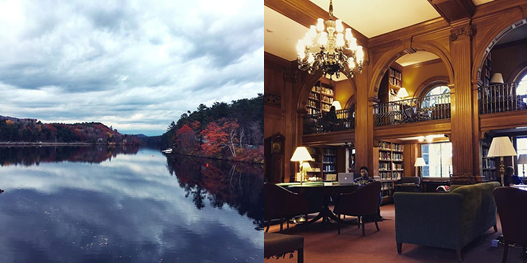 Left: the Connecticut River at Hanover, NH. Right: the Sanborn Library.
When you start writing your dissertation, your project might for the longest time feel like a collection of random thoughts and disparate objects that you might be able to tie together thematically, but which you cannot imagine to ever become a coherent whole. At least, that's how it felt for me. Writing about the ways in which Purdy undermines constructions of sexual identity in his work brought me to write about different novels, short stories and plays that on a thematic level did the exact same, but a dissertation becomes boring very easily if each chapter ends with the same conclusion—that Purdy's work tries to undermine constructions of sexual identity.
Left: steps at Yale University. Right: watching Dartmouth play basketball against Harvard (we lost).
Other Voices, Other Frames
It was because of the repeated discussions with my supervising professor at Dartmouth, someone who works in a different discipline than I do, that other questions started to surface. It occurred to me that these questions of sexual identity were always narrated against the backdrop of national identity-fantasies. I started to realize that in his work Purdy not only ponders over the ways in which national identity-fantasies presuppose the sexual identity of the nation's subjects, but also how the fantasy of national identity is projected through the lens of sexual, or familial identity.
Left: the main entrance of the Baker-Berry Library at Dartmouth. Right: view from the Sanborn Library.
The result of this shift in my conceptual framework is that I am now approaching Purdy's work from a much different angle. Most important, however, is the fact that I now have an overarching narrative running through the structure of my dissertation in which I first zoom in on the separate elements of Purdy's deconstruction of identity-fantasies, to finally demonstrate how national and familial identity-fantasies presuppose one another in complex ways.
Left: Dartmouth Hall. Right: yours truly surviving a New England winter.
Leg Two: The Harry Ransom Center
While this conceptual breakthrough alone is already enough to account for my visit to the United States, the second part of my trip provided yet another different work experience and brought me to a totally different part of the country: Austin, Texas. The Harry Ransom Center (HRC) in Austin is home to a vast collection of archives from modern authors of mainly (but not exclusively) English speaking world. A large chunk of Purdy's papers is also housed at the HRC. During my stay in Austin I found a seemingly endless source of correspondences, manuscripts, notebooks and other personal effects—materials that told me a lot about James Purdy, the person.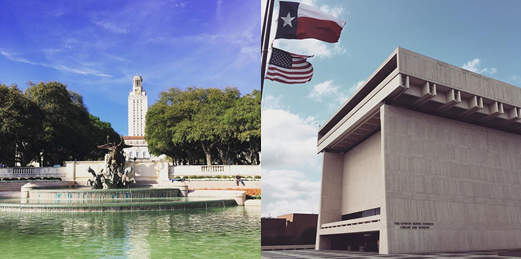 Left: the Tower, main building of UT Austin. Right: the Lyndon B. Johnson Presidential Library.
Working the Archive
Writing my PhD in the discipline of comparative literature, the decision to spend two months browsing through the material remains of the historical author Purdy might seem a little odd. After all, since Roland Barthes famously proclaimed the "death of the author", literary scholars no longer think of the historical author as an authority on the interpretation of their own texts. Instead, the biography of the author can return to the text only through an intertextual relation. Biographical elements of the author's life no longer explain the "true" meaning of the work, but are at most contextual information that the interpreter might use as their "way into" one of the many possible meanings of a text.
Left: the Longhorns football stadium on UT campus. Right: visiting a cattle show during the Rodeo Austin.
Still, delving into this repository of correspondences, notebooks and manuscripts gave me a strong sense of validation of the conceptual road I had chosen to go while being at Dartmouth. Even when treated purely as circumstantial and contextual evidence, Purdy's letters and notes confirmed many suspicions that I had concerning the way in which his work critiques both narratives of sexual identity rooted in the popularity of psychoanalysis in postwar America, and narratives and frameworks that constitute the fantasy of an American identity, such as the ideal of citizenship, the army and national holidays like the Fourth of July.
Left: working at the Harry Ransom Center. Right: Representing Austin.
Coda: Land of Opportunities
During the six months that I spent in the United States, life wasn't only about work and research (and to be fair, those who know me would be surprised if it were!). Making the most of my visit, I embarked on some travels and made sure I got to experience American culture to the fullest. While my research was moving more and more into the direction of American Studies under the auspices of Donald Pease, the fact that I found myself physically in the country that I am now studying offered me so much more than what I could ever learn from books.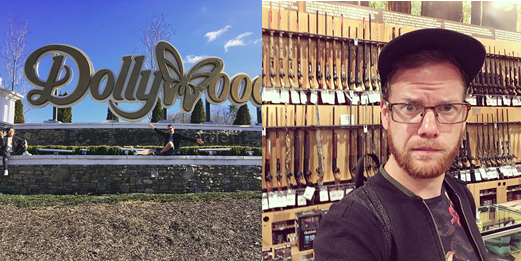 Left: my travels brought me to the most magical place--Dollywood. Right: another side of the US--buying rifles at Walmart.
Driving through the Deep South—from North Carolina by way of Tennessee and Louisiana to Texas— with some of my closest friends, and ending my visit with a road trip through California, I got to experience many different sides of this vast and complex society: its struggles with racism and poverty, its rapid gentrification of urban centers and the wealth and beauty of its national parks. These were elements of American society that I had studied before, but was never able to fully grasp until I experienced them in real life. And maybe it's this latter part that has made my visit to the United States so invaluable for both my research and my personal development as a PhD researcher.
Both: my travels ended at the fantastic splendour of Yosemite National Park.
© Looi van Kessel and Leiden Arts in Society Blog, 2016. Unauthorised use and/or duplication of this material without express and written permission from this site's author and/or owner is strictly prohibited. Excerpts and links may be used, provided that full and clear credit is given to Looi van Kessel and Leiden Arts in Society Blog with appropriate and specific direction to the original content.