Deaf CommuniGAYtion
Following our previous blogpost on Deafies in Drag, this time we explore the ways in which sign language and its education interact with perspectives on LGBT within the Deaf community.
During this year's Canal Parade, which is the main event of the Dutch gay pride festivities in Amsterdam, an interesting boat with an important message joined the other floats. The boat in question was sponsored by the Dutch Deaf LGBT organisation Roze Gebaar (Pink Sign). The boat hosted mostly deaf and hearing impaired participants and prominently featured a sign dancer, a dancer who would translate the words of songs into sign language. It also sported a large banner which read: "Join our communiGAYtion".
This is a message that reads in different ways, but combined with the participants' Deaf identification and the prominent placing of the sign dancer, it mostly drew attention to the intersection between sexuality and language within the Deaf community. For us this prompted an inquiry into how the Deaf community talks about different sexual identifications and the struggles that Deaf people who don't identify with normative sexual practices face within their own Deaf community.
The sign dancer of the canal parade float sponsored by ©Roze Gebaar
Transnational
Despite local differences such as national sign languages, the Deaf community exceeds national boundaries and can be considered a global community. A characteristic of the Deaf community is its effort to unite people, but for a long time descriptions of the history of the Deaf community and culture have been fully based on white, straight and cisgendered Deaf people's experiences. However, as in the hearing world, so too has the awareness of cultural plurality increased in the Deaf world over the past few years.
Deaf people feel a strong connection to other Deaf persons because of their shared visual-gestural language and primarily visual perception of the world. Therefore, they seek contact with each other wherever they are. These transnational exchanges have expanded rapidly due to recent technological developments such as Skype, YouTube, and WhatsApp. An increased proficiency in different sign languages, continuing debates on diversity and representation, and developments in the field of sociolinguistics, have led to reflection on the use and appropriateness of particular gestures within the Deaf community.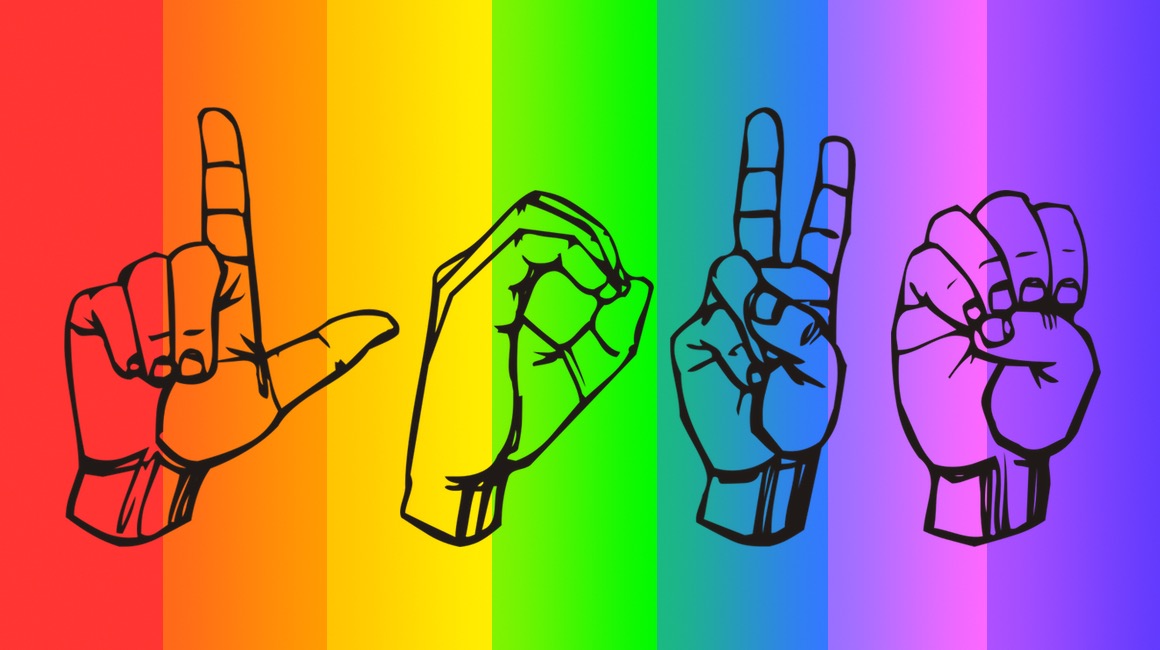 ASL Hand signs for #LOVE ©The Establishment
Although the identification as Deaf is a strong unifying factor it does not necessarily prevent stigmatization, racism, and exclusion based on other identifications within the same community. In our previous blogpost #Deafies in Drag #Challenges, we discussed the intersections of multiple minoritizing identifications. In this contribution we focus on the role of sign language in the creation of perspectives on LGBT within the Deaf community; this is particularly interesting because communication in sign language is essential for the Deaf community and culture.
#GAY
Unfortunately, only little research has been done on the use of LGBT related gestures and we could not consult recent findings on this subject. A study by Mala Kleinfield and Noni Warner (1996) that is most often referred to investigates the regional variations of American Sign Language (ASL) gestures used for 'gay', 'lesbian', and 'bisexual' in the United States. This study shows that, at that time, two gestures for lesbian were used, created by either a 'L' handshape (thumb and forefinger) placed on the chin or the same handshape but touching the chin only with the top of the forefinger.
Standardized ASL signs for LGBT identifications ©Timothy Sweeney
The latter variation is considered politically correct and considered as appropriate to use for both straight and gay Deaf persons. The first gesture however, might suggest a homophobic attitude if it's not used by a gay Deaf person because of its iconic reference to oral sex. As for the gestures for gay – 'G' on chin or fingerspelling gay (#GAY[1]) – the finger spelled variation is preferred by signers from the east coast as it seems less negative. However, in the ASL dictionary for both lesbian and gay the first gestures are standardized. Discussions about the appropriate gestures for LGBT identifications seem to make many Deaf people feel uncomfortable, mostly because of their unfamiliarity with the subject.
Gender(ed) and ASL education
Many of the problems of talking with and about gender and sexual minorities in the Deaf community seem to arise from standardized sign language education. Most sign instruction methods do not take into account the diversity of the community that uses their manuals and teaching methods. In this blog post Alex Lu mentions that one of the most used methods of ASL instruction, Vista Signing Naturally, is designed to facilitate normative gender roles and sexual identifications by consistently featuring heteronormative examples or structuring assignments along binary gender divides. Besides that, methods such as these fail to provide sign language speakers the vocabulary and means to talk about non-normative identifications. LGBT learners will not always identify with the examples or assignments, which may make them feel uncomfortable and alienated from their fellow learners.
Popular ASL instruction method Vista Signing Naturally
However, the same blog post also suggests that this need not always be the case. Among both Deaf and hearing LGBT communities there is a growing interest in understanding one another and providing a safe spaces for sign language learning. Especially on the North American continent more and more initiatives aim to provide sign language courses that try to create an inclusive learning environment for minoritary identifications and that provide a vocabulary and tools to talk about social injustices.
Visuality and visibility
Organizations such as Roze Gebaar, too, aim to increase visibility of Deaf LGBTs and their float during the Amsterdam Canal Parade attests to the powerful work that they are doing. Another, and maybe more important aim of this organization, is to make the LGBT community itself more inclusive toward deaf and hard of hearing persons. Where different minoritarian identifications intersect, people will often find themselves in a marginalized position within the communities of either identification. This is often also true for deaf LGBT persons, who not only have to face cisgender and heterosexual normativity within the Deaf community, but also ableism within the LGBT community. Roze Gebaar first and foremost tries to destigmatize deaf people in the Dutch LGBT community, a campaign that has its own challenges – which we will discuss in our next blog post.
[1] The hashtag is used to indicate in written texts that the word (#GAY) is a lexicalized form of a fingerspelled sequence.
© Looi van Kessel, Nynke Feenstra and Leiden Arts in Society Blog, 2016. Unauthorised use and/or duplication of this material without express and written permission from this site's author and/or owner is strictly prohibited. Excerpts and links may be used, provided that full and clear credit is given to Looi van Kessel, Nynke Feenstra and Leiden Arts in Society Blog with appropriate and specific direction to the original content.