Engrave the Fury!
In a series of three posts, I invite you on a journey into madness in one of the most incredible stories of the Renaissance
A Song of Love and Fury
Blood, madness and savagery… No, you're not watching the next Tarantino movie trailer, but just reading the beginning of an old Italian epic poem from the Renaissance: the well-named Orlando furioso.
Published for the first time in 1516 and composed by Ludovico Ariosto, the Orlando furioso is divided into cantos (principal divisions of a long poem) and has a very complicated structure with many stories and characters, such as Christian knights, magicians and marvellous creatures. The most important of these tales is about Orlando and his unfortunate and unrequited love for the pagan princess Angelica. Trying to find her after she has escaped from Carlomagno's camp, in canto XXIII he finally discovers that she fell in love with Medor and he begins his descent into madness.
Supposed portrait of Ludovico Ariosto (Titian, Portrait of Gerolamo(?) Barbarigo, about 1510, The National Gallery, London)
The Challenges of Illustration
This abundant narrative was a real challenge for the illustrators, as they had to choose between the difficulty of representing all episodes or selecting a few ones and betraying part of the story. Finally, in 1526 (Venezia, ad istanza di Sisto libraro) the first illustrated edition was produced, but the most influential illustrated edition was published by Valgrisi in Venice in 1556. It is a high quality and exceptional edition, which tried to innovate a lot in its illustrations.
Orlando Furioso, Valgrisi, Venezia, 1568 (details of the front page)
The anonymous artist realized quite an achievement in representing for the first time on a plain page the main action of a canto. Before this edition, the artist used to represent just one chosen scene taken from the canto on a small illustration.
In fact, he illustrated each canto in a very narrative way: the foreground would correspond to the action at the beginning of a canto and the background to the last episodes. In this way, the structure of the image really guides the reader visually through the narration. Moreover, he is creating a dialogue between text and image as he gives his own interpretation of the story through the artistic choices he made.
Orlando Furioso, Valgrisi, Venezia, 1568, canto XXIV
In this illustration taken from canto XXIV, the bottom of the print represents Orlando naked and mad which indicates two things. First, the situation at the beginning of the canto and, second, the importance of this episode in the canto because the artist spends half a page to describe it. Now, let's pay some attention to details.
Madness in Progress
A close examination of the image reveals that the drawer is particularly eloquent when he represents Orlando's fury. In the same illustration the reader can clearly see the evolution of Orlando's state of mind from reason to madness.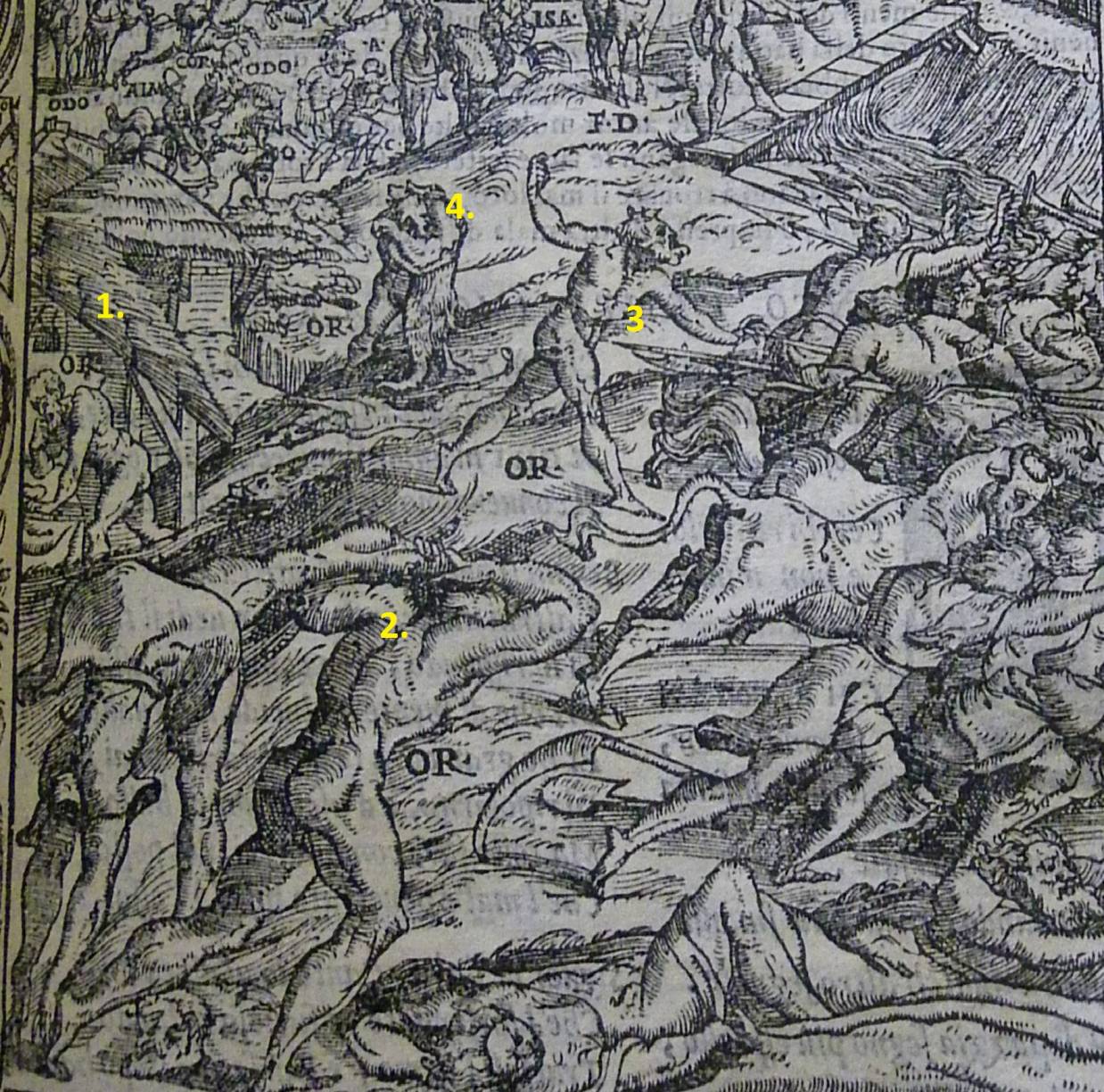 Orlando Furioso, Valgrisi, Venezia, 1568, canto XXIV, details
Here, you can easily follow Orlando's story as the initials of his name - "OR." - appear next to him. This strategy of identification is used in every illustrations of the book in order to help the reader not to get lost in the crowd of characters. And it looks very practical when you have to recognize someone in a group of fully armoured knights. It's almost like a game and you can have fun trying to follow the same character through all the illustrations.
From Melancholia…
The illustrator also chose key-moments to underline the development of his madness. He paid particular attention to the posture of Orlando to express the growth of his sickness. On image number 1, we see him staying in a modest house. A narrative interpretation would guide us to the episode in which Orlando eats all he can find in an abandoned village, but I would like to propose here another possible hypothesis.
Orlando Furioso, Valgrisi, Venezia, 1568, canto XXIV, details; and Albrecht Dürer's Melencholia I, 1514
According to the medical theory of humorism, the human health depends on a good balance between the different humors (blood, yellow bile, black bile and phlegm). If the humors are out of balance, this can cause disease. In Orlando's case, it is the excess of black bile that provokes depression and melancholy. Furthermore, this depiction of melancholy can be situated in a larger artistic tradition: just as the personification of melancholy in Albrecht Dürer's Melencholia I, Orlando's body expresses a deep, sad and sombre thought characteristic of a very melancholic person.
…to Furor
Orlando Furioso, Valgrisi, Venezia, 1568, canto XXIV details
Number 2 and 3 show the fury literally getting out of him. He is now outside, his arms are largely opened. Orlando is demonstrating a huge violence that contrasts with his earlier posture. He is threatening peasants and destroying bodies. His melancholy is now becoming a real fury.
Orlando Furioso, Valgrisi, Venezia, 1568, canto XXIV, details
As I see it, the posture number 4 is here particularly interesting. We see Orlando fighting with a bear. Besides expressing violence, it also shows to the reader that Orlando slowly recedes from civilisation into savagery. But this is another story I will tell you in the next blog post: "Savage and Ravage".
Would you like to know more?
Reference of the engraving:
Lodovico ARIOSTO, Orlando Furioso, V. Valgrisi, di Venezia, 1568 (réserve commune des trois universités lilloises, fond Agache, côte A-1084).
Thanks to Cécile Martini from University of Lille III, Charles de Gaulle for giving me the permission to use images from this edition.
Further reading:
BELLOCHI Ugo, FAVA Bruno, L'interpretazione grafica dell'Orlando furioso, a cura della Banca di Credito Popolare e Cooperativo di Reggio Emilia, 1961.
Daniel JAVITCH, Proclaiming a classic : The canonization of Orlando Furioso,Princeton University Press, 1991
Web links:
The Valgrisi edition: http://www.e-rara.ch/zut/doi/10.3931/e-rara-26008
Conference in French about the Valgrisi's edition: http://www.unicaen.fr/recherche/mrsh/forge/698
If you want to understand the story and background of Orlando Furioso: https://www.youtube.com/watch?v=hnxxvqWoaqQ
© Marion Bracq and Leiden Arts in Society Blog, 2016. Unauthorised use and/or duplication of this material without express and written permission from this site's author and/or owner is strictly prohibited. Excerpts and links may be used, provided that full and clear credit is given to Marion Bracq and Leiden Arts in Society Blog with appropriate and specific direction to the original content.