Facial Archaeology II
You are your face. You may not have committed crimes. But your face can be used against you. Starting in July 2015, Middle Eastern refugees began crossing into Hungary. By September, news outlets were full of images of people attempting to enter the EU.
You are your face. You may not have committed crimes. But your face can be used against you. Starting in late July 2015, populations affected by the war in the Middle East began crossing the Serbian border of Hungary. Eventually, they were joined by several further groups of economically and socially displaced migrants from North Africa and the Balkans. By September 2015, news outlets were full of images of people arriving to the borders of the EU, most prominently to those in Hungary. In the press, these men, women and children appear in groups, largely indistinguishable from each other. They are shown in large numbers on train platforms. Crowding the underground passages. Refugees have appeared en masse, journalists report. A state of emergency. In this case, their faces are beside the point. These images make the refugee seem virtually indistinguishable from the local homeless population, particularly that of color. The asylum seekers are accused of "loitering." Remarkably, attempts are made at removing them.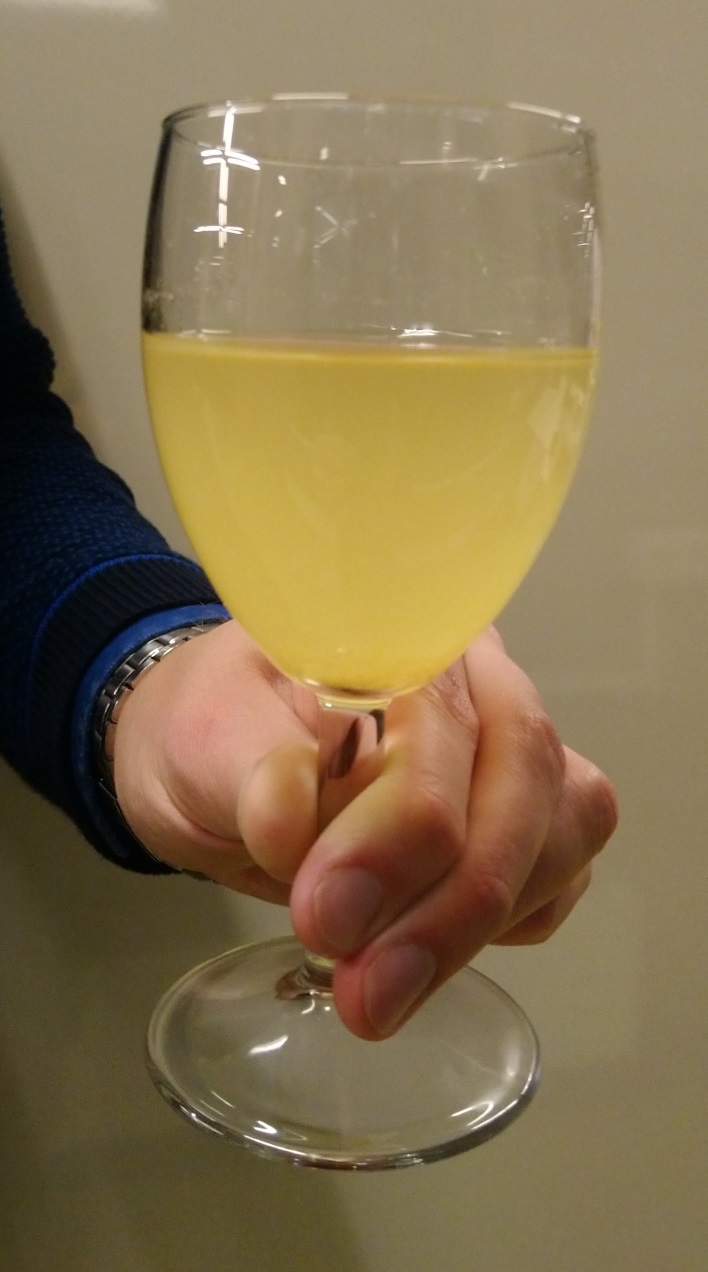 Asylum seekers wait outside a train station in Budapest, Hungary Aug. 27. Record numbers of migrants have arrived in recent days to the country, part of the visa-free Schengen travel zone, en route to Western Europe. (Laszlo Balogh/Reuters) Boston Globe.
Refugees form a sit-down demonstration as police block the entrance to the main Eastern Railway station in Budapest Tuesday Sep 2 2015. (Reuters). From The Japan Times.
Appearance of a series by the journalist Miklós Déri provided brief respite from the hysteria in the media. Like others, Déri had taken his camera to the area surrounding the train station in Budapest where outgoing trains were being held. Unlike others, however, he did not simply proceed to take photographs. Pinning up a gray sheet as background, Déri improvised a space into which he invited those present to stand. Upright and turned toward the camera, these refugees are the subjects of a makeshift photographic studio. Even in the case of a number of subjects, the format creates the impression of greater specificity. In inviting comparison between "Halet" and "Amet," for instance the above photograph refuses to conflate them. It heightens rather than diminishes their individuality. It is not a piece of criminal evidence, but a portrait. And there is nothing quite like the tradition of bourgeois portraiture to soothe and dignify.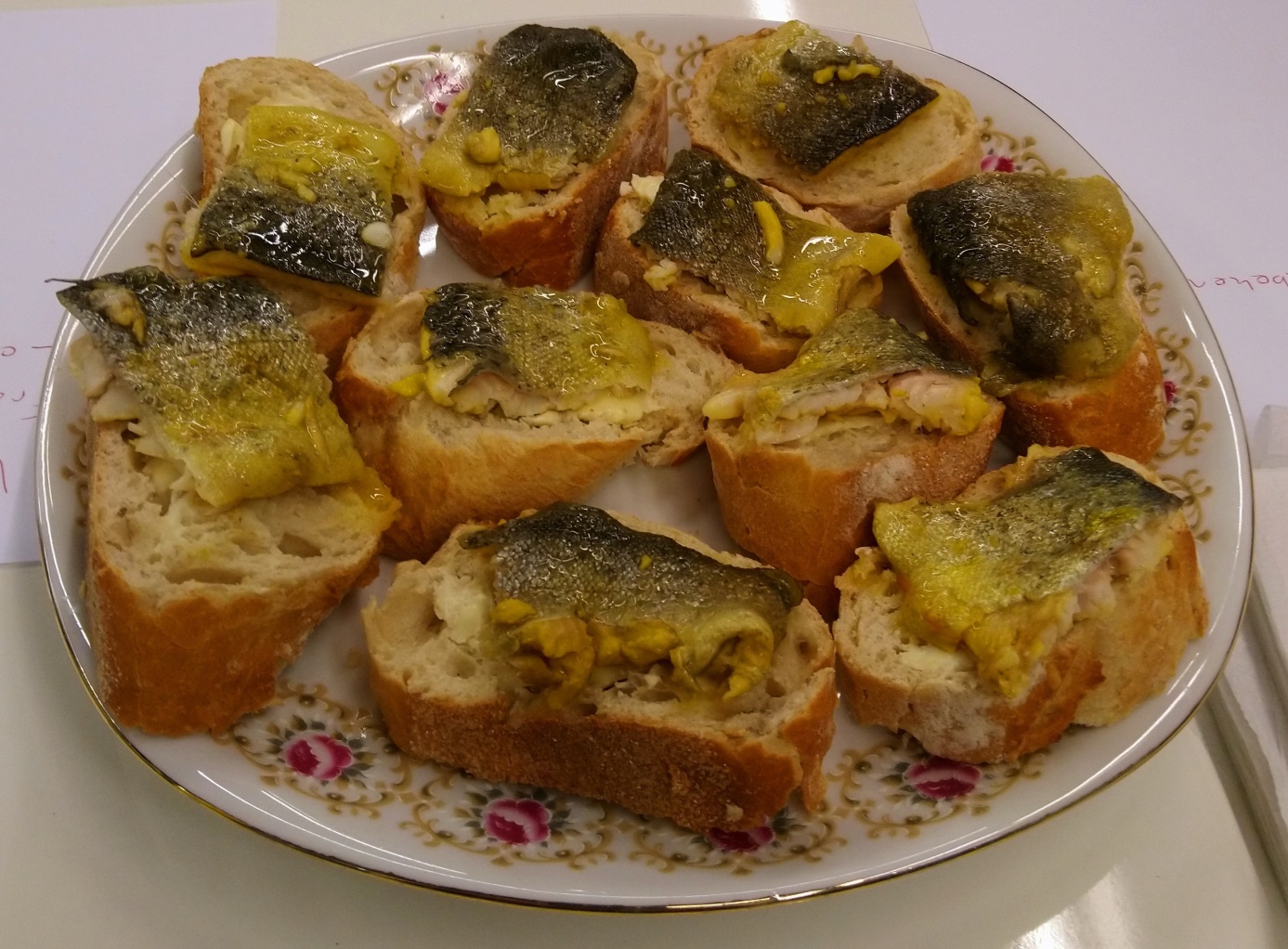 Miklós Déri. menekültek. refugees. From Facebook photo album. August 16 2015.
Miklós Déri. Halet (17 years old) and Amet (20 years old) from Afghanistan. August 16 2015. From menekültek. refugees series of portraits taken in Budapest during first wave of refugees.
The tradition of "humanist" photographic portraiture is bound with stories of migration. Such was the job description of the American photographer Lewis Hine when he joined the staff at Ellis Island, the main entry point of immigrants to the United States between 1892 and 1954. Sent to Ellis Island by the Ethical Culture School in New York City, Hine was asked to "reveal the new Americans as individuals" and to "redeem" the image of the immigrant and refugee population increasingly known as the "undesirables."
Lewis Hine, "Climbing into America." New York Public Library, 1905, February 9, 2009. From Dolmage, Jay. "Disabled upon Arrival: The Rhetorical Construction of Disability and Race at Ellis Island." Cultural Critique 77, no. Winter (2011): 30.


Among his many photographs is one entitled Climbing into America-Ellis Island. Positioned at a turn in a stairwell of the inspection station, Hine observes the immigrants pausing in varying attitudes of fatigue as they stand waiting, making incremental progress up a flight of stairs. Hine's proximity to the immigrants gains him full view of many of their faces, on which the camera discovers suspicion, curiosity, trepidation. The photographer's mingling with the queue gains him the kind of viewpoint needed to encourage sympathy in the photos' viewers. But it also served the interests of border control.
"Line Inspection," Manual of the Mental Examination of Aliens. Treasury Department of the U.S. Public Health Service, Miscellaneous Publication no. 18 (1918), 93. U.S. Department of Health and Human Services. From Dolmage, Jay. "Disabled upon Arrival: The Rhetorical Construction of Disability and Race at Ellis Island." Cultural Critique 77, no. Winter (2011): 31.


One of the consequences of ethnic quotas was an inspection process.[4] Border control customs officers at Ellis Island believed to facilitate fulfillment of quotas by developing techniques of "spontaneous" observation as immigrants passed through entry points. Historians now know that one such station was a flight of stairs over which immigrants, fresh off the boat, had to haul, shift weight and turn corners, without knowledge of being watched and assessed. According to one Ellis Island doctor, "lameness" and "feebleness" could be read off the gestures of a body in movement in what became known as a "six-second physical." Driven by diametrically opposed motives, the documentarist and the doctor were both after the same thing: detailed and revealing images of the human figure. Science on the one side, aesthetics on the other. Here eugenics, there, transcendence. Two forms of discourse, one act of judgment.
The photograph has not been to all migrants' advantage. Clearly, Miklós Déri is not interested in his subjects' genealogy. His purpose is to elevate these men, women and children. However briefly, to return them their sense of agency. But his purpose of discovery and revelation no longer only serves the discourse of bourgeois self-representation, but also that of an archive. Not long after migrants and refugees began appearing at the border of the EU, member states started discussing the exchange of facial imagery for the purposes of law enforcement. As it happens, migrants often tried to avoid processes of identification altogether. Many abandoned their documents in order to leave behind their identities. The last thing an asylum seeker needs is to be told their plight is not calamitous enough, that it does not involve the right world powers. What protects the migrant is the unquestioned legibility of their faces, the shared attributes, their typicality.
The typicality of the migrant is what Déri makes visible. Despite the noble attempt at reviving the portrait, the poignancy of his images lies in his subjects' collective fate, their seriality. Since this 2015 album, we have seen several more hundred faces. Migrants sleeping on train tracks. Hiding from snow, sleet, rain. Sitting behind the 4meter-high, 523km-long razor wire fence the government has erected. Running from border hunters. Running from dogs. Catching on the wire. Walter Benjamin described the photographic portrait to be seared by "the inconspicuous spot where […] the future nests so eloquently."[8] The revelation contained in Déri's series is the architecture of surveillance and inspection that was to come. It is not character or personality that crystallizes in these images, but a story. We have all heard the story before, and we know that it ends in plastic container camps and 24/7 paramilitary guards. The story is familiar to the point of banality. Nothing tells it with greater grace than the face of "Halet" and "Amet."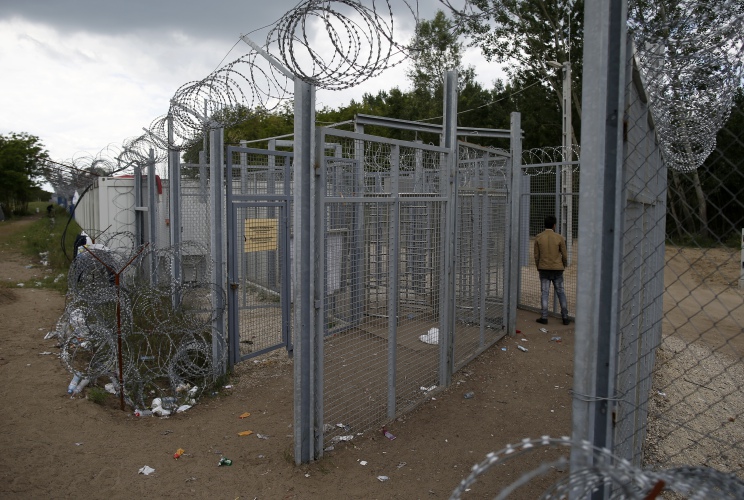 A man looking through a border fence in the makeshift refugee camp near the Horgos border crossing into Hungary, near Horgos, Serbia, Wednesday, May 18, 2016. (AP Photo/Darko Vojinovic). From Jovana Gec "Tent city forms on Hungarian border waiting to cross" in Daily Hampshire Gazette. May 18, 2016
[4] This argument is indebted to the research of Jay Dolmage in Dolmage, Jay. "Disabled upon Arrival: The Rhetorical Construction of Disability and Race at Ellis Island." Cultural Critique 77, no. Winter (2011): 24–69.
[8] Benjamin, Walter. "A Small History of Photography." In One-Way Street and Other Writings, 240–57. London: Suhrkamp Verlag, 1979.