'Fish and Fiction': Fish Week on the LUCAS Blog
It's Fish Week on the blog! Today is the opening of the exhibition 'Fish and Fiction' in the Leiden University Library. To celebrate, we dedicate a whole week to fishes in science and culture.
The exhibition Fish & Fiction is a collaboration between the Leiden University Library and the LUCAS project A New History of Fishes. A long-term approach to fishes in science and culture, 1550-1880. The researchers of this project wrote the exhibition catalogue, from which we will share content in the following week. The catalogue: Fish & Fiction. Aquatic Animals between Science and Imagination (1500–1900) can be purchased at the reception desk of the Leiden University Library.
Fish & Fiction An exhibition on the lasting fascination with fish
The new exhibition 'Fish & Fiction' by Leiden University Libraries (UBL) revolves around our lasting fascination with fish. The interest in the aquatic life is highlighted in an exhibition that spans four centuries, 1500 to 1900, and showcases an intriguing parade of exotic species, colourful fish and even imaginary creatures. The exhibition is on view in the University Library from 20 September 2018 through 13 January 2019.
Lasting fascination
Fish have played an important role in the lives of humans since times immemorial. Not only do these agile water creatures serve us as food, they also inhabit a different, non-human world, which is why they were invested with all kinds of meanings and powers. Fish also exemplify the progress of science from early modern natural history to modern marine biology.
Aquatilia
The exhibition focuses on fish in their pre-modern sense, as aquatilia, meaning all aquatic animals including sea mammals and shellfish. Fish feature as a theme in biblical illustrations and emblem books, as miracles in Renaissance books about monsters, as collecting items in cabinets of curiosities and as objects of science from the time of Linnaeus to nineteenth-century deep-sea biology. A special focus in the exhibition is the virtually unknown wealth of Japanese ichthyological materials held in the collections of the UBL.
Research project
The exhibition is an initiative by the UBL in association with the research project A New History of Fishes. A long-term approach to fishes in science and culture, 1550-1880, a project supervised by Paul Smith, Professor of French Literature at Leiden University, and co-financed by NWO and Naturalis Biodiversity Centre.
Exhbition opening (in Dutch)
Opening tentoonstelling Fish & Fiction
Kurt De Belder, Bibliothecaris van de Universiteit, nodigt u graag uit voor de opening van de tentoonstelling Fish & Fiction op donderdag 20 september om 16.00 uur. De opening vindt plaats in de Vossiuszaal van de Universiteitsbibliotheek, Witte Singel 27 te Leiden.

Programma:
15.30-16.00 uur: Inloop
16.00-16.10 uur: Welkom door André Bouwman, hoofdconservator Bijzondere Collecties
16.10-16.30 uur: 'Onverwacht mooie taferelen in de Leidse stadsgrachten'
Presentatie door Aaf Verkade, Leidse stadsduiker - adviseur stadsgrachten
16.30-16.50 uur: 'Een draak van een vis'
Presentatie door Sophia Hendrikx, promovendus Universiteit Leiden
16.50-17.10 uur: 'Vis in context'
Introductie op de tentoonstelling door Paul Smith, hoogleraar Franse Literatuur Universiteit Leiden
17.10-18.30 uur: Borrel en bezichtiging van de tentoonstelling

Aanmelden
Wij hopen u te ontmoeten op de opening op 20 september. Aanmelden via aanmelding@library.leidenuniv.nl (graag o.v.v. Fish & Fiction en het aantal personen) of telefonisch via ons secretariaat 071-527 2832. Aanmelden is verplicht.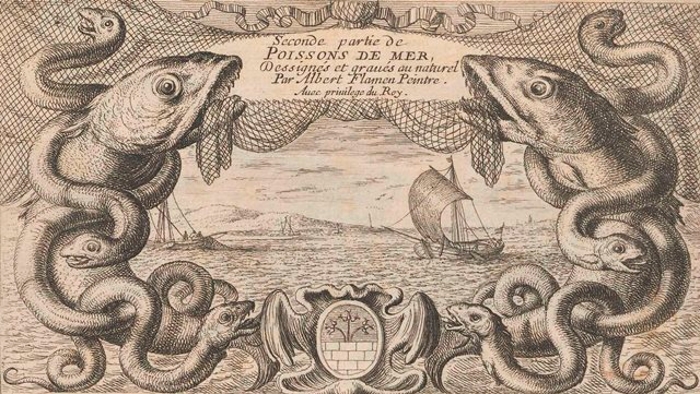 © Erik Weber and Leiden Arts in Society Blog, 2018. Unauthorised use and/or duplication of this material without express and written permission from this site's author and/or owner is strictly prohibited. Excerpts and links may be used, provided that full and clear credit is given to Erik Weber and Leiden Arts in Society Blog with appropriate and specific direction to the original content.