Fury Road
Today, we have a long trip coming up ahead for us, we will keep on following Orlando in his crazy path and finally we will join the last station of our trip: the moon…
Desolation road
The whole narration of Orlando Furioso is led by a vivid dynamic worn by all the character of the story. They are always travelling, looking for a particular goal: a quest to prove their bravery for example, but the main goal will be the beloved one. In fact, before becoming mad, Orlando, in trying to find Angelica, used to be like every character of the poem. But with the terrible shock he felt in canto XXIII and the beginning of his madness, he doesn't have a goal anymore. All his movements became a vivid manifestation of his sickness: pure energy and violence and the confusion of Orlando's spirit is shown through the disorder of his movements.
If we have a look at the plain page of the illustration of canto XXIX, we can notice that disorder and madness are shown by different processes in the design. We can read it as a narrative picture showing us the different step of his mad trajectory or as an instantaneous representation of his madness. First, thanks to the narrative composition of the image, we can clearly follow Orlando in his madness :
Orlando Furioso, Valgrisi, Venezia, 1568, canto XXIX, details
During his wandering Orlando randomly meets other characters such as Rodomont and Isabelle (the knight on the bridge in number 1) but also some poor peasants (number 2) and finally Angelica and Medoro (number 3). The fact that he is meeting so many people in a short time shows his rapidity and his violence, but also the importance of the character: he is the focal point of the poem. These various scenes are faithful to the description that Ariosto gave us of Orlando's madness. Orlando is now a vivid energy going nowhere and showing great violence in his movement, like on this details when he chases Angelica:
Orlando chasing Medoro and Angelica, Orlando Furioso, Valgrisi, Venezia, 1568, canto XXIX, details
As we have seen in "Savage and Ravage", Orlando is no longer a knight- mainly represented in Valgrisi's edition in full armour on horses- but turns into some savage beast going as fast as the animal he used to ride.
This illustration can also be seen as an instantaneous representation of Orlando's madness with the particular disposition of the different scenes in the design: Orlando is walking and running in zigzag, a tortuous mind on a tortuous path…
Orlando Furioso, Valgrisi, Venezia, 1568, canto XXIX
Destination moon
Fortunately, Orlando is saved by one last movement: Long before Neil Arsmstrong, Astolpho flies to the moon to take back his reason. During canto XXXIV, Astolpho makes a very spiritual journey from hell to Earthly Paradise, where he meets Saint John. The saint explains to him that Orlando's madness is due to God's punishment, because Orlando abandoned his king to chase Angelica, and he tells Astolpho how he can save him: Saint John will lead him to the moon to take back Orlando's reason.
On the illustration, we can follow Astolpho on the chariot with Saint John, and their ascension in the sky. The position of the scene on the top of the page reinforces this impression of the ascension, while a large half circle marks the separation between moon and earth.
Orlando Furioso, Valgrisi, Venezia, 1568, canto XXXIV, details
This journey is highly symbolic. While the moon is seen during the Renaissance as an ambivalent star, here it's depicted as opposite and complementary to earth: everything which has been lost by men on earth can be found on the moon, and Orlando's reason is one of these things.
Orlando Furioso, Valgrisi, Venezia, 1568, canto XXXIV, details
Every group of objects symbolizes things lost on earth, such as unfortunate love shaped like jewels and precious stones, treachery as ruins, etc. Last but not least, Orlando's lost is represented as a liquid in a flask (underlined by a red circle on the engraving), which is supposed to be the lack of humor in Orlando's body. As we have seen in "Engrave the Fury", unbalanced humors can caused madness. In canto XXXIX, Orlando drinks it and gets back the harmony of his humors and his mind.
Walking in Orlando's shoes or as a conclusion…
As we have seen in these three blog posts (Engrave the Fury, Savage and Ravage and Fury Road), Orlando's madness plays an important role in iconographic representation and the artist used many process for depicting this fury properly. Illustration became a virtuosic translation of the text, which helped the reader to understand the narration and underlined some importants aspects of the story.
During the next centuries, we can still feel the influence of these engravings in some illustrators' representations of Orlando's madness, such as Gustave Doré, or more recently the Brizzi's brothers and Grazia Nidasio for the edition commented by Italo Calvino. They are still following the crazy path of Orlando, enriching the great and furious universe of Ariosto with their different visions.
Gustave Doré, Orlando and the bear, ill. Gustave Doré, Paris, Hachette, 1879, in-folio, p. 302, Gallica.bnf.fr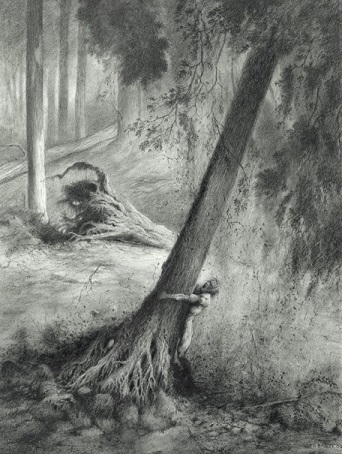 Orlando mad by Paul and Gaëtan Brizzi, 2005, brizzibrother.com
Orlando saved, Grazia Nidasio,Orlando furioso di Ludovico Ariosto raccontato da Italo Calvino, Oscar Mondadori, 2013, p. 328
Would you like to know more?
More illustration of Doré's Orlando furioso
Official website of Brizzi Brothers
© Marion Bracq and Leiden Arts in Society Blog, 2016. Unauthorised use and/or duplication of this material without express and written permission from this site's author and/or owner is strictly prohibited. Excerpts and links may be used, provided that full and clear credit is given to Marion Bracq and Leiden Arts in Society Blog with appropriate and specific direction to the original content.