In Search of a Past, Lost in the Present
In this post, Bareez Majid, provides an overview of several themes on which she focuses during her research on Iraqi-Kurdish memory culture. She does this by linking these themes to contemporary debates and cultural phenomena.
Bareez Majid is a PhD-researcher at LUCAS and was awarded a 'PhD in the Humanities' grant by The Netherlands Organisation for Scientific Research (NWO). Her dissertation is about memory culture in post-Saddam's Iraqi-Kurdistan in general, and in specific the role that artistic representations of war play within the war-torn Iraqi-Kurdish society.
A glimpse of absence
My first encounter with the artworks of the Colombian sculptor Doris Salcedo took place in the Guggenheim museum in New York, in which several of her works were on display. Now, almost two years later, while writing this text, I find myself reliving the astounding and touching aesthetic experience I had when confronted with Salcedo's non-representational artworks. For a brief moment, they enabled me to get a glimpse of absence, of lives not lived. Even without knowing the original context in which they were made, I felt particularly moved by Salcedo's installation Plegaria Muda ("Silent Prayer"), consisting, among other materials, of paired wooden tables, laid on top of each other, surface to surface, with layers of earth between them. I can still vividly recall the smell of earth and fresh grass that rose out of the tiny holes drilled in the upper table, which made me feel like I was an uninvited guest at a funeral.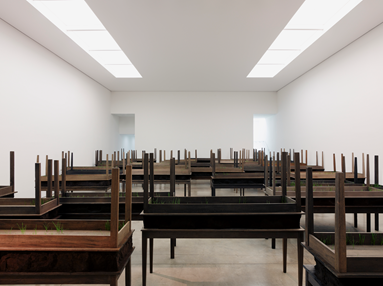 Doris Salcedo, Plegaria Muda. Image courtesy of the artist via www.whitecube.com
Only later did I learn that the idea for this installation was based on actual narratives of mothers who had lost their children in gang wars in Los Angeles. This experience made me realize that some forms of art are able to emphasise the complexities and chaos that surround war, without trivializing or simplifying these complexities.

Doris Salcedo talking about her installation Plegaria Muda at Moderna Museet Malmö 2011
The dilemma of trivialization
If used in the context of images depicting war and war-related traumas, the word 'trivialization' makes us enter the sphere of morality: Is it possible to depict war and traumas by way of (visual) art? Should this be done? Or does this automatically reduce these experiences and phenomena to kitsch, using them to create something to enjoy by an audience and robbing them of their specific and often horrible nature? Questions like these were formulated by the German philosopher Theodor W. Adorno, who greatly influenced Doris Salcedo. In line with his critical reflections, scholars as well as artists developed different concepts and different ways to approach that which we, in the West, have come to know as the main trauma of the previous century: the Holocaust. Contrasted to Lanzmann's movie Shoah (1985), for example, Spielberg's Schindler's List (1993) was criticized for providing a form of cathartic closure. This aspect of the movie, Lanzmann argued, was an attempt to make the Holocaust comprehensible and graspable, and should therefore be rejected as false and morally wrong. In his view "the last image of Shoah is different. It is a train, which rides and never stops. It says that the holocaust has no ending."

A scene from Shoah portraying the entrance of a former Nazi concentration camp
Global crisis and media coverage
This critical approach to representations of war and trauma is as relevant as ever in the context of the global crises we face today. We are confronted, each and every day, through social media and the news, with the fates and lives of millions of people that are forced to leave their homes. Based on the works of the Italian philosopher Giorgo Agamben, the figure of the refugee can be characterized as 'homo sacer': a living creature with fewer rights than the citizens of nation-states. The media have given themselves the task to make us aware of these 'sacred' lives, often by way of photographs and aesthetic representations that illustrate the dreadful circumstances under which refugees have to live. One of the most iconic pictures that recently made global headlines was that of the three-year-old Syrian Kurdish boy Alan Kurdi, who drowned in the Mediterranean Sea. The picture was shared on social media and the news, turned into artworks, and used as an argument for the claim that we, the global community, were and are failing to protect the basic human rights of refugees.
However, like many other grim pictures, this image, together with the message that it, according to many, conveyed, was short-lived and quickly disappeared in the constant stream of pictures and videos appearing on social media. For this and other reasons, the politically engaged artist of Chinese descent Ai Weiwei decided to re-enact the boy's death: he took a picture on the Greek Island of Lesbos, lying face-down on the beach in the same position as the drowned Syrian-Kurdish toddler. "To be in the same position [as Kurdi]", Weiwei argued, "is to suggest our condition can be so far from human concerns in today's politics." In a sense, Weiwei herewith attempted to renew and re-establish the meaning of the boy's dead body as a symbol of the plight of the Syrian refugees.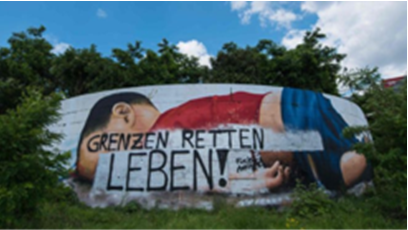 Even though Ai Weiwei's artistic experiment, forming an entwinement of the political and the personal, encouraged people to reflect on themselves and the state of the world, it was heavily criticised and sparked a moral debate reminding of Adorno's and Lanzmann's critical observations. Ai Weiwei's artwork was considered overly sentimental, narcissistic and immoral, and was criticised for lacking a sense of self-reflection in his one-on-one identification with the dead boy. According to critics, Weiwei did not take his position as a living and successful artist into account and did not ask critical questions regarding the ways in which we should depict and remember past suffering.
If we compare Weiwei's picture with the artworks made by Salcedo, a contrast arises: whereas Weiwei aims to depict suffering as literally and directly as possible by identifying himself with a dead boy, Salcedo approaches gruesome events in a more abstract and reflective way, focusing instead on questions regarding memory, trauma, the impossibility of depicting suffering, and the presence of absence. Contrasting these two artists, in other words, shows us that every depiction of past suffering is embedded in questions regarding the ways in which we do remember, want to remember and should remember this suffering; in the memory culture that we shape and that we are always already part of.
Memory culture
A different example of this issue is formed by a screening of the movie The Dark Wind (Reşeba in Kurdish), directed by Hussein Hassan, at the opening of the Duhok International Film Festival in September 2016 in Iraqi Kurdistan. Dark Wind is the first feature film made about the girls that were hold captive and sold by IS in the Yezidi town of Shingal (Sinjar) in August 2014. The movie tells the story of one of these women, the lead character, Pero (Diman Zandi), who gets engaged to a character named Reko (director-actor Rekesh Shabaz) shortly before the invasion of IS. After being released, Pero finds herself imprisoned again by the laws of her community, which make it impossible for her to re-integrate and to be accepted by her culture and society as a 'broken woman'. Pero's father even plans to kill her in order to rectify the family's honor. Given the movie's depiction of the cruelty of her community and the problems that Pero endures during the movie, the Yezidi community felt offended. At the day of the opening, a large group of protesters gathered around the avenue and prevented the movie from being screened. According to the crowd, the movie contained lies because, in their eyes, they did actually welcome every returning girl with open arms. The movie, in their view, does not represent their memories of these traumatic events in an authentic way.

Trailer of the movie The Dark Wind by Hussein Hassan in 2016
How to remember?
All of the case studies discussed above, although situated in different contexts and different times, undermine the idea that history is objective or neutral. Instead, they show us that past events, especially past suffering, can be depicted and remembered in different ways, embedded in different memory cultures. It is therefore crucial to ask questions like the following: Why do people represent their past suffering in specific ways? And why do others protest against these representations? What do these representations say about the ways in which people want to remember their past? And what are the ideological, political and cultural contexts of these depictions of past suffering? By asking these questions, we develop both a critical and sensitive attitude towards communities and ideas, to both 'our' and 'their' depictions and memories of trauma and past suffering. And this might form the basis for an intercultural dialogue about past suffering and traumatic experiences. After all, it is only in and through a dialogue that memory cultures can be critically worked through.
© Bareez Majid and Leiden Arts in Society Blog, 2016. Unauthorised use and/or duplication of this material without express and written permission from this site's author and/or owner is strictly prohibited. Excerpts and links may be used, provided that full and clear credit is given to Bareez Majid and Leiden Arts in Society Blog with appropriate and specific direction to the original content.