More Modern Metafables
The exploration of the phenomenon of the metafable is continued with some examples from early modern French literature.
In two previous blogs (posted March and June, 2017) we have used the term "metafable" to refer to fables about fables. Such metafables were preferably (but not exclusively) placed at the beginning of fable collections to make a referential statement about the collection they open as a whole. We have also seen that it is not always easy to decide whether or not fables at the beginning of fable collections are metafables.
In Classical antiquity fables were put in alphabetical order. Fables about the fox and the eagle had the prime position simply since these animals begin with alpha in Greek. In addition, first fables of collections may also be about the key theme of the collection they open, like Phaedrus and Avianus, who treat the theme of justice, and education, respectively.
The most famous and typical metafable is about the rooster who found, but did not appreciate, a pearl, which applies to the unintended reader who dislikes the fables contained in the collection. This metafable opens a large number of fable collections, from Marie de France until the present day onwards.Other nice metafables are the Elephant and the Bookseller by John Gay, Truth, Nature and Poetry by Daniel Wilhelm Triller, and the Girl and the Flowers by Konrad Pfeffel.
In this blog post we will pass in review some other metafables from early modern French literature, which are contained in the Bibliothèque Nationale de France, which is easily accessible through Gallica.bnf.fr.
Let us begin with a famous metafable by Jean de La Fontaine, which, by the way, does not occupy the first position: it is number 4 of book 8.
Dans Athène autrefois peuple vain et léger,
Un Orateur voyant sa patrie en danger,
Courut à la Tribune; et d'un art tyrannique,
Voulant forcer les coeurs dans une république,
Il parla fortement sur le commun salut.
On ne l'écoutait pas: l'Orateur recourut
A ces figures violentes
Qui savent exciter les âmes les plus lentes.
Il fit parler les morts, tonna, dit ce qu'il put.
Le vent emporta tout; personne ne s'émut.
L'animal aux têtes frivoles
Etant fait à ces traits, ne daignait l'écouter.
Tous regardaient ailleurs: il en vit s'arrêter
A des combats d'enfants, et point à ses paroles.
Que fit le harangueur? Il prit un autre tour.
Cérès, commença-t-il, faisait voyage un jour
Avec l'Anguille et l'Hirondelle:
Un fleuve les arrête; et l'Anguille en nageant,
Comme l'Hirondelle en volant,
Le traversa bientôt. L'assemblée à l'instant
Cria tout d'une voix: Et Cérès, que fit-elle?
Ce qu'elle fit? Un prompt courroux
L'anima d'abord contre vous.
Quoi, de contes d'enfants son people s'embarrasse!
Et du péril qui le menace
Lui seul entre les Grecs il néglige l'effet!
Que ne demandez-vous ce que Philippe fait?
A ce reproche l'assemblée,
Par l'apologue réveillée,
Se donne entière à l'Orateur:
Un trait de fable en eut l'honneur.
Nous sommes tous d'Athène en ce point; et moi-même
Au moment que je fais cette moralité,
Si Peau d'âne m'était conté.
(A gifted orator was not listened to by the Athenian assembly when talking about the imminent danger presented by Philip; therefore he began to tell a fable and noticed, much to his regret, that his audience was more interested in stories than in politics.)
The Greek model of La Fontaine is about the rhetorician Demades, whose name contains a pun on the name of Demeter. Both names have been omitted in the French version. The orator is anonymous and said to be "from Athens", whereas the name of the goddess is replaced by her Latin equivalent Ceres. The irony is obvious: the fabulist tells a fable to rebuke his audience for listening to it!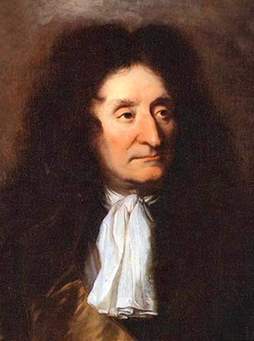 Jean de la Fontaine by Hyacinthe Rigaud (source)
There is a follow-up by Boursault (Les fables d'Ésope. Comédie par E. Boursault, Paris: Girard 1690):
Autrefois dans Athene un fameux Orateur
Zelé pour la Cause Publique,
Craignant pour sa Patrie un extrème Malheur
Mit en oeuvre la Rethorique,
Et pour émouvoir l'Audience
Fut un Discours fort pathétique.
Mais le Peuple qui l'écoutoit
Immobile comme une Souche,
Ne fut non plus touché de ce qu'il débitoit
Que s'il n'eût as ouvert la bouche.
Chagrin de peu de progres
Que faisoit son Eloquence.
"L'Anguille, ajoûta-t-il, l'Hyrondelle & Cérés
Firent un jour connoissance.
En voyageant toutes trois
Un fleuve impetueux s'oppose à leur passage;
L'Hyrondelle en volant, & l'Anguille à la nage,
Le passerent sans peine, & l'auroient fait vingt fois.
Et Cerés? dit le Peuple en élevant sa Voix:
Vous avez fait passer l'Anguille & l'Hyrondelle,
Monsieur le Philosophe en vous remerciant:
Mais Cerés, que devint-elle?
Dit encor une fois le Peuple impatient."
Messieurs, dit l'Orateur, vous dessilez ma venuë
Je me suis abuse jusque à ce moment:
La verité tout nuë
N'a pas assez Enjoûment:
Une Fable l'insinuë
Rien plus agréablement.
(…)
It appears that the Fables by Willemain d'Abancourt (Amsterdam / Paris: Cellot 1777), inspired by Dorat (1773), may have been the model of the fable with the same allegorical protagonists by Florian (1792) mentioned in our previous (second) Blog. Below their clothes Fables reveal the naked Truth, which man cannot stand.
Jean-Pierre Claris de Florian (source)
La Fable un certain jour entreprit un voyage,
Sans suite, sans argent, sans effets précieux,
A pied…. c'étoit ainsi que voyageaient les Dieux:
Les carrosses jadis n'etaient point en usage,
Et l'on ne s'en portait que mieux.
Leste comme un Chat maigre, elle trotte & s'engage
Dans les détours d'un bois où le sombre feuillage
Et la nuit inspiraient de profondes terreurs.
Elle chante pourtant…. Voilà quatre Voleurs
Qui la saisissent au passage.
Çà, la bourse ou la vie. – Eh! Mess…. Point de raisons
_ Je n'ai pas un denier. _ C'est trop de verbiage.
_ Mais je n'ai rien. _ Voilà bien des façons!
Vîte, qu'on la dépouille, & cela sans tapage.
Aussitôt dit, aussi-tôt fait;
Mais, ô rencontre inattendue!
Au même instant la Fable disparaît:
La vérité se montre toute nue.
A son aspect interdite, éperdu,
La Troupe aussi-tôt lui rendit
Son habit,
Et s'enfuit.
Qui de la Vérité peut soutenir la vue?
Florian, La Fable et la Vérité (source)
I would like to end this brief Blog with a very funny, almost "post-modern", metafable by Gobet, in his Fables nouvelles (Amsterdam 1786).
Un Chat gourmand, mauvais imitateur
De ce Rodilard redoutable,
De ce grand Rodilard si vanté dans la Fable,
Aussi glouton que lui moins bon raisonneur,
Voulut renouveller cette ruse fameuse,
Qui fut jadis si malheureuse
Pour la gent souriquoise. Il se pend au plancher.
Un Rat survient, le voit, court se cacher,
En lui criant: la ruse est vaine,
Va, mon ami, j'ai lu mon la Fontaine.
Il est toujours bon d'avoir lu,
Un Rat plus ignorant auroit été perdu.
Should modern readers know their fables as well as this erudite mouse, fabulists would have no reason to complain!
© Gert-Jan van Dijk and Leiden Arts in Society Blog, 2017. Unauthorised use and/or duplication of this material without express and written permission from this site's author and/or owner is strictly prohibited. Excerpts and links may be used, provided that full and clear credit is given to Gert-Jan van Dijk and Leiden Arts in Society Blog with appropriate and specific direction to the original content.