Pies ¿Para qué los necesito, si tengo alas para volar? - Het Nationale Ballet's embodiment of Frida Kahlo's life.
Feet. Why would I need those when I have wings to fly? is Mexican painter Frida Kahlo's life's mantra. This blog analyzes how het Nationale Ballet gave the rebellious icon feet to dance with.
Nowadays, Frida Kahlo has become a highly popularized icon and has taken over almost every scene: the more we know of her disturbing life's story, rebellious behavior, her passionate love for her husband Diego Rivera and her eccentric personality, the more interesting she becomes, and rightfully so. In the past century, her unimpeded exploration of topics that are taboo and the way she is true to the expression of her individual self has made her a symbol for many feministic movements and has made her widely celebrated within the LGBTQ+ community.
In this year's Becoming Frida, for the first time, het Nationale Ballet provided the rebellious icon with the feet and physical strength she had missed for the biggest part of her life. In this blog I want to analyze how the ballet performance physicalized the troubled but also highly talented artistic spirit of the Mexican artist.
A free spirit trapped inside a broken body
Frida Kahlo, born as Magdalena Carmen Frida Kahlo y Calderón (1907-1954) in Cayoacán, Mexico City, Mexico was the daughter of a German father who was a photographer and a mestiza mother. From the moment she was born, Frida had struggled with her health and physical strength. She caught polio at the age of six, which caused her right leg to remain underdeveloped. Although her father helped her regain strength to a great extent, this already marks one event that has largely shaped Frida as an artist. To deal with the limping, peg-legged Frida turned to long skirts to cover her legs: her interest for wearing Mexican folklore was born (Img. 1).[1]
In the years that followed, Frida's interests mainly lied in politics and the effects of the Mexican revolution that had a very prominent place in her youth.[2] The revolution enforced the love she had for her country, making the presence of native Mexican artefacts and folklore in her artworks undeniable. Her outspoken political and intellectual views on life and the Mexican revolution granted her a place in the National Preparatory School in Mexico City (1922). There, she ran into the much older mural painter Diego Rivera (1886-1957), who would become the love of her life and the protagonist of many of her paintings, but also the cause of her emotional and physical suffering (Img. 2).[3]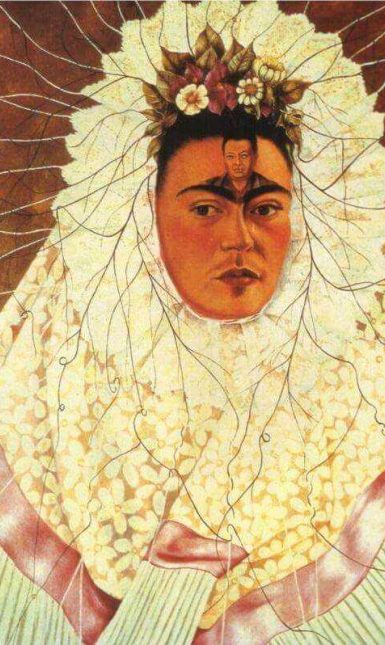 The 17th of September 1925, a tragic event took place that would change her life forever and shape her as the artist we came to love: being involved in a collision between a bus and a streetcar, Frida's pelvis, parts of her spine and her ribs were heavily damaged. From that moment on, being this severely injured, she would have to remain in bed and physically restricted for the largest part of her life (Img. 3). There, physically incapable of doing anything but painting, her creativity exploded: her mind was free to explore the borders of fantasy and reality, to seek for the significance of nature, to analyze society through her political beliefs and to face her greatest internal struggles and desires. [4]
Frida's paintings
"Me pinto a mí misma porque suelo estar sola y soy el sujeto que mejor conozco " - "I paint myself because I am so often alone and because I am the subject I know best."
The fact that she spent so much time alone with herself made it an obvious choice for her to become the subject of almost all of her paintings. However, her artworks were not solely depictions of her own physique, but were often ambiguous in meaning. Being with herself and primarily living within her own mind, she explored the significance of identity within herself and within Mexican society and the way gender, sexuality, race, and social class play a role in this. Using a complex iconography of symbols found in Christianity and pre-Columbian Mexico she would use her artworks to express the subjects that occupied her mind and to describe her life as if it were an autobiography. However, the most permanent, life shaping, intriguing yet sometimes horrifying reoccurring themes in most of her artworks are her Mexicanidad, her passion and (at times) hatred for her husband Diego Rivera, nature and the obstructions resulting from her physical state such as pain, miscarriage and her time spent in hospitals.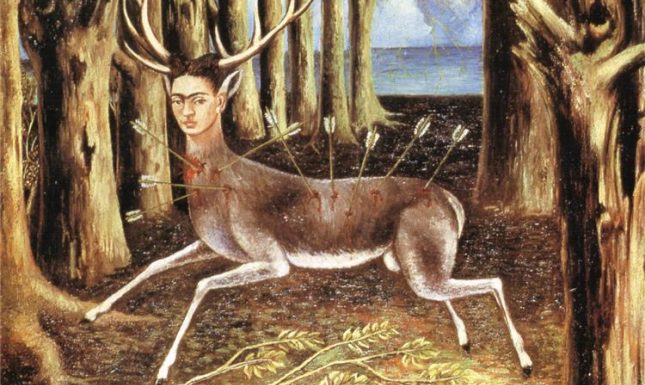 So how was the ballet able to express someone who is and has not been physically strong the largest part of their life? How did they capture someone with such a moving imagination that freed itself entirely from the shackles of the physical world? How do you give someone feet who always used to fly?

Becoming Frida: giving Frida feet to dance with
In the ballet narration of Frida's life, the producer Annabelle Lopez Ochoa chose Frida's biography as the thread of the performance. Most of Frida's self-portraits, the events and people that influenced her artistic creations make a great appearance on stage (Vid. 1). Frida's love for life and her paintings are vividly and recognizably displayed through numerous costumes and colorful decors. Yet, the question arises whether Frida's life's story can be captured by just physicalizing some facts and paintings about her life. [5] Her background, political and intellectual ideas and split personality are much harder yet more interesting to capture as they do more justice explaining her power as an artist, icon and rebel.
In order to emphasize Frida's physical incapability, the choreographer chose to let the dancers that played the protagonists of the story dance on flat shoes instead of the classical pointe shoes. This way, like Frida would probably do herself, the choreographer moved away from the (ballet) norm. Furthermore, the choreographer's choice to express Diego Rivera's clumsy and inelegant appearance by dressing the dancer in a fat suit attributed to emphasizing Frida's delicate and fragile physique. These choices in clothing change the range of steps and tricks the dancers can perform, giving the dance a new vibe, a different style and at times a less elegant touch. Moreover, the dances often refer to Frida's pre-Columbian iconography by incorporating almost Egyptian-like movements (Img. 5). The two-dimensionality of the movements nicely represent Frida's almost entire rejection of three-dimensionality in her portraits in honor of her heritage. Furthermore, although the male and female dancers had differently choreographed steps, they were all wearing skirts, which I interpret as a subtle hint towards Frida's open attitude to (bi)sexuality and her exploration of gender roles.
Ballet usually requires formfitting clothes that make it easy to move in when the dancers need to lift their legs, spin around and jump. Yet, throughout the performance there is no lack of references to Frida's expression through Mexican clothing. Costume designer Dieuweke van Reij's use of bright colors, floral headpieces, and long flowing skirts continuously capture the eyes of the viewer and add to Frida's colorful imagination. However, at times the abundance of fabric makes it seem hard for the dancers to move in which makes the dance in itself feel restricted and sometimes clumsy. Most movements seem to revolve around viciously kicking these colorful skirts around and in order to do so, the dancers are often aligned dancing symmetrically, which makes the dances seem less complex as you would normally expect a ballet performance to be (Img. 6). On the other hand, one might argue that this diminution of movement adds to the idea of Frida's difficult physique and the restrictions it enforces on her. However, I think it devaluates the almost uncontainable energy of Frida's personality and her chaotic mind that was everything but symmetrical and controllable.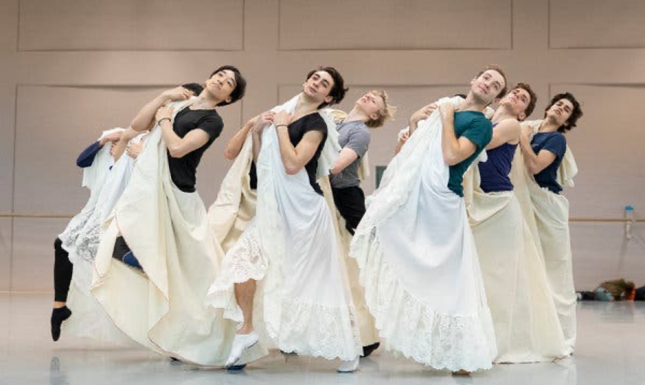 All in all, I think that although this ballet performance contributes to the contemporary "Fridamania" by interpreting and repeating her exciting personality over again, I truly believe it made a good attempt to physically represent Frida's biography, her paintings and her colorful personality. Yet, I think Frida herself would be turning in her grave as her passion for life, her love for her country and above all, her free and spectacular spirit that has been so influential to so many clearly – as she rightfully said - cannot be captured on a dance floor through the feet of dancers, pero lo necesita alas para volar.
References
[1] Lindour, M. A., Devouring Frida: The Art History and Popular Celebrity of Frida Kahlo, (Middleton: Wesleyan University Press), 2011, pp. 1-13.
[2] Craven, D., Art and Revolution in Latin America, 1910-1990, (New Haven: Yale University Press), 2006, pp. 42-45
[3] Lindour, 2011, pp. 13-45.
[4] Herrera, H., Frida: A Biography of Frida Kahlo, (London: Bloomsbury), 2003
[5] Siegal, N., "Frida Kahlo Could Barely Walk. In This Ballet, She Dances", The New York Times, January 20th, 2020, https://www.nytimes.com/2020/01/17/arts/dance/frida-dutch-national-ballet.html (accessed March 2020)
© Liselore Tissen and Leiden Arts in Society Blog, 2020. Unauthorised use and/or duplication of this material without express and written permission from this site's author and/or owner is strictly prohibited. Excerpts and links may be used, provided that full and clear credit is given to Liselore Tissen and Leiden Arts in Society Blog with appropriate and specific direction to the original content.