Sail a Boat on Finger Waves
When I saw a sign language poem for the first time, I felt gooseflesh rise and prickle my skin. In this blogpost I explore the origin and history of this modern art form.
When I saw Wim Emmerik's Liefdesgedicht (Love poem) for the first time, I felt gooseflesh rise and prickle my skin. I was touched by the meticulous movement of the gestures, the serenity, and the poet's expression.
SLN poem, Liefdesgedicht (Love poem), by Wim Emmerik.
Wim Emmerik was an actor, poet, researcher, and teacher of Sign Language of the Netherlands (SLN). He was one of the founders of research on sign language in the Netherlands and his poetic work is internationally well-known. During a guest lecture on Deaf culture last October, I showed Liefdesgedicht to a group of students. Most students reacted with "beautiful", some uttered excitedly "I think I grasped the meaning of some gestures!", and one commented "it reminds me of pantomime". Another student asked how sign language poets use poetic qualities like rhyme and meter. In this blog post and the following, I will explore sign language poetry's origin, methodology, performance, and the relationship between the poet and his/her audience. Rachel Sutton-Spence did a lot of research on this art form. The findings in this blogpost owe a lot to her work.
BSL poem, Cloud Magic, by Dorothy Miles (film courtesy of Paddy Ladd)
ABC-games
The sign language poetry tradition is relatively young – it dates back to the 1980s, 1990s – but its roots go further back in time. The central figure in the history of this modern art form is Dorothy ('Dot') Miles (1931-1993). She composed the first poems in American Sign Language in the 1960s. Miles, born in North Wales, became deaf by cause of meningitis when she was eight years old after she had developed spoken English as her mother tongue. In her teens she became acquainted with British Sign Language (BSL). However, at that time, sign language had an inferior position, so she was taught in English and had to sign secretly with her friends at school (see my previous blog). Later, during her education in linguistics at Gallaudet University, a bilingual university for deaf people, she learned American Sign Language (ASL) and became familiar with local traditional chants and language games that had been passed on for generations, like the "ABC-game". In this game, players must tell a story using signs that share the handshape with the corresponding letters in sequence of the manual alphabet. In other games and chants, performers play with language, for instance, through the repetition of signs, placement of signs, changes in the size and speed of signs, creation of new signs, and role-shifts.
ASL poem, Language for the Eye, by Dorothy Miles
Language for the Eye (translation by Dorothy Miles)
Hold a tree in the palm of your hand,
or topple it with a crash.
Sail a boat on finger waves,
or sink it with a splash.
From your fingertips see a frog leap,
at a passing butterfly.
The word becomes the picture in this language for the eye.
Follow the sun from rise to set,
or bounce it like a ball.
Catch a fish in a fishing net,
or swallow it, bones and all.
Make traffic scurry, or airplanes fly,
and people meet and part.
The word becomes the action in this language of the heart.
The first poems
In 1967, Miles joined the National Theatre for the Deaf (NTD) as an actress. There, she started to experiment with ASL and she discovered its linguistic potential. She started out by translating some of her English poems into ASL. This practice itself was not new, but Miles' methodology was, as she relied on her knowledge of English poetry's features as well as her experience with sign language stories, games, and chants. Shortly after, she started to compose poems directly in ASL and became – as it turned out – the founding mother of sign language poetry.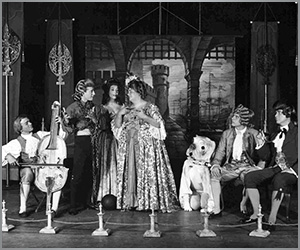 Picture from National Theatre of the Deaf, 1967.
It is probably not a coincidence that Miles started to explore the aesthetic possibilities of sign language in the context of linguists' emerging appreciation of sign languages in the 1960s, and Deaf emancipation and activism (previous blog). Miles also considered her poems as a medium to showcase the beauty of sign language to hearing people. She composed Language for the Eye (1975) to present to hearing children the 'fun of doing things with sign language'.
'pre and post videotape'
Using Miles' words, sign languages are 'language[s] for the eye'. They have no written form. Performance is therefore an essential part of sign language poetry. Thanks to video, I am able to show you sign language poetry in this blog. Most videos here are recordings of live performances, which is another way to communicate poems in sign language. According to Heidi Rose the emergence of videotape technology marks a breaking point in the history of ASL literature. In the pre-videotape period, stories and chants were transmitted verbally. Videotape enabled individuals to create and save single-authored work and share it with a wide audience. Rose parallels the impact of video technology for the Deaf community with the invention of the printing press. Next to practical matters, video offers artistic possibilities too, like cinematography. In the following blog I will discuss the project Bewogen: filmgedichten in gebarentaal (Moved: film-poems in sign language) by Anja Hiddinga, Leendert Pot, and the poets Wim Emmerik and Giselle Meyer, and explore the aesthetics of sign language poetry performance. In the meantime, here's a teaser:
SLN poem, Groei, by Wim Emmerik
© Nynke Feenstra and Leiden Arts in Society Blog, 2016. Unauthorised use and/or duplication of this material without express and written permission from this site's author and/or owner is strictly prohibited. Excerpts and links may be used, provided that full and clear credit is given to Nynke Feenstra and Leiden Arts in Society Blog with appropriate and specific direction to the original content.