–So, what is your PhD project about? –It's kinda about… erm, wanna have my Instagram instead?
Is there such a thing as a 'parallel life' to a strictly academic modus operandi? Is there a domain where a more artistic take on a PhD thesis can be expressed? Dimitris discusses how his Instagram project relates to his research.
No doubt, Twitter is the undisputable social media king in the scholarly kingdom. And, if you think about it, why not? It promotes what most academics love to think about themselves and their profession: not only its interface looks sophisticated, but Twitter also favours the formation of synergies between peers and the rapid transmittance of information in an ultra-succinct way. Plus, you can flex your research among your highly specialised list of followers without looking mad or too arrogant; even the idea of procrastinating over reading tweets relevant to your research does not seem that bad. Indeed, Twitter has widely been acknowledged as an essential digital tool for twenty first century, up-to-date academics.
But what about the rest of mainstream social media? Is there any future for them inside academia? So far, this seems highly unlikely. Take Instagram, for example, with its exclusively pictorial content. Instagram gets systematically bypassed as a synonym of vanity and philistine narcissism. Just think about how many established professors that you know have a public profile in this social platform that somehow, even loosely, relates to their work. Surely, not many, if any. Instagram-frenzy, an equally world-wide-web and worldwide phenomenon, has not yet been appropriated as an information medium within academic circles. And this lack kinda makes sense. For example, what sort of content suits best a PhD student to post? Mirror selfies or food-porn stuff? Maybe, but, I mean, nah…
So far, an image-dominated platform as Instagram is thought to entail 'a lack of seriousness' obstructing its process of becoming trending among a community of scholars. One, therefore, could rightly argue for the existence of an academic tendency of resisting the submersion of logos under eidolon in social media. That is, a tendency of preserving, even in technology matters, the 'innate beauty' of a carefully weaved argument over the 'cheap' outward appeal of an image. Twitter endorses logos, and thus is appreciated as an academic tool. Instagram, on the other hand, sanctions eidolon, and thus is sketched as ineffective and superficial for serious academic purposes. Dialectic discourse seems to always be at the centre of scholarly attention, the one and only protagonist. After all, it is the logical thing to do, no?

Statue of Plutarch Vandalized by @onparallellives
But, wait a minute. Why do we get so prejudiced against eidolon? Is it really an agenda matter? Why, for example, from an undergraduate level, do we learn that the written word is - by default - more eloquent and 'deeper' in meaning than the construction of an image? Take Art History, for instance: why do we always learn to 'write' about a vase or a painting instead of re-constructing anew an image of such object, after, of course, spending enough time reading about and researching it? By the same token, why is academic merit solely measured on the words we type and not on the visual content we (could potentially) create? And why, in conclusion, is it so difficult to envision a kind of meta-scholarship that could reconcile these two ostensibly conflicting notions of logos and eidolon, even if this attempt stems from an amateurish or experimental standpoint?
The above set of aporias has indeed bewildered me for a lengthy period. From the time setting out to write my Master's thesis onwards, I regularly find myself struggling with the pressure of having to provide a 'response' to the topic of my research that is always written in a straightforward, rational, sterile, word-by-word fashion. Sometimes I feel overwhelmed that all the creative responsive stimuli I get during my experience of researching about my thesis, must necessarily be included into sequential chapters or be delimited by ice-cold theoretical frameworks. It truly comes as odd to me how inflexible and predetermined the methods of conducting postgraduate research have become: i) examine your primary sources, ii) read about experts commenting on your primary sources, iii) write stuff about them all. And this tripartite research model always on repeat: not felt as a soothingly repetitive ritual, but closer to the supposed orthodoxy of military courtesy.
Considering all this, I think this is the moment when my Instagram project @onparallellives finally starts to get relevant. As a matter of fact, whilst engaged with my PhD field of research that deals with the contemporary reception of Sophocles' Antigone and Euripides' Medea, I occasionally get the urge to respond, not in essay form, but visually; via the creation of an e-drawing, i.e. a digital artwork exposed online. Thus, the above Instagram page has become the e-locus where I can articulate and share publicly the contents of such undertaking. In fact, all pieces comprising the project are meant to be exclusively exhibited on Instagram's platform, and be accessible to the viewer with the touch of the index finger on the mobile's touchscreen. To get a glimpse of the concept and the type of digital art I create, in the image down below, you can see a re-imagining of Mark Rothko's 'Antigone' (1941) painting.

Rothko's Antigone Got this Xistential Crisis by @onparallellives
Although not all visual imagery uploaded @onparallellives has to do with my PhD thesis, a good deal of it does. Or, in order to do justice to my alias, it is fair to say that some of the digital art I produce runs indeed parallel to the course of my PhD, since it involves imagery that is inspired from modern theatrical versions of the two Greek tragedies about which my PhD thesis is initially concerned. To equip you with another example, here is an Irish Medea hugging her soon-to-be-dead daughter. The image is taken from a performance of an adaptation of Medea entitled By the Bog of Cats (1998), written by the Irish writer Marina Carr. More artwork inspired from the same production as well as a portrait of Marina Carr through the lenses of @onparallellives will also follow in the end of this blog post.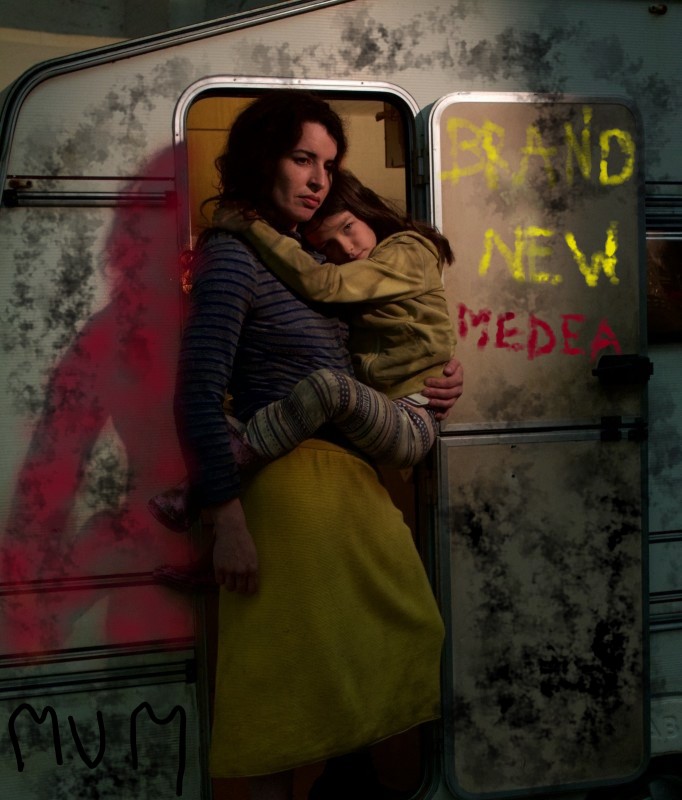 Brand New Medea
To trace now the roots and etymology of my Instagram project, we have to leap the centuries and go back to Plutarch (AD 46-120), a truly amazing man with a double posture. Born Greek but then acquiring the Roman citizenship, Plutarch's dual identity probably inspired him to write a book containing the biographies of prominent Greek and Roman figures, entitled Parallel Lives. In there, Plutarch offers a biographical assembly of the greatest Greeks and Romans. Yet, the comprised biographies and their subsequent arrangement, is far from arbitrary: Plutarch implies that among the Greco-Roman world, there were some key personalities sharing common traits, and thus their lives should be studied in tandem. For example, the biography of Theseus, the mythical king of Athens, is placed alongside that of Romulus, the founder of Rome. The life of the Macedonian conqueror Alexander the Great is aligned with probably the greatest Roman ruler Julius Caesar, whereas the biographies of the two mightiest statesmen of the ancient world, Demosthenes and Cicero, are also grouped together. Hence, by defying an elemental aspect of historiography, which is the chronological narration and explanation of events, Plutarch counter-theorizes that it is worthy to imagine those Greeks and Romans together – as two counterparts of the same whole. Cicero and Demosthenes might never had the chance to meet each other in person, but according to Plutarch, the essential kinship of their respective lives urges us to perceive them as two parallel personas.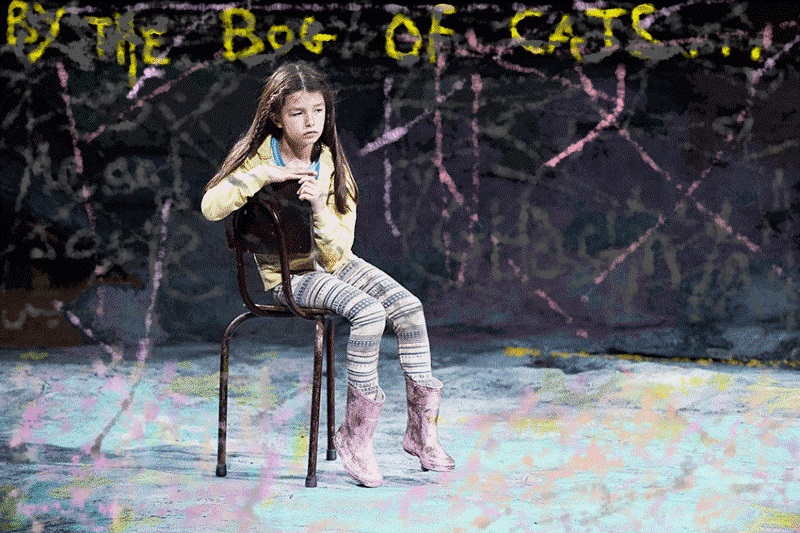 Girl, you'll be a Ghost Soon
Consequently, taking cues from Plutarch's Parallel Lives, and using Instagram app as my host domain, I endeavoured to embark on a parallel journey to that of my PhD candidacy. In other words, my own parallel life. Such parallel life involves a more artistic approach concerning the research material that I confront in my day-to-day routine. Digital artwork inspired by the modern reception of the tragic stories of Antigone and Medea keeps cropping up on and on, when scrolling down. My Insta profile also discloses other random obsessions I have like the portraiture of Robert Smith, the iconic frontman of the goth-rock band the Cure. In a nutshell, @onparallellives functions as an unconventional diary: it records in pictures the things I cannot express in words. By producing such pictorial content, instead of seeking any sort of artistic recognition that these e-drawings most unlikely have, I allow myself to indulge in the pleasure of breaking the monotony of a hard-nosed academic lifestyle. Of course, you can trace all the findings of this parallel journey online, by clicking here.

A Homage to Marina Carr: Present-day High Priestess of Dionysus & Rebel Woman
In retrospect, and putting satisfaction aside, I deem that producing digital artwork related to my PhD research has allowed me to come back to my thesis topic and reflect it anew, with a refreshed gaze. All in all, the overall experience of creating extratextual material in the form of e-drawings and sharing them online in a social media context, has decisively taught me to be extra daring with the word selection in my actual research. As a result, is it too much to describe such phenomenon as 'the brief but vital triumph of eidolon over logos'? You can answer as you may like. In my case, however, one thing is certain: Twitter is dead, long live the new social media king, Instagram!
© Dimitris Kentrotis-Zinelis and Leiden Arts in Society Blog, 2019. Unauthorised use and/or duplication of this material without express and written permission from this site's author and/or owner is strictly prohibited. Excerpts and links may be used, provided that full and clear credit is given to the author and Leiden Arts in Society Blog with appropriate and specific direction to the original content.