The Hanse and the Arts: Past and Present
The Hanse, an extensive medieval mercantile network, has a continuous presence today – think, for example, of Lufthansa, Hanse cities, and the company Hansaplast. In this blog, Suzie reflects on the importance of studying the Hanse and the pivotal role of art in its development.
The success of the Hanse merchants in the Medieval and Early Modern period prompted policy-makers, entrepreneurs, and politicians to establish the New Hanse in 1980. Its founders based this revival of the Hanse on economic collaboration and a shared cultural history of regions in Northern Europe. Cities like Hamburg and Bremen proudly carry the title 'free and hanseatic city' while tourist guides advertise the illustrious hanseatic past of Hanse towns, such as Lübeck, Cologne, Groningen, and Kampen, to attract visitors. Yet the Hanse was never solely an economic phenomenon. Scholars have largely underestimated the role art, architecture, and exchange of knowledge, played in the development of this mercantile organization. Paintings, sculpture, silverware, maps, books, furniture, clothing, music, and buildings commissioned by and designed for Hanse merchants manifest the world of ideas of the Hansards and elicit plans they envisioned for their organization. In what ways did the activities of the merchants have an impact on art production, and how can art historians engage with the trans-regional and kinetic character of the Hanse?
Throughout the existence of the network, Hanse merchants acted as art patrons, both individually and collectively. Even though the majority of studies on the Hanse focus on its flourishing in the fourteenth and fifteenth centuries, our view on the history on the organization changes markedly if we focus on art and architecture in the period of its so-called decline after the fifteenth century. Hansards had their portraits painted by well-known artists such as Hans Holbein the Younger (1497-1543), Cornelis Ketel (1548-1616), and Frans Floris (1517-1570). Appropriate to the Hanse's vast urban network, the merchants commissioned buildings in, among others, Bruges, Antwerp, London, and Gdańsk. They also supported the production of artistic and scholarly endeavors such as the city-atlas Civitates Orbis Terrarum (1572-1617) by Georg Braun (1541-1621) and Frans Hogenberg (1535-1590). A close analysis of these paintings, buildings, and city-views demonstrates that the Hansards presented the Hanse as an important and active network in Europe well into the sixteenth and seventeenth centuries. ⁠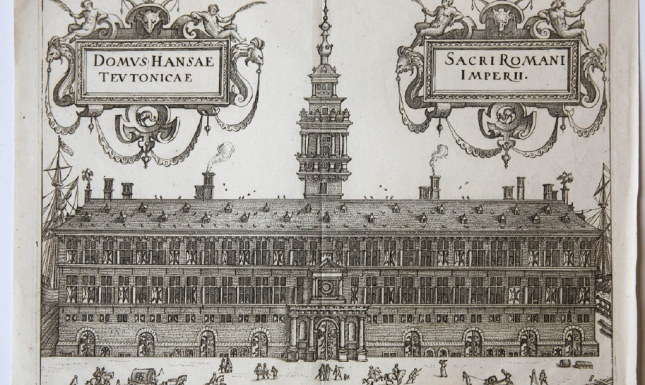 Notions employed in the past, such as Hansekunst or a "Hanseatic style", seem inadequate to tackle the complex relationship of the Hanse to the arts. How can an artwork or a building demonstrate typically Hanseatic features and what is Hanseatic about an artist or commissioner? By concentrating on one specific artist, commissioner, or city, the global coherence of the Hanse in Europe dissipates. Therefore, we need a broader lens to study the Hanse. Examining the merchants and their ties to the arts challenges art historians to look beyond national categories and style periods. It challenges us to look for common artistic and architectural features in a geographic span extending from Russia to England and from Norway to Portugal. Most of all, a study of the Hanse requires us to investigate the social and religious background of Hanse merchants, to learn about their sources of knowledge, the implications of their common natural background (i.e. the littoral along the Baltic Sea and the North Sea), and their relationships and shared goals.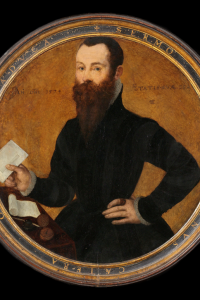 Could we characterize the Hanse as an entity advancing cultural exchange? Indeed, the tightly knit web of communication, transportation, and trade hubs, forged by Hanse merchants who operated as shippers, diplomats, and agents, enabled artistic exchange. Transregional networks, key to Hanseatic commerce, enabled the transportation and trade of commodities, including works of art. It is therefore critical to study art and architecture as their creation and circulation reveal the exchange and survival of ideas, exposes processes of identity formation, and elicits the world view of the Hansards and the perspectives on the future of their organization. The portraits, monumental buildings, maps, and the numerous objects that surfaced, together will demonstrate the rich cultural landscape of the Hanse and attests to a network of merchants that developed a long-term vision for their organization. This quality can be observed in the brand that the Hanse represents today.
Further Reading
Albert d'Haenens. Europe of the North Sea and the Baltic: The World of the Hanse. Antwerp: Albin Michel Fonds Mercator, 1984.
Białostocki, Jan, "The Baltic Area as an Artistic Region in the Sixteenth Century", Hafnia: Copenhagen Papers in the History of Art, No. 4, 1976, 11-23.
Bonsdorff, Jan. Von, Kunstproduktion Und Kunstverbreitung Im Ostseeraum Des Spätmittelalters. Helsinki, 1993.
Bracker, Jörgen, Volker Henn, and Rainer Postel, eds. Die Hanse: Lebenswirklichkeit Und Mythos. 3. Aufl. des Textbandes zur Hamburger Hanse-Ausstellung von 1989. Lübeck: Schmidt-Römhild, 1999.
Brand, Hanno, Egge Knol, Koggen, kooplieden en kantoren: de Hanze, een praktisch netwerk. Hilversum: Verloren, 2009.
Jahnke, Carsten. Die Hanse. Reclams Universal-Bibliothek 19206. Stuttgart: Reclam, 2014.
Petermann, Kerstin, Anja Rasche, and Gerhard Weilandt, eds. Hansische Identitäten. Coniunctions - Beiträge Des Netzwerks Kunst und Kultur der Hansestädte. Petersberg: Michael Imhof Verlag, 2018.
Petter-Wahnschaffe, Katrin. Hans Holbein und der Stalhof in London. Berlin: Deutscher Kunstverlag, 2010.
Puhle, Matthias, Siegfried Wittenburg, and Rolf Hammel-Kiesow, eds. Die Hanse. Darmstadt: Primus Verlag, 2009.
Rasche, Anja. "Der Beitrage der Kunstgeschichte zu einer Hansegeschichte in eer Region." In Hansegeschichte als Regionalgeschichte, edited by Oliver Auge, 117–32. Frankfurt am Main: Peter Lang, 2014.
Tillery, Laura. "Hanse Cultural Geography and Communal Identity in Late-Medieval City Views of Lübeck." Journal of Urban History, May 22, 2020, 1–24.
Wubs-Mrozewicz, Justyna, and Stuart Jenks, eds. The Hanse in Medieval and Early Modern Europe. Northern World; v. 60. Leiden: Brill, 2013.
Zaske, Nikolaus. Kunst in Hansestädten. Köln: Böhlau, 1986.
Online References:
Netzwerk Kunst und Kultur der Hansestädte
© Suzie Hermán and Leiden Arts in Society Blog, 2021. Unauthorised use and/or duplication of this material without express and written permission from this site's author and/or owner is strictly prohibited. Excerpts and links may be used, provided that full and clear credit is given to Suzie Hermán and Leiden Arts in Society Blog with appropriate and specific direction to the original content.