The success of art history
This October the Vereniging Nederlandse Kunsthistorici celebrates its 80th birthday with a symposium about 'the success of art history'. What have we achieved in 80 years and what are the challenges?
About 80 years ago, in 1939, the Vereniging Nederlandse Kunsthistorici (VNK) (which translates into the Dutch Association for Art Historians), was founded. On October 11th, the VNK will celebrate this fact by hosting a symposium at the recently renovated Museum de Lakenhal in Leiden. [1] The VNK was born with the aim to unite the versatile group of people, specialists and fanatics that make up the art field in the Netherlands. Also it provides a platform where these professionals can meet, socialize and exchange knowledge.
Celebrating 80 years of art history - © VNK
Nowadays the members of the association form up a rich group of art historians that work in various fields: from university professors to curators in museums; from cultural heritage professionals to art dealers; from art educators to self-employed specialists; from researchers to art fanatics. A group so diverse makes up for challenging and interesting developments within the field as it unites various disciplines, fields and professionals, opening up interesting opportunities and exciting collaborations. Moreover, thanks to the development of technology, new media and the Internet, art has become a hot topic for the public eye: there are more museum visitors, cultural events, exhibitions and art television shows than ever. These wonderful accomplishments is what the VNK will be celebrating during its birthday symposium: 'The success of art history'.
In this blog I will reflect on the theme of the symposium analyzing what we have achieved in those 80 years. What characterizes the Dutch art historian today? How has the field of art history changed over the years? What developments have we seen so far?
Art history: 80 years ago
The start of art history is and remains a topic of discussion. Some theorists argue it started in the sixteenth-century with Giorgio Vasari's Vite (1550 & 1568), in which he described individual artists and their artworks. Others argue that art philosopher Johan Winckelmann's (1717-1768) 1764 treatise The History of the Art of Antiquity, in which he described the idea of beauty as a reoccurring phenomenon over time and space, marked the start of art history as a discipline.[2] As LUCAS professor in art theory Kitty Zijlmans says, the fact that it is hard to describe what art history is makes it hard to determine when it started as a discipline. The name itself implies that the study focuses on the search for the history of artworks. Yet, most of these early texts do not focus on artworks themselves, but are more like bundles of biographies of artists, like artist history.[3] However it may be, art, style, beauty and the importance of the artist have occupied humanity for quite a while. Nevertheless, art history as an academic discipline as we know it today did not exist until the beginning of the twentieth century. Whereas Joseph Alberdingk Thijm officially was the first Dutch professor to teach art history at the Royal Academy of Art in Amsterdam (nowadays located in The Hague), art historian Willem Vogelsang became the first academic professor at the University of Utrecht in 1907.[4] Nearly two centuries later art history officially became a full doctorate study.[5]
Thus, when the VNK was founded, at the beginning of World War II, art history was still very fresh and limited to the study of objects of art in their historical development and stylistic contexts. So what has happened in those 80 years?
Technological & scientific success
Art and science become entangled more and more than ever. Thanks to many technological inventions that came after the X-ray and UV scanning, such as infrared, cross-section fluorescent staining and X-ray fluorescence (MA-XRF), we are now able to delve even deeper into the history that is embedded in the materials of an artwork or artifact, allowing us to get closer to the artist than ever before.[6] New narratives are unraveled, for example the discovery of drawings of two wrestlers hidden underneath the visible layers of Vincent van Gogh's painting Still life with meadow flowers and roses (1886-18877). These interesting discoveries have opened up new perspectives on the way we see (through) artworks, leading to new developments such as the University of Amsterdam's newest master program in technical art history – a new branch in art history that approaches artworks from the object itself: its materials, the used techniques and the artist's thinking process - and collaborations where the 'hard' sciences meet with archaeology and art history.[7]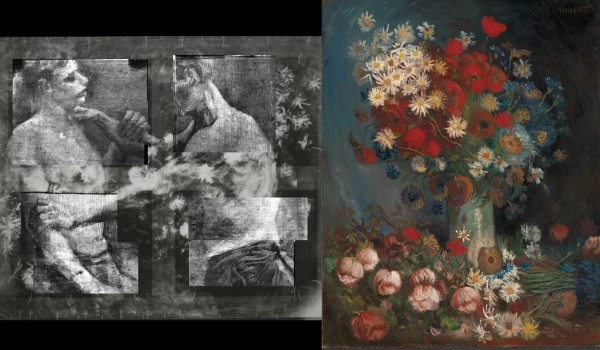 Left: The two wrestlers that were revealed using X-ray studies - © Kröller-Müller Museum
Right: Still life with meadow flowers and roses, 1886-1887, Vincent van Gogh, oil on canvas, 100 x 80 cm, Kröller-Müller museum, Otterlo - © Kröller-Müller Museum
Recent introductions of 3D technologies, such as 3D printing, Augmented Reality (AR), Virtual Reality (VR) and Artificial Intelligence allow the creation of multidimensional experiences with artworks and ways of engaging with artifacts in ways unimaginable more than 10 years ago.[8] Scans and 3D prints allow for the recreation of lost artifacts, as was done in the Scanning for Syria project that managed to recreate lost Syrian clay tablets.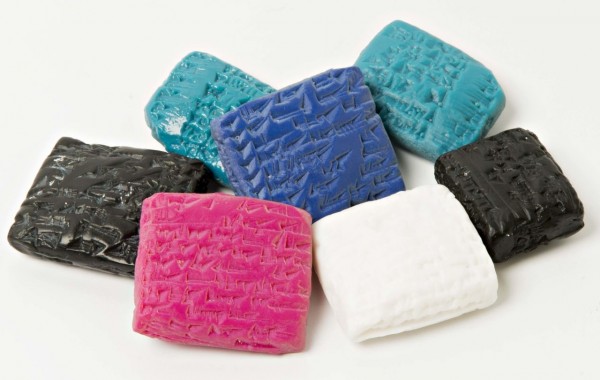 3D prints of the lost Syrian clay tablets – © LDE - Centre for Global Heritage and Development
Artistic success
Artistic practice has definitely made an incredible change. After the horrors of the second World War, Europe's place as the artistic epicenter of the world moved to the United States of America. The new styles developed there such as Warhol's pop art and Pollock's action painting greatly influenced Dutch artists such as Karel Appel and Willem de Kooning. Thanks to the technological developments, the Internet, new media and materials, the Dutch art scene today has become a versatile place and a platform for new artistic discoveries in which artist are allowed to push boundaries and be critical. Photographer Erwin Olaf's shocking realistic portraits confront viewers with topics that are taboo's, such as bondage, nudity and sex.[9]
Chessmen XXIV, Erwin Olaf, 1988, gelatin silver print - © Erwin Olaf/Edwynn Houk Gallery, New York
Studio Drift's designer duo Lonneke Gordijn and Ralph Nauta explore the boundaries of nature and technology by enchanting the beholder with a spectacle of lights that uses sensors to interact with the movement of the people that are present.
Flylight at the Stedelijk Museum in Amsterdam – Studio Drift
Public success
Whereas the museums at the start of the VNK still carried the reputation of being a Valhalla for the connoisseur, of still being rather exclusive, museums today are very different. As Dutch museums are no longer subsidized, they have had to think creatively to maintain their position in society – and with success. Research by the Dutch museum organization de Museumvereniging shows that the number of museum visitors from the Netherlands and from abroad is higher than ever and is steadily increasing each year.[10] Ideas such as the Rijksmuseum's Rijksstudio – a space where you can dive deeper into the fully digitized collection and create your own personal selection of artworks - show that thanks to the clever use of social media and the web, museums can create a connection with the public that reaches far beyond the physical visit within the museum walls.
I can create my own personalized collection at the Rijksstudio! – © Rijksmuseum
The Instagrammability of artworks and museum settings and the rise of the social influencer contribute to a rich online community of art fanatics. Rich online platforms such as a wide variety of television programs such as AVROTROS' Het geheim van de meester, Tussen kunst & kitch and Kunstuur feed the increasing desire to know more of our beloved collections and artists. Not only do museums and their collections reach more people, there is also a rising awareness of the necessity to be more open to a more diverse public, resulting in an increasing amount of initiatives that try to make the museum more inclusive. An example of this is such as WatTelt!'s Musea in Gebaren that offers ways to make museums more accessible for individuals who are hearing impaired.
The success of art history
Unfortunately, this blog is not long enough to highlight every art (historical) development, achievement and change. Nevertheless, it is clear that nowadays, it is hard to consider art history as a small study that simply looks at the history of artworks and is considered as an exclusive interest for the elite. On the contrary: many Dutch universities proudly have art history in their curriculum, the public interest in the arts is rapidly growing and art has been a welcome phenomenon that forces us to look more critically at what happens in our contemporary society. As Zijlmans describes, the borders that define art history as a discipline are blurry, and the introduction of new technologies, different perceptions, various cultures and public diversity continue to liquify art history as a field.[11] These interesting developments make art history more contemporary, exciting and a necessary cause for the whole of society, an achievement that should definitely be celebrated.
I would like to thank the VNK for interviewing me about my own research. To read this interview, please click this link: 3D reproduction: the art historical success of the future?
Interested in learning more about art history? For a concise but comprehensive overview of art history I recommend reading Kitty Zijlmans' Kunstgeschiedenis (Elementaire Deeltjes).
References
[1] For more information about the Vereniging Nederlandse Kunsthistorici and the programme of the symposium, please visit: https://www.kunsthistorici.nl/nieuws/programma-lustrumsymposium-het-succes-van-de-kunstgeschiedenis/
[2] Mansfield, E.C., Making Art History: A Changing Discipline and its Institutions, (London: Routledge, 2014).
[3] Zijlmans, C.J.M., "Kunstgeschiedenis", Elementaire Deeltjes, (Amsterdam: Amsterdam University, 2018), pp. 16-18.
[4] RKD-Nederlands Instituut voor Kunstgeschiedenis, Joseph Alberdink Thijm, https://rkd.nl/nl/explore/artists/354446 (accessed October 1, 2019)
RKD-Nederlands Instituut voor Kunstgeschiedenis, Willem Vogelsang, https://rkd.nl/nl/explore/artists/109946 (accessed October 1, 2019)
[5] Marcus-de Groot, Y., Kunsthistorische vrouwen van weleer: De eerste generatie in Nederland vóór 1921, (Hilversum: Uitgeverij Verloren, 2003), pp. 15-19.
[6] Hill Stoner, J., "Turning Points in Technical Art History in American Art", American Art, (Chicago: University of Chicago 26 (2012) 1), pp. 2-9.
[7] Hermens, E., "Technical Art History: The Synergy of Art, Conservation and Science", Art History and Visual Studies in Europe - Transnational Discourses and National Frameworks, (Leiden: Brill, 2012)
[8] For more information on the 3D reproduction of art as a success of art history, please read the interview I did with the VNK: https://www.kunsthistorici.nl/over-vnk/bulletin/bulletin-2019-2-met-themakatern-het-succes-van-de-kunstgeschiedenis/
[9] Annemart van Rhee, "Erwin Olaf: Ik heb schandalige foto's gemaakt en mocht het Koninklijk Huis portretteren", Algemeen Dagblad, https://www.ad.nl/show/erwin-olaf-ik-heb-schandalige-foto-s-gemaakt-en-mocht-het-koninklijk-huis-portretteren~a98309fe/, September 6th, 2019. (accessed October 1, 2019)
[10] De Museumvereniging, Museumcijfers 2018, https://www.museumvereniging.nl/media/museumcijfers_2018_def.pdf (accessed October 1, 2019)
[11] Zijlmans, C.J.M., 2018, pp. 20-25.
© Liselore Tissen and Leiden Arts in Society Blog, 2019. Unauthorised use and/or duplication of this material withoutexpress and written permission from this site's author and/or owner is strictly prohibited. Excerpts and links may beused, provided that full and clear credit is given to Liselore Tissen and Leiden Arts in Society Blog with appropriate andspecific direction to the original content