The Threat after the Fire: The Restoration of the Notre-Dame
It has been over a week since the fire that destroyed most of France's famous cathedral was extinguished. However, in the ashes lurks a bigger threat: how to restore the Notre-Dame?
Paris, France, April 15, 2019, 6.43 PM CEST– a moment in time that will change Europe's history forever. What was meant to be a big renovation project resulted in destruction, a catastrophe and a loss of thirteen centuries of European art history. It is the moment when the first flames started shooting up around the spire of the French medieval cathedral. The blaze spread rapidly and it took 400 brave fire fighters several hours to extinguish the fire. The wooden spire, the roof and 70% of the artworks, relics and objects that adorned the interior of la Notre-Dame are lost. [1] Even though the fire department declared that the fire was extinguished around 10 AM on the 16th of April, the threat is far from over. Besides natural threats such as mold due to the high humidity because of the water that was used to extinguish the fire, the restoration of the cathedral itself is or can be a threat to the structure and the history of the building.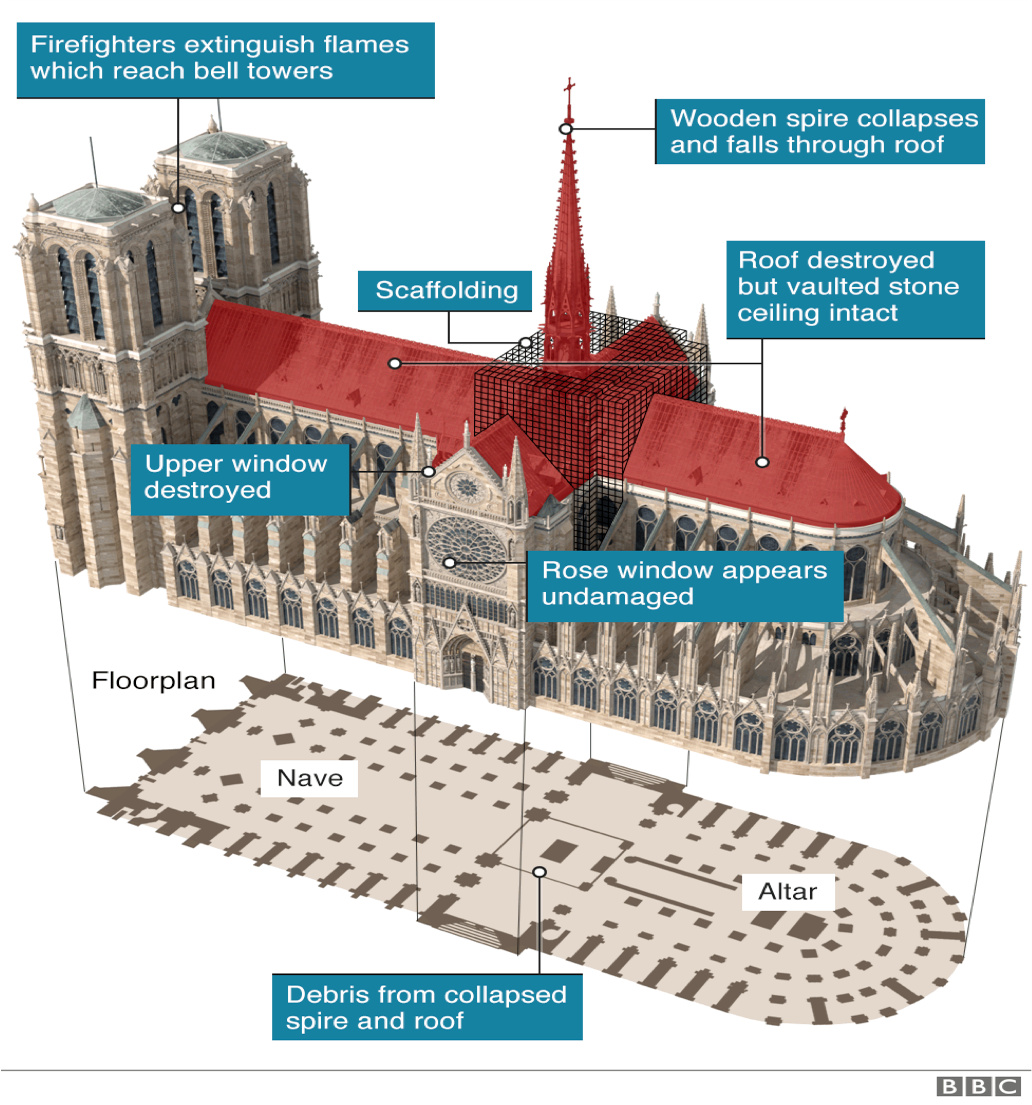 Damage report of the Notre-Dame - © BBC News
Luckily, Andrew Tallon– art historian and professor at Vassar College in Poughkeepsie, New York – and his team thoroughly scanned the entire interior and exterior of the cathedral in 2012. [2] The data he collected make it possible to three dimensionally reconstruct the entire cathedral in very high detail, including its precious artworks. One could think that the solution is easy: let's just recreate everything. However, restoration is not that simple.
In this blog post I want to shed light on the dangers of restoration and conservation and the binaries that have to be overcome during this process. There are a lot of considerations to be made to be able to determine how the cathedral should be restored: how far do we go back in time - to the Middle Ages or the nineteenth century, or do we use a more modern solution -? Who decides how the cathedral should be restored? I also will also examine how and if Tallon's 3D scans can be used and help in overcoming these binaries.
Dilemmas in conservation: patina versus artist's intention
It is not the first time the Notre-Dame will undergo a mayor restoration. In the nineteenth century, Eugène-Emmanuel Viollet-le-Duc (1814-1879) led the project of restoring the Notre-Dame after it was used as a storage space. [3] Le Duc's restoration infuriated many, because he replaced lost ornaments with new ones that could never be historically correct. His approach to the restoration of the cathedral became highly criticized, and his approach in contrast to that of the British critic John Ruskin (1819-1900) who operated during the same time period forms one of the most classical examples of the controversies conservation and restoration practices still have to deal with today. [4]
According to Viollet-le-Duc, almost any treatment is permitted as long as it is in line with the artist's intention, risking the creation of 'pristine' conditions that might never have existed and were never part of the original idea of the artist. [5] This has resulted in him redesigning the spire that collapsed during the fire this April. He also replaced various gargoyles and statues of saints, of which the statue of Saint Thomas shows an obvious resemblance to the architect himself. [6]
Saint Thomas with the face of Eugène-Emmanuel Viollet-le-Duc - © Notre-Dame de Paris
This means that from Viollet-le-Duc's point of view, during the restoration of the Notre-Dame today it will not be necessary to reconstruct the roof and all the artworks that were lost in the way they were. A more contemporary interpretation, adding new elements and replacing 'old and authentic' elements of the cathedral would be a fine solution. Indeed, in the spirit of Viollet-le-Duc the French government announced a contest to design the new spire. [7]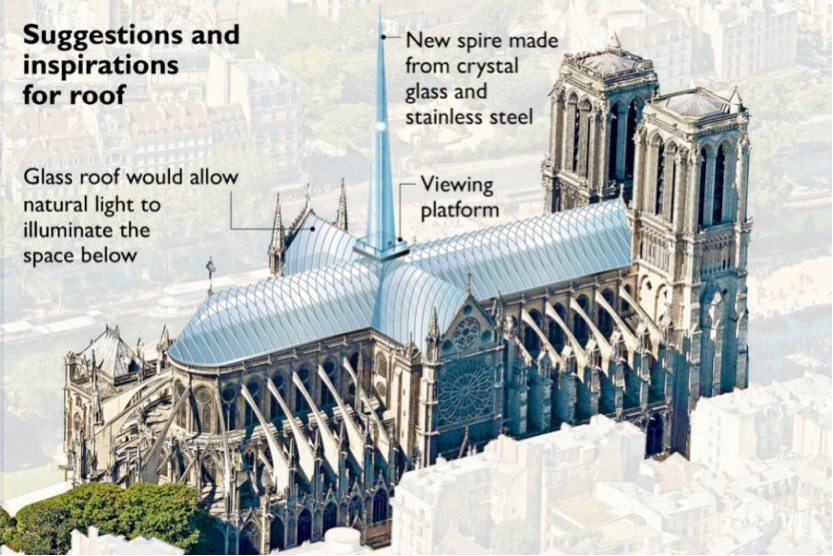 New ideas for the Notre-Dame - Norman Foster's idea of a a glass-and-steel alternative (Courtesy Foster + Partners) - © The Architect's Newspaper
However, the great amount of critique of this competition on Social Media proves that John Ruskin's opinion is still one that is followed by many, confirming that the binary in conservation and the perception of cultural heritage is still accurate. John Ruskin was convinced that the most 'pristine' state of historical objects feature visible signs of time (also known as patina). [8] This would entail that little to no changes can be made to the Notre-Dame as its patina has to remain intact, meaning that it would be unacceptable to replace the spire as the original material is completely lost and a new and contemporary replacement would fail to provide historical information to the person viewing it. [9]
Clearly, these two extremes cannot be met in restoration, as only one decision can be made in order to save the remains of the medieval cathedral. However, can Tallon's scans be the solution in overcoming this binary?
3D technology to the rescue
Let's briefly summarize the two extremes mentioned above: on the one hand, we want to maintain Ruskin's patina of time and preserve the knowledge embedded in the original material, on the other hand there is the inevitable need for Viollet-le-Duc's innovation and continuity of development. It is undeniable that the old material, the original roof of the building and various artworks are lost. In my opinion, the 3D scans made by Tallon can help in providing both authentic information and a modern way of providing for this need for knowledge about the original: the scans have recorded and mapped the information of the cathedral before it was destroyed in all its details, thus providing correct information about the authentic structure and objects in the building. It also allows for a more modern restoration without losing the information embedded in authentic materials by using one-on-one 3D copies or reconstructions. This method has been extremely useful in the case of the Lascaux cave that has remained accessible throughout its reproductions. [10]
Maybe we should start by accepting our defeat, because the original objects will never return in their original materials that withstood time, only their shape and form can be restored. So technically speaking, the restoration of the roof in its original shapes and forms is just as 'fake' as replacing it with a version made of modern materials and in a more modern shape. It is clear that there is not one answer or one solution. However, it is promising that thanks to the 3D scans not all knowledge is lost and we and future generations can still learn from the cathedral and its original structures. This gives us hope that l'esprit de la Notre-Dame did not entirely go up in flames.
For more information about 3D scanning for cultural heritage under threat, I would like to refer to The Centre for Global Heritage & Development
[1] "Notre-Dame: The story of the fire in graphics and images", BBC News, April 16, 2019, https://www.bbc.com/news/world-europe-47947425 (accessed April 21, 2019)
[2] Hartigan Shea, R, "Historian uses lasers to unlock mysteries of Gothic cathedrals", National Geographic, June 22, 2015, https://news.nationalgeographic.com/2015/06/150622-andrew-tallon-notre-dame-cathedral-laser-scan-art-history-medieval-gothic/ (accessed April 21, 2019)
[3] Reiff, D.D., "Viollet le Duc and Historic Restoration: The West Portals of Notre-Dame", Journal of the Society of Architectural Historians, Chicago: Society of Architectural Historians, 30 (1971) 1, pp. 17-30
[4] Muñoz Viñas, S., Contemporary theory of conservation, Oxford: Butterworth-Heinemann, 2005, p. 6
[5] Tissen, L.N.M., Indistinguishable Likeness: 3D replication as a conservation strategy and the moral & ethical discussions on our perception of art, Leiden, 2018, pp 12-13 o
[6] Reiff, D.D., 1971, pp. 17-30
[7] Henlry, J., "France announces contest to redesign Notre Dame spire", The Guardian, April 17, 2019, https://www.theguardian.com/global/2019/apr/17/france-announces-architecture-competition-rebuild-notre-dames-spire (accessed April 23, 2019)
[8] Tissen, L.N.M., 2018, pp. 12-13
[9] Hilburg, J., "Foster + Partners pitches new Notre Dame spire as competition heats up", The Architect's Newspaper, April 22, 2019, https://archpaper.com/2019/04/foster-partners-pitches-notre-dame-spire-competition/ (accessed April 23, 2019)
[10] Delluc, B., Delluc, G., "Lascaux II: a faithful copy", Antiquity (Cambridge: Cambridge University, 58 (1984) 224), pp. 194-196.
Further reading
Ex, N., van de Wetering, E., Zo goed als oud: de achterkant van het restaureren, Amsterdam: Amber, 1993
Jones, S., "Negotiating authentic objects and authentic selves: beyond the deconstruction of authenticity", Journal of material culture, London: University College London, 15 (2010) 2
Muñoz Viñas, S., Contemporary theory of conservation, Oxford: Butterworth-Heinemann, 2005
van Saaze, V., Installation art and the museum: Presentation and conservation of changing artworks, Amsterdam: Amsterdam University, 2003
Tissen, L.N.M., Indistinguishable Likeness: 3D replication as a conservation strategy and the moral & ethical discussions on our perception of art, Leiden, 2018 on our perception
© Liselore Tissen and Leiden Arts in Society Blog, 2019. Unauthorised use and/or duplication of this material without express and written permission from this site's author and/or owner is strictly prohibited. Excerpts and links may be used, provided that full and clear credit is given to Liselore Tissen and Leiden Arts in Society Blog with appropriate and specific direction to the original content.