The Value of Testimonies for Historical Analysis
When I conducted fieldwork in Iraqi Kurdistan, people shared conflicting stories with me about their pasts. This post focuses on my attempt to do justice to such fragmented and contradictory narratives in my research.
History and memory
In 2014 I visited the city of Sulaimaniya in Iraqi Kurdistan to conduct fieldwork. My aim was to study the role that the conflicts that took place in the past play in the Kurdish society of today. In contrast with more traditional historians, however, I was less concerned with a reconstruction of the events that happened, than with the ways in which the traumatic past - especially the anti-Kurdish campaign "Anfal", led by Saddam Hussein's regime - lives on in the everyday lives of Iraqi Kurds. I focused on the museum of Amna Suraka, located in a building that functioned as a political prison and torture chamber until 1991.
Amna Suraka, the main building. Courtesy author.
I quickly realised that, within the complicated reality of Iraqi Kurdistan, it is impossible to strictly distinguish memory from historical facts. One of the reasons for this, is that the official historical account of the past, taught in the Iraqi Kurdish society at schools and in museums, is defined by political ideologies. This account, for example, praises the heroic acts of political forces of resistance and links them to the eventual political goal of a united Kurdistan.
To some extent, this observation holds true for all official narratives told about the past, as these are deployed to hold a group of people together and create a sense of belonging by shaping fragmented and complex events into comprehensive narratives. In the particular case of Iraqi Kurdistan, however, this is especially problematic, since the constant stress on heroism, victory and eventual independence that shapes these narratives, makes it difficult for victims to work through experiences of trauma. Studies on war and genocide show that the inability to work through collective traumas eventually destabilises societies. This is especially problematic in the post-conflict society of Iraqi-Kurdistan, with the current wars fought at its "borders".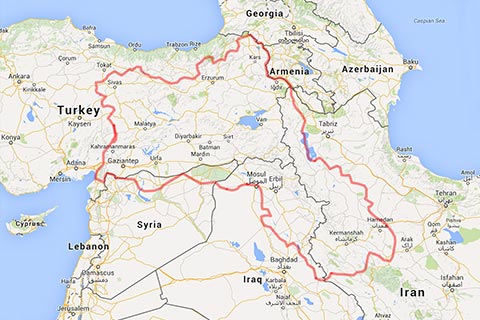 Map of Kurdistan
Silence and memory
In such a complex environment, collecting data by interviewing people can be difficult. Although the museum of Amna Suraka tries to be as neutral as possible, the many people that I interviewed there - guards, guides, visitors - presented conflicting narratives, frequently shaped by the political ideals of the political party that constructed the museum. Therefore, I had to be aware of the social and political backgrounds of my respondents and contextualise my data.
This reflective and critical approach helped me expand my knowledge of the political and social dimensions of my research. However, it turned out to be unproductive when I was interviewing a different group of people: those who had been imprisoned in this building. In a short amount of time, I had to master a different kind of listening. Rather than concentrating on the "facts" that they presented, I had to be able to become sensitive to that which the psychoanalyst Dori Laub characterizes as silence: "the role of the listener is to listen to and hear the silence, speaking mutely both in silence and in speech, both from behind and from within the speech. (…) The listener to trauma needs to know all this, so as to be a guide and an explorer, a companion in a journey onto an uncharted land, a journey the survivor cannot traverse or return from alone." (58)
In the journey unto the uncharted land of trauma, my interviews made me into a witness to testimonies of fear, pain and anger. Especially the stories of former female prisoners forced me to let go of my preconceptions and become a patient listener. One of the stories I heard was the one of Azize[1], who was arrested in 1990, together with her three kids. She had been imprisoned for 9,5 months to force her husband, who was part of the Kurdish resistance, to surrender. Azize told me about interrogations and the difficulty of being in the prison with her children. Her oldest daughter told me about her own experiences, especially about an affectionate head guard who had given her clothes, and filled in gaps in the memory of her mother.
History meets memory
Later, a male detainee informed me that Azize could not have been imprisoned as long as 9,5 months. He accused her and other female inmates of exaggeration; in his view, female inmates were not treated as badly as males, because only men were actually physically and mentally tortured. The fact that many women were raped in this prison is often overlooked or brushed aside in this manner.[2]
Amna Suraka, torture room. Courtesy author.
The Value of Listening
The fragmented and sometimes unclear nature of Azize's story would make it difficult to use it as a factual, historical testimony, as a neutral key to the past. However, in line with Laub, I would argue that as memory scholars we need to listen to 'silent stories' as well, to construct narratives of the past that, even though they are fragmented and sometimes contain contradictions, reflect the traumatised character of this society. Even though Azize did not express this concern explicitly, for example, it was clear that she had not trusted the affection of the guard towards her daughter. Furthermore, Azize's story offers us insight into the harsh reality of women who did not choose to be politically active, but were made responsible for their husbands actions, something that is still not acknowledged in the Iraqi Kurdish society of today.
To conclude, the spoken and unspoken words in Azize's testimony reflect the existing hierarchies concerning suffering, and that analysing these words makes it possible to focus on the question of who is allowed to speak and who is not. In doing so, we can help (re)write histories of trauma: not only by focusing on the stories of those who have been recognised and acknowledged for their suffering, but also on groups of people that continue to be marginalised and whose stories are therefor often denied, repressed or fragmented.
Literature:
Laub, Dori. "Bearing Witness or the Vicissitude of Listening." Testimonies. Crises of Witnessing in Literature, Psychoanalysis, and History. Ed. Shoshana Felman and Dori Laub. New York: Routledge, 1992. 57-74
[1] Azize (pseudonym). Personal interview. 8 December 2014.
[2] Within the specific social-cultural context of Iraqi Kurdistan, the taboo character of rape is complex. The room in which women were imprisoned in Amna Suraka forms an example. After the liberation of the building, a mattress was found in this room, indicating that women were raped there. Although the museum tried to tell this story by placing a mattress in this room and showing it to visitors, the mattress had to be removed because it caused too much commotion.
© Bareez Majid and Leiden Arts in Society Blog, 2017. Unauthorised use and/or duplication of this material without express and written permission from this site's author and/or owner is strictly prohibited. Excerpts and links may be used, provided that full and clear credit is given to Bareez Majid and Leiden Arts in Society Blog with appropriate and specific direction to the original content.