To infinity and beyond: reinventing the 'auratic' experience within the (post-)COVID museum
In a previous blog, Tim Vergeer explained how the consequences of the Corona virus force us to rethink cultural identity and to approach concepts such as 'aura' in a different way. In this blog, I analyze how the virus affects the role of museums within the Dutch anderhalvemetersamenleving.
On the twelfth of March 2020 the Dutch government decided to cease all public activities and to prohibit mass events, which meant that museums had to close their doors for visitors.[1] As most Dutch museums are largely self-funded, the lack of tourists, visitors, educational programs that render income together with the lack of support provided by the Dutch government would mean a cultural catastrophe. As Emilie Gordenker - former director of the Mauritshuis in the Hague who recently started as director of the van Gogh Museum in Amsterdam - quoted in the Dutch newspaper Het Parool [2]:

"Only a fire would have been worse than closing down the museum. That way you would have also lost the collection."
Because of the lockdown, all opportunities of bathing in the original artwork's 'aura', provided by its unique material manifestation in time and space that is protected within the walls of the museum as the guardian for the 'real' or 'genuine' experience, evaporated in an instance. Although the museums are slowly and cautiously starting to open their doors again, there is an awareness that the museum experience will never be the same as it was pre-Corona: only a limited number of people are allowed to visit the museum at the same time and you will have to book a timeslot, making it hardly possible to spontaneously visit museums, let alone see the collections of museums outside of your own country. Spontaneously visiting the Gallery of Honor with your nephews from across the ocean to see Vermeer's Milkmaid is passé now.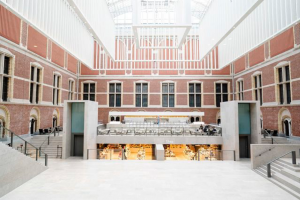 This lack of engagement with the 'unique and real material thing' that provides us with our own individual artistic and cultural understanding would suggests the end of the museums as the providers of the 'auratic' experience. Yet, it appears that the opposite is happening. To be able to provide as many people with the precious artefacts that are enclosed within the museum walls, the new situation stimulates and even obliges museums to provide a 'genuine' or in any sense valuable experience beyond art's materiality and the museum's physical walls. Digital exhibitions like Rijksmuseum Twente's Picasso & Matisse - Beauty is a line and virtual reality (VR) tours like the Anne Frank House VR experience are used to maintain a connection with the visitor, objects and the museum. The high definition photography projects like the Rijksmuseum's Project Nightwatch and the Mauritshuis' Second Canvas app allows visitors to look closer at Dutch masterpieces than would ever be possible in the crowded galleries of the museums. The Van Gogh museum even brings lifelike reproductions to people's homes to provide happiness, support and to stimulate engagement with the museum's collection before the doors are opened for visitors again.[3]

Moreover, the Museum Association (Museumvereniging) recently published the results of their yearly National Museum Research (Nationaal Museum Onderzoek) which shows that, despite and maybe even because of the virus, there is an increasing involvement with the objects of museum collections and that there is a growing necessity for a connection with museums.[4]
This shows that, unlike Walter Benjamin suggested (1936) and which for long has remained the prevalent way of thinking within the Western art world, an artworks 'aura' seems to be more than a fixed entity embedded in the object's role in a traceable past.[5] On the contrary, the lack of physical contact due to the omnipresence of a deadly virus shows that art's significance and the importance of the museum can reach far beyond its physical presence and the artwork's material unicity. As I have explained in previous blogs Masterpieces Remastered and Authentic Copies, aura or authenticity is more tan just an object's material integrity: it is a continuously evolving and ever-changing entity that gives art its meaning, value and significance in society. Aura/authenticity is versatile, culturally determined, mostly constructed through a variety non-tangible experiences, ideas and characteristics that are unique to one's own and is therefore always in flux.[6]

Right now, the consequences of the virus highlight that society quickly adapts to the limitations in physical contact which emphasizes and confirms the idea of aura as something that transcends an artwork's materiality or the museum as a physical space. But how is that possible? Nowadays, as media sociologist Henry Jenkins explains, we live in a culture of convergence: culture, artworks and the experience of aura are no longer fixed in one place in one context, but, thanks to technology, is dispersed amongst various platforms and types of media.[7]

For instance, I am stuck at home with a 3D print of Fabritius' Het Puttertje. Of course it is not the real artwork, however, it is my "Corona buddy" who has stood by my side during these strange times. The 3D print - a different medium - has provided me with some meaningful connection or value to the real artwork located at the Mauritshuis. I will never forget the times we have spent together.
Furthermore, this form of 'media convergence' entails that every medium that is used in the expression of an artwork's 'aura' eventually merges to the point where they become one. This way, a multiplicity of mediums that all support different ways of the appreciation of art together form an artwork's 'auratic' experience. Indeed,
reading the newspapers and columns on cultural engagement before and after the crisis elucidates that since the corona crisis there has been a big spike in the online engagement with museums and a surge in online and virtual/augmentation strategies (e.g. the British Museum's online visits increased more than 700%).[8] This shows that the virus has accelerated the shift from physical engagement to an unlimited understanding situated in the virtual realm.

So to explain all of this, in my case, I have used Ikonospace - a virtual tool that allows you to create your own exhibition with any artwork in the world - to create an exhibition with my Corona buddy (Het Puttertje) and I have placed it amongst other paintings I feel connected to. Through my personal encounters with the artwork in the virtual realm and trough a 3D print, I still have a special bond with the 'original' painting without having to physically be in the presence of the artwork. These experiences together with the physical artwork render the painting's 'aura'.
Moreover, it also shows that we are also becoming socially more convergent: as art scholar Meredith Hoy describes we have become increasingly digitized and more virtually 'native', meaning that the way we learn, work and engage with each other and the world has become more remote, interactive, personal and global. [9] Thanks to the digital tools provided by museums and my personal 3D print of Fabritius' painting, I was able to create my own tailor-made experience with the artwork. I am sure that, once I can visit the Mauritshuis again and see the original painting, I will have a deeper and more personal connection to the artwork now than before the pandemic hit.

Thus, het nieuwe normaal (the new norm) forces museums to let go of the prevalent idea of the museum as a physical space and the individualistic idea of the one and only artwork providing the 'auratic' experience. Let us consider the museum as not solely one medium or format, but instead as one of many. Using this idea, museums can provide a multiplicity of ways to access the objects, supporting cultural engagement in unlimited ways with complimenting experiences. That way, new and meaningful narratives can be developed which can take place in a world where there is limited to no engagement possible with the actual object or the museum as a physical space.

I do not claim that an artwork's physical manifestation and that of the museum as a fixed place one can visit do not have any value and should be disregarded. As the National Museum Research also shows, there is still an increasing longing (25% of Dutch people) to finally go visit the museum again once the lockdown ends, as it appears that a stronger bond with collections is still largely related to actual museum visits. Furthermore, the museum experience is far more than the artworks and the building itself, as Nynke Feenstra explains in this LUCAS vlog.

As the physical museum can no longer house and organize blockbuster exhibitions, I have to agree with director of the Lakenhal (Leiden) Meta Knol that the 'physical' museums should focus more on small scale and more personal experiences.[10] For example, by organizing smaller but more profound, detailed and recognizable exhibitions and events which in turn will satisfy the public's growing longing for a personal connection with collections.

Lastly, as the virus forces on us to do, let's move away from the idea that the museum is a physical space that welcomes hordes of visitors during pre-determined hours and fixed timeslots. Instead, let us consider the museum as a multi-medium with a multiplicity of identities. The virus accelerates the development of new ideas, stimulates us to be creative, to rethink the significance of artworks and to re-evaluate the role of museums in society. What I think will matter much more now and in the post-COVID museum, is the careful choice of (digital/virtual) tools that each museum can use in support of more engagement with a more diverse and complex group of visitors in a way that complies to the museum's message, ideals and the experiences it wants to create. Instead of focusing on only one 'auratic' aspect of the artwork - its unique material - multiple 'aura's' can co-exist within and outside of the museum. This way, art's significance can reach far beyond its physical borders and the museum experience will no longer be limited to a 2-hour timeslot and only one block-buster exhibition, but instead, the visitor can embark on a never-ending personal cultural adventure that reaches to infinity and beyond.
References:
[1] For the latest information regarding the Corona virus and measurements in Dutch museums see: https://www.rijksoverheid.nl/onderwerpen/coronavirus-covid-19/openbaar-en-dagelijks-leven/cultuur
[2] Wiegman, M., "Directeur van Gogh Museum: 'Alleen brand is erger dan sluiten'", Het Parool, (Amsterdam, 23-05-2020), https://www.parool.nl/kunst-media/directeur-van-gogh-museum-alleen-brand-is-erger-dan-sluiten~bff85e86/, accessed May 2020.

[3] Van Gogh Museum, Van Gogh Museum Loans: first winners surprised with a Van Gogh masterpiece, (14-05-2020), https://www.vangoghmuseum.com/en/news-and-press/press-releases/van-gogh-museum-loans-first-winners-surprised-with-a-van-gogh-masterpiece, accessed May 2020.
[4] De Museumvereniging, Nationaal Museum Onderzoek, 2020, https://www.museumvereniging.nl/media/nmo_2020_-_persbericht.pdf, accessed May 2020.

De Museumvereniging, Er is een breed en groeiend draagvlak voor musea , (18-05-2020), https://www.museumvereniging.nl/er-is-een-breed-en-groeiend-draagvlak-voor-musea, accessed May 2020.

[5] Benjamin, W., 'Das Kunstwerk im Zeitalter seiner technischen Reproduzierbarkeit', Zeitschrift für Sozialforschung, Frankfurt Am Main: Suhrkamp, 28 (1963)
[6] Tissen L.N.M. (2020), Authenticity vs 3D reproduction: Never the twain shall meet?. In: Hendrikx S., Oudshoorn M., Smits L., Vergeer T. (red.) Arts in Society. Academic Rhapsodies. Leiden: Leiden University Libraries. 21-40.
[7] Jenkins, H., Convergence Culture: Where Old and New Media Collide, (New York: New York University Press, 2006)
[8] Shehadi, S., "How coronavirus is making virtual galleries go viral", NewStatesman, (23-03-2020) https://www.newstatesman.com/culture/art-design/2020/03/virtual-galleries-art-museums-tours-online, accessed May 2020.
De Volkskrant, De wereld na corona, https://www.volkskrant.nl/kijkverder/t/2020/leven-na-corona/#/

[9] Hoy, M.A., From Point to Pixel: A Genealogy of Digital Aesthetics, (Dartmouth: Dartmouth College Press, 2017)

[10] Pontzen, R., "Dankzij COVID-19 (en Meta Knol) krijgen musea juist meer geld – op termijn", De Volkskrant, 30-04-2020, https://www.volkskrant.nl/cultuur-media/dankzij-covid-19-en-meta-knol-krijgen-musea-juist-meer-geld-op-termijn~b1b9da39/, accessed June 2020
© Liselore Tissen and Leiden Arts in Society Blog, 2020. Unauthorised use and/or duplication of this material without express and written permission from this site's author and/or owner is strictly prohibited. Excerpts and links may be used, provided that full and clear credit is given to Liselore Tissen and Leiden Arts in Society Blog with appropriate and specific direction to the original content.