Towards an Inclusive Academy
On June 10, I organized a conference that addressed issues of diversity and inclusivity through the concept of trans*. This is an account of the challenges that I encountered while organizing the conference.
Over the past decade universities in the Netherlands, but in the western world at large as well, have changed drastically. If you have followed developments in university politics, both here and elsewhere, you might have noticed an increasingly vocal community of students and staff members who challenge the age-old assumption that universities should be inhabited by learned old men. Or better read: white heterosexual cisgender men.
Much of the discussion about diversity and inclusivity is geared towards facilitating minoritarian identifications, be it in practical matters or in terms of access to and representation in the curriculum of many university programs. The discussion, however, also extends into other directions: to questions about the tasks of academia – how can academic work be employed to effect social transformations?
A brochure for Leiden University's diversity and inclusivity policy
Trans*: a conference on diversity
Together with two colleagues, I organized a conference for the Netherlands Research School for Gender Studies (NOG). The conference had as its title "Trans*: Approaches, Methods and Concepts" and addressed exactly these issues of diversity and inclusivity from a trans* perspective. Trans* (note the asterisk) as a concept stands for the prefix that is attached to transgender, transnationalism, transculturalism, translation, but also for transgression and transformation. That is to say, through this conference we hoped to engage with all of these disciplines and theoretical strategies that deal with issues of diversity and inclusivity.
Keynote speaker Trish Salah

By isolating the prefix from its many associations, we hoped to tease out the critical potential that becomes available when we look across these different disciplinary fields. Thinking about trans* also allowed us to look for different artistic and activist practices that address challenges of diversity and inclusivity outside of the work of academia. In doing so we tried to form alliances between different and differing disciplines and practices in order to come up with new solutions for the challenges at hand – and when organizing a conference on any possible association of the prefix trans*, you can be sure that you are going to encounter some major challenges.
Encountering challenges
A conference that addresses the potential to reach across various minoritarian identifications and practices in order to form new political and epistemological bonds should be very careful to ask itself who is speaking and for whom. As the issues under scrutiny involved minoritarian identifications across categories of gender, race, sexuality and any intersection thereof, we were well aware that the conference needed to navigate the threat of appropriation and reductionism.
The plenary round table discussion from left to right: Nancy Jouwe, Bart Peters, Sophie Schers, Rolando Vázquez, Rachel Spronk and Looi van Kessel

To avoid the danger of appropration and reductionism we specifically invited speakers from different backgrounds, identifications and practices to join the discussions and provide insights from their perspectives. In that vein we opened the day, not with a keynote address, but with a round table discussion for which we invited trans activists and artists, queers of color, and decolonial and transcultural academics and activists. And even though we were slightly afraid that the variety of our speakers would end up in an unintelligible cacophony, we fortunately found that the plurality of voices and identifications retained coherence as the discussion was organized around the wish to form new alliances and gain new insights from the different perspectives represented in the panel.
Gender neutral restrooms
Another thorny issue that we encountered during the organization of the NOG conference was the question whether there would be sufficient facilities for those who would be joining in. Since the topic of the conference included discussions on transgender politics, activism and cultural production we expected a great interest from a transgender and non-binary identifying audience. The keynote address by poet and scholar Trish Salah, and the plenary roundtable with filmmaker Bart Peters and activist Sophie Schers allowed us to enter into dialogue with different aspects of trans*, but also forced us to think about the facilities we were able to offer them.
Recently the debate about restroom choices for transgender persons has blown over from the US to the Netherlands. While in the US some states are preparing legislature that would prohibit transgender persons from using their preferred restroom, the Netherlands is struggling with the question whether it should provide gender neutral restrooms in public institutions.
Leiden University, too, is working on two pilot projects to test public responses to gender neutral restrooms on campus. A project that should be applauded, but which did not solve the problem that we could not provide these facilities for the participants and guests of our conference.
A panel discussion with South African sociologist B Camminga
Overcoming challenges
In response to this challenge, we started to talk about the possibility of organizing gender neutral facilities on more local levels than university wide. As the university didn't want to take a stance on these issues before the pilot projects are finished, the only solution was to scale the debate down to the level of separate institutions within the faculties. After a series of meetings with the LUCAS board and the diversity officer, we came to an agreement and were allowed to designate the single-stall restrooms of the LUCAS work space as gender neutral restrooms, not only for the duration of the conference, but permanently. A small victory that was welcomed by conference participants and LUCAS staff alike, and hopefully a first step into a broader discussion about gender neutral facilities on the new humanities campus that is currently under design.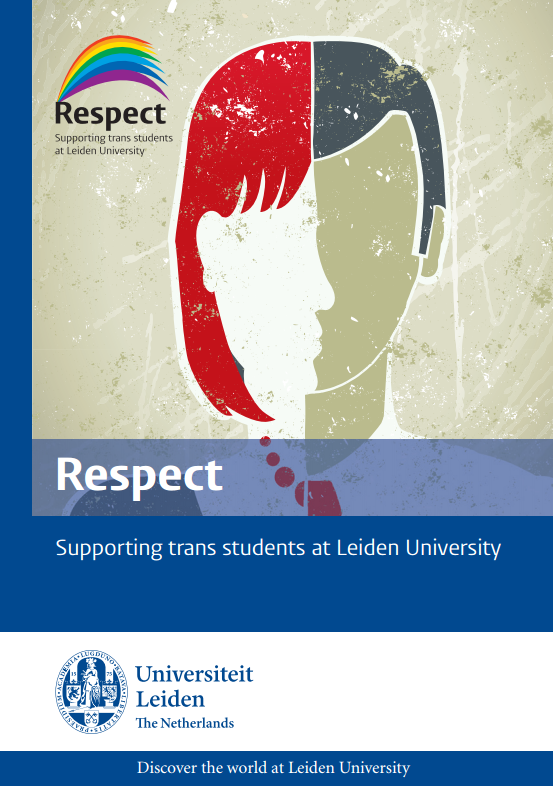 Leiden University is becoming more inclusive towards trans students
The abovementioned challenges, as well as others, are not simply resolved with the organization of one conference that explicitly addresses issues of diversity and inclusivity. The attempt to reach across disciplines and practices, however, is a first step into the direction of transforming the work of academia, and the humanities in particular. Working towards an academic environment that is inclusive is one thing, but to really impact society, these debates need to extend beyond the vestiges of abstract theory and close-reading analyses. While thinking through the challenges that academia encounters, it should also organize politically in its attempt to overcome such challenges. Only then can we really work towards a society that embraces its diversity and that strives to be inclusive.
Further reading
© Looi van Kessel and Leiden Arts in Society Blog, 2016. Unauthorised use and/or duplication of this material without express and written permission from this site's author and/or owner is strictly prohibited. Excerpts and links may be used, provided that full and clear credit is given to Looi van Kessel and Leiden Arts in Society Blog with appropriate and specific direction to the original content.