What's that Noise About?: Metal Music Playing the Devil
Clichés: Metal music is devil's music subconsciously brainwashing people to commit suicide and murder; people who listen to metal music worship Satan, or at least are socially deviant and mentally troubled, etc. etc. etc.
Once, metal music was imagined to be the devil's music . . .
Yet, "metal people" are just people who enjoy musical genres with loud, distorted guitar sounds, prominent and aggressive drums, and emotionally extreme singing techniques. There is nothing devilish about metal music and metal people.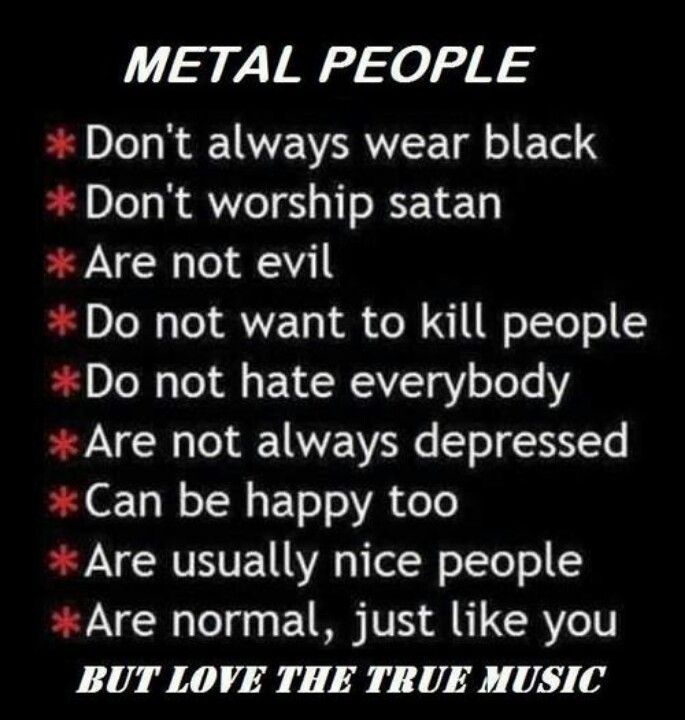 A popular online image de-demonizing metal music and metal people
Still, metal musicians indeed can play the devil, by strange musical structures, sheer loudness, growls and screams, shocking lyrics and images.
The Taiwanese death/black/folk metal band Chthonic (閃靈) certainly knows how to play the devil by presenting shocking music videos and playing with folk sounds such as erhu (二胡) and yueqin (月琴). A good example here: the music video of "Supreme Pain for the Tyrant (破夜斬)," collected in the 2013 album Bú-Tik (武德). As if slaughtering KMT officers is not enough, Chthonic goes so far as to parallel the KMT with the Nazis.
Image of a band member slaughtering a KMT officer
Image paralleling the KMT party (left) with Nazis (right) in the music video
Metal people know that this should not be taken too seriously. Like many music videos of metal music, "Supreme Pain for the Tyrant" is a spectacular performance for shock effects.
Since Chthonic has consistently used yueqin and erhu to stand for the folk of Taiwan, let's suppose that this spectacular performance wants more than shock, and pay attention to the two folk sounds. Do the distorted four semitones of yueqin and the strange repetitions of erhu hook your ears?
Image of Taiwanese two-stringed yueqin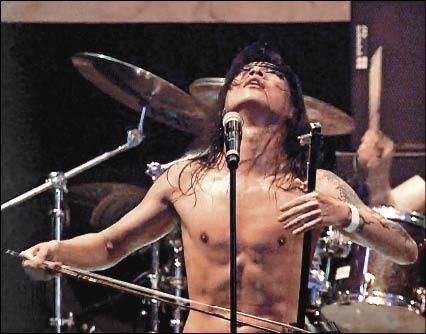 The frontman Freddy Lim (林昶佐) playing erhu live (source)
The general functions of yueqin and erhu can be summarized as follow:
Yueqin: yueqin introduces a sonic and vocal distortion detectable in the opening—repetitive and distorted four descending semitones. This distortion is resolved at the end of "Supreme Pain for the Tyrant" when yueqin is restored back to its natural or commonly heard scale and becomes melody.
Erhu: erhu is the structural-phonic-thematic center of "Supreme Pain for the Tyrant." Erhu is preserved at its natural scale, as an independent soundtrack; erhu melody only appears in musical hooks, "With these hands I wash the blood clean / Watch it flow past visions obscene / Visions obscene" ("Blood for blood, feud for feud / Blood for blood, feud for feud / Blood feud" in the Taiwanese version of lyrics) and "Let me stand up like a Taiwanese / Only justice will bring you peace."
Now, a count of the strange repetitions of yueqin and erhu throughout "Supreme Pain for the Tyrant":
1st: four semitones by yueqin, repeated four times (00:03-00:09)
2nd: erhu melody, repeated four times (01:25-01:48)
3rd: distorted semitones of yueqin replaced by distorted guitar, repeated four times (01:49-01:51)
4th: the same erhu melody, repeated four times (03:22-03:45)
5th: the same erhu melody, repeated four times (03:46-04:10)
6th: yueqin melody at natural scale, repeated three times (04:10-04:53)
Why repetitions in "four" that conclude in "three"? Admittedly, the rhythmic and tempo structure of metal music is mostly 4/4. But the question remains: why such repetitions in sonic and vocal distortions that, even among the songs of Chthonic, stand out as annoyingly catchy or hooking?
As strange as it sounds to non-Taiwanese, the number "four" is in fact a taboo that most Taiwanese are aware of. The number "four" is a homophone of "die/death/dead" (死) in Hakka and Taiwanese. This death connotation of the number "four" was once so prevalent in Taiwan that certain buildings such as hospitals, hotels, and dormitories have no "fourth floor."
Absent fourth floor in Jianchanpi Jianganan Resort (尖山俾江南渡假村), Tainan, Taiwan, photo taken on 27 January, 2017
With this connotation in mind, the use of erhu and yeqin in the song "Supreme Pain for the Tyrant" is literally translatable to the highly rhythmic Taiwanese curse: "Die! Die! Die! Die! Die! (死死死死死)."
Wait, this interpretation is a bit far-fetched, isn't it? Well, let's have a closer look of the music video that, even among music videos of metal music, is a bit atypical by de-emphasizing folk music playing.
1. Erhu and yueqin do not claim visual focus. In fact, throughout the music video yueqin is nowhere to be found, and the fleeting shot on erhu at 00:40-00:43 is a silent erhu playing. When real erhu sounds appear in "Supreme Pain for the Tyrant" later, erhu disappears as well.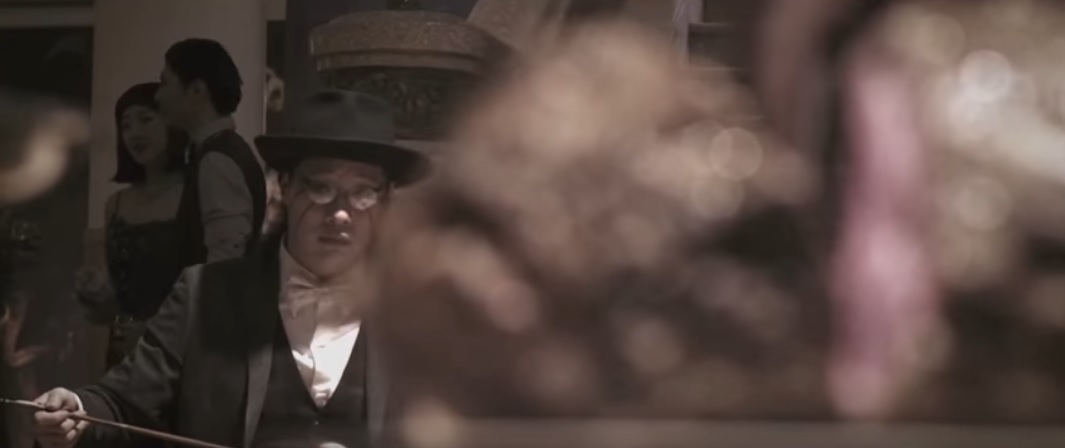 Image of Freddy Lim playing erhu in the music video
2. One fleeting visual-musical incongruity shortly before real erhu sounds: the climbing semitones by the invisible yueqin at 01:22-24 are visually referred to a piano at 01:25, an instrument never used throughout the song.
3. Yueqin is restored when the last "peace" is delivered and when all KMT officers are dead. Even more, during this "restoration," the camera shifts to an omnipresent shot of the dancers crawling to the corpse, eventually themselves lying in piles of bodies, dead.
Let's recap a bit: first, there lurks the Taiwanese cursing slang "Die! Die! Die! Die! Die!" Second, in the music video yueqin and erhu exist ghostly, referred to an even more ghostly piano. It seems that "Supreme Pain for the Tyrant" is a series of possessions between ghostly instruments, and that the possessions can only be pacified when everyone is killed in collective madness and mass slaughter.
Of course, the saying that metal music is devil's music is pretty clichéd, but certainly metal musicians can intentionally play the devil. In "Supreme Pain for the Tyrant," it seems erhu and yueqin not so much stand for the folk of Taiwan, but dead, ghostly folks returning in vengeance.
And perhaps this is exactly what Chthonic is about: playing the devil as if possessed, throwing hell moneys (冥紙) around in live gigs without burning them for the dead, a play that is also an exorcising ritual. After the live gigs, everyday life and routine continues.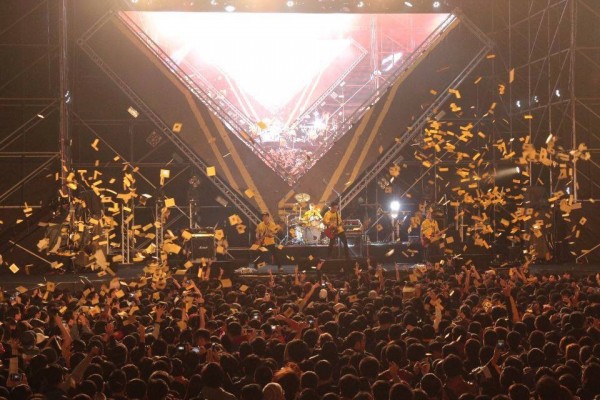 Live in Defending the Country and Pacifying the Dead, 26 December 2015 (source)
Further Reading
Walser, Robert. Running with the Devil: Power, Gender, and Madness in Heavy Metal Music. Wesleyan UP, 1993. 2nd ed., Wesleyan UP, 2015. Google Play Version.
© Kaiwen Chiu and Leiden Arts in Society Blog, 2017. Unauthorised use and/or duplication of this material without express and written permission from this site's author and/or owner is strictly prohibited. Excerpts and links may be used, provided that full and clear credit is given to Kaiwen Chiu and Leiden Arts in Society Blog with appropriate and specific direction to the original content.