Close to the Skin: Courtroom Sketches
A post about the erotics of courtroom sketching and our collective attraction to sensational criminals.
The idea of writing a post about courtroom sketches came to me when I realized that two out of my three earlier posts for this blog featured such a drawing as a title picture. I started thinking about it not so much with the first post about the so-called 'Context-case', but rather with the last one, about the trial of Al Mahdi at the International Criminal Court.
Aloys Oosterwijk. Sketch of the ICC's Al Mahdi trial.
In that post I mused on my experience of watching the live stream the ICC presents on its website to address it as a specific form of mediating criminal trials. In the context of this question of the mediation of courtroom hearings I wondered why there was interest in a courtroom sketch of the trial of Al Mahdi. It seemed ironic to me – a sketch of a trial that was video broadcast from beginning to end, and of which official photographs had been taken. Don't courtroom photographs and video broadcastings of trials defeat the purpose of a sketched representation? What did the courtroom sketch add in this case? And how do courtroom sketches relate to trials in general, especially to criminal trials? Or, in other words, what is it that courtroom sketches are about?
A journalistic endeavor
The courtroom sketch is first and foremost a way of reporting on courtroom hearings, especially in the criminal courts. The genre stems from the seventeenth century, during which parts of criminal trials were opened up to the public. The art form played a prominent role in journalistic reflections on criminal trials up until cameras entered courtrooms in the mid-nineteenth century to photograph and, later, film proceedings. Nowadays it flourishes especially when or where cameras are banned from courtrooms through legislation or by court order.
But not only: famous sketches have been produced during infamous trials that were thoroughly televised and photographed. Courtroom sketchers play into the public fascination for sensational trials, with some drawings becoming about as famous as their celebrity subjects. Examples are drawings from Lindsay Lohan's probation trial in 2010, or of Michael Jackson's child molestation trial in 2005.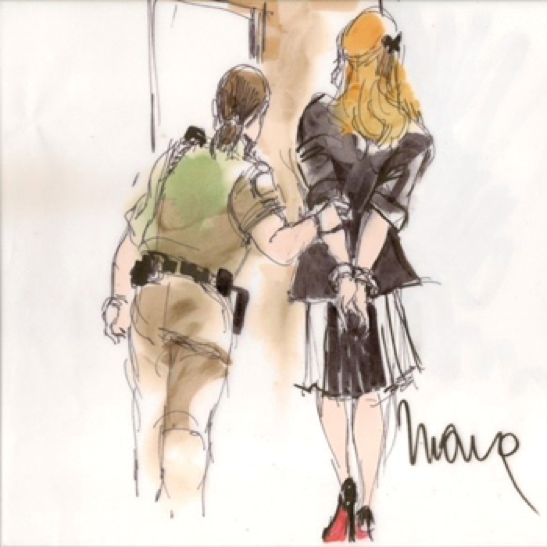 Mona Shafer Edwards. Sketch of Lindsay Lohan, 2010.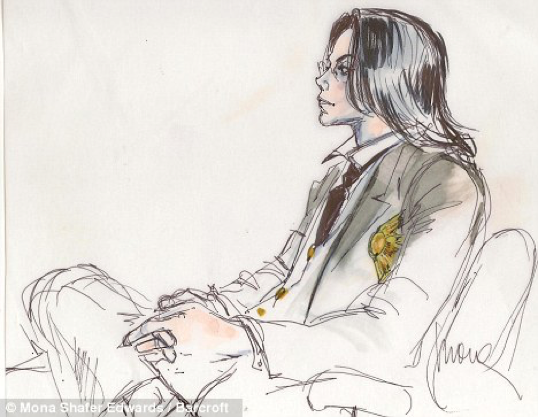 Mona Shafer Edwards. Sketch of Michael Jackson, 2005.
That the public's attention is easily grabbed by images of celebrities is a given. But if courtroom sketches continue to be made despite an abundance of camera footage, there must be something about the form of the sketch, the drawing, that captures something of the trial to which cameras remain blind. In order to address this question I will take a closer look at the work of the artist who drew the two sketches that illustrate my previous blog posts: Aloys Oosterwijk.
Close to the skin
I was drawn to Oosterwijk's images for two reasons. First because his style, his sepia-toned lines and colorings reminiscent of and yet distinct from old photographs, appeals to me, and second because his sketches feature with most news reports of trials on Dutch news websites such as Nos.nl and Nu.nl.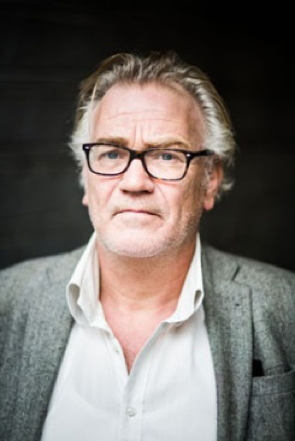 Aloys Oosterwijk. Photograph by Paul Tolenaar.
In 2007, Oosterwijk received the prestigious Stripschapprijs for his oeuvre. Oosterwijk's website, Willems Wereld (Willem's World), bears the name of the comic series he is most known for, a comic he draws weekly for the Dutch magazine Panorama. Besides references to his work on Willem and Cor Morelli, Oosterwijk's other main character, the website presents a collection of Oosterwijk's courtroom sketches.
Most of this work deals with cases that feature prominently in the Dutch press, his main client for the sketches. The trial of Bart van U. for the murder of former Dutch Minister of Health Els Borst, and the trial of Dutch far-right wing politician Geert Wilders, found guilty of inciting discrimination against Dutch Moroccans in December 2016, are examples.
Aloys Oosterwijk. Sketch of the Wilders trial, 2016.
Oosterwijk also takes an interest in what he calls 'everyday crimes.' In the collection De Politierechter he presents sketches of the petty criminals who appear in police court (a 'magistrate's court' in England and Wales), which has jurisdiction over minor offenses such as breaches of the peace.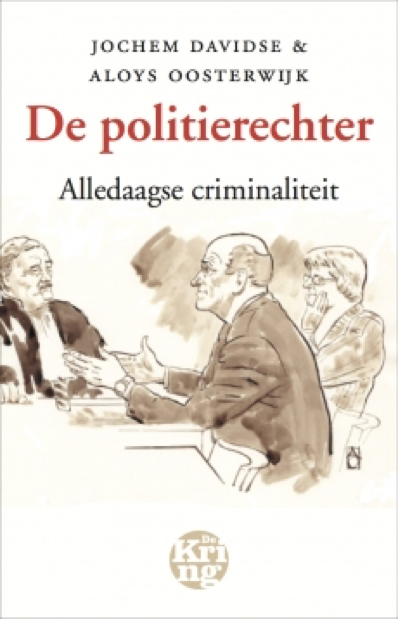 Willems Wereld also presents a crime blog Oosterwijk calls 'Op de huid,' which translates to 'Close to the skin.' The phrase is likely to be derived from the expression 'iemand op de huid zitten,' literally 'to sit on someone's skin,' meaning 'to be too (or very) close to someone,' or 'to pressure someone.' It features collages of unfinished sketches of trials – work-in-progress pasted together with comments in the margins to create a narrative.
A subject of many of these works is a series of hearings in the trial of Willem Holleeder, a 'professional criminal' who has been convicted multiple times in the past decades for extortion and murder. The Dutch media refer to Holleeder by his handle 'The Nose,' or by the pet name 'knuffelcrimineel' (the Netherlands' 'favorite, huggable criminal'), which he received in obtaining somewhat of a cult status after his release from prison in 2012, following which he appeared on national television, radio, and recorded a song with the Dutch rapper Lange Frans.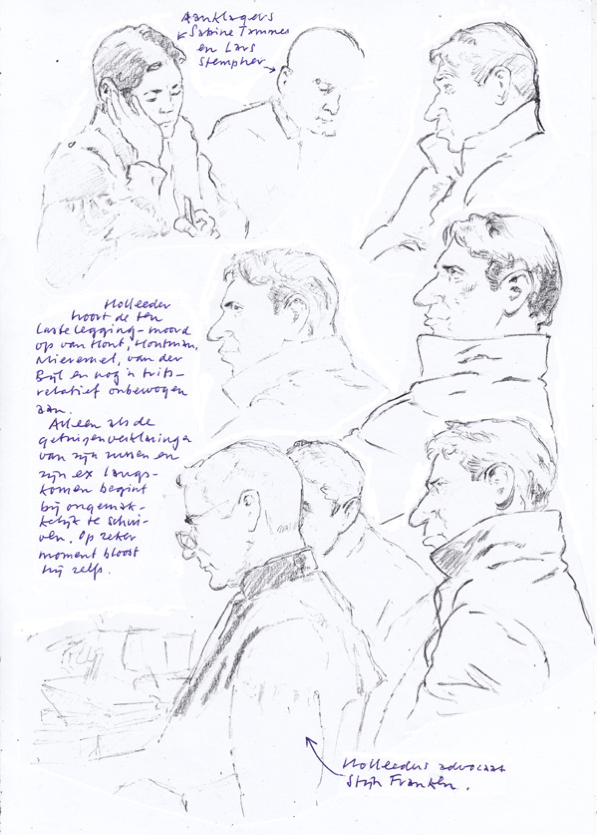 Aloys Oosterwijk. Sketches of Willem Holleeder from December 4, 2015.
Oosterwijk's drawn studies of Willem Holleeder are extensive, presenting different expressions all from the same angle. The artist seems fascinated by the criminal and conveys this to the viewer in the interplay of text and image. Oosterwijk writes: "Holleeder placidly listens to his indictment – the murder of Van Hout, Houtman, Mierenmet, Van Der Bijl, and a few others. Only when his sisters and ex-wife give witness statements he shifts about uncomfortably. At some point he even blushes." Placidity marks the facial expression of the sketch in the top-right corner. The drawing beneath perhaps indicates the blush. Holleeder's iconic nose, the reason for his handle, prominently sticks out in all sketches by consequence of the en profile pose.
Can we say that there is something about Oosterwijk's style, his pencil lines tracing the subject – the presence of his hand in the gestures of sketching, an index of his physical presence in the courtroom where Holleeder was also seated, the materiality of the medium – that creates an intimacy for the viewers with this man who breaks the law for a living, and who seems to enjoy doing so? That the sketches project our desire to approach him in a way that a photograph could not? That Oosterwijk's delicate depiction of Holleeder's skin, the wrinkles that make up his frown, the blush, the size of his nose, the most sensitive of human organs, literally draw the viewer up close – perhaps too close?
Aloys Oosterwijk. A finished courtroom sketch of Willem Holleeder, 2016.
I would suggest that in general courtroom sketches represent the affective, erotic, dimension to the public's fascination with certain criminals and criminal trials. Nevertheless, none of Oosterwijk's other pictures attend so closely to the criminal's skin as those depicting Willem Holleeder or present their features in a near comical way. If we take Oosterwijk's drawings of Holleeder in the context of his other work, Holleeder can be said to find his fictional counterpart in Oosterwijk's other Willem-character, the Willem whose 'world' Oosterwijk has been drawing for years, and which consists for the largest part of pretty vulgar erotic adventures. A Willem who – by coincidence? – sports an equally prominent nose.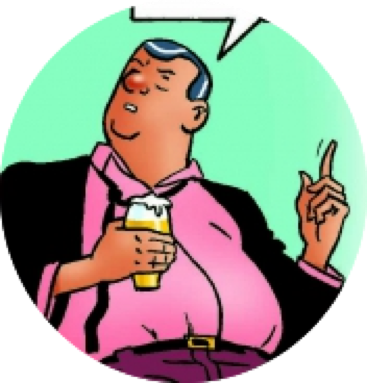 Aloys Oosterwijk. Willem in a cut-out of a scene from Willem's World.
© Tessa de Zeeuw and Leiden Arts in Society Blog, 2016. Unauthorised use and/or duplication of this material without express and written permission from this site's author and/or owner is strictly prohibited. Excerpts and links may be used, provided that full and clear credit is given to Tessa de Zeeuw and Leiden Arts in Society Blog with appropriate and specific direction to the original content.