Interview Loredana Paracciani: "Southeast Asian artists have a genuine interest in their culture"
A conversation with London-based independent curator Loredana Paracciani on her work with contemporary art from Southeast Asia
The art world is large and rarely seen from inside. This post focuses on independent curating. The conversation with London-based independent curator Loredana Paracciani tackles exactly this aspect: how does she conduct her activity and perceive international response to it? As an independent curator for contemporary art from Southeast Asia, she frequently exhibits in the region, and more recently she started working in Europe and in the USA. Her activity helps shortening distances, creating bridges, while she tackles issues of social and political relevance through her curatorial practice.
LV. You are an international curator in a time of budget cuts, and attract worldwide attention to Southeast Asia in the West. In the past years, you made exhibitions in New York, London, Bangkok and Singapore. Can you tell the LUCAS blog what drives your work – which artists do you choose to focus on, and which galleries do you present your work to?
LP. I am an independent curator; being independent is the essence of what I do. This has its pros and cons, both politically and ideologically. So, at a time of funding cuts, I chose to work on what is fundamental for me. The work always departs from aspects I find important to research, mostly relating to social issues from Southeast Asia.
My relation with artists and galleries develops organically and naturally. I work mainly with younger or very young artists, because I feel they articulate the contemporary in a good way. We engage in long conversations and sometimes the works reflect conceptually this exchange.
Curator with Thai artist Tawatchai Puntusawasdi at his studio in Chiang Mai. Photo Courtesy Loredana Paracciani
My initial projects were for commercial galleries because being based in Singapore facilitated an approach to regional galleries. Generally speaking, what is paramount for the gallery is to sell. However, I do not develop my projects with the selling in mind. For museums and non-profit alternative spaces the educational aspect gains much more importance. What I like the most is a blend of the two.
LV. Can you tell me about how you developed a genuine interest in Southeast Asian contemporary art? What were your motivations (ex. helping artists, opening borders, etc.)?
LP. I lived in the region for fifteen years – seven years in Thailand and eight years in Singapore. When I arrived, I had no knowledge of the region, but as I learned Thai, I became increasingly more engaged. Speaking Thai allows for a more personal relation with the artists.
Later I pursued an MA. My thesis – a comparative study on the art education system in three important universities in Bangkok – may be obsolete now, but it constitutes an archive based on primary research. It proved to be an entry point into contemporary art: when I was doing my research, I realized how serious and committed artists were, their genuine interest in their culture. Learning this motivated me to work with them.
LV. Relocating to London in 2015 contributed to the expansion of your work. How do you cope with the constant globe-trotting, and how fundamental for your practice is it?
LP. Moving to London has had two major impacts: a geographical one, because London is a much more central location. I can still travel to Asia, but I am also allowed many more opportunities. Had I stayed in Singapore, I don't think I would have had the opportunity to curate four shows in New York in the last couple of years. Another important aspect of being in London is access to art, and art events: it is much greater here. Southeast Asia can be quite isolated.
Traveling is important; in the art world, being at the right place at the right time is crucial. There is a kind of magic that develops from some of these encounters.
LV. Can you specify your curation patterns?
LP. Geographically, I focus on Southeast Asia. I am also drawn towards artists that are socially, ethically, or politically engaged. Their art speaks of some social concerns which can in turn resonate with the audiences. These personal and communal interests are reflected in the aesthetic of their art. I tend to work with artists that produce aesthetically engaging works that are attractive and compelling to the eye.
LV. I want you to explain further, what is attractive to the eye?
LP. Aspects such as composition, material, presentation, colors, light/shade, or a combination of the above is crucial for me. These are the initial elements that help guide my selection while researching for a curatorial project. Furthermore, for audiences which may not be very familiar with contemporary art, the aesthetic value of the artworks serves as the entry point to promote a deeper engagement with the conceptual layering inherent to the works.
Norberto Roldan, Crusade, 2015, mixed media, 168 x 450 cm. Photo Courtesy Sundaram Tagore Gallery New York for the exhibition REV|ACTION: Contemporary Art from Southeast Asia
LV. Can you describe the feedback and response from audiences still not particularly engaged with contemporary art from Southeast Asia?
LP. Feedback depends on where we are; generally, the response differs from a gallery or museum audience. For gallery-goers, who are often expected to collect, it may be preferable to feature collectable art works such as paintings. However, galleries are open to all sorts of mediums including installation works. For instance, the large terracotta installations by Indonesian artist Albert Yonathan Setiawan (b. 1983, Bandung) fascinate collectors.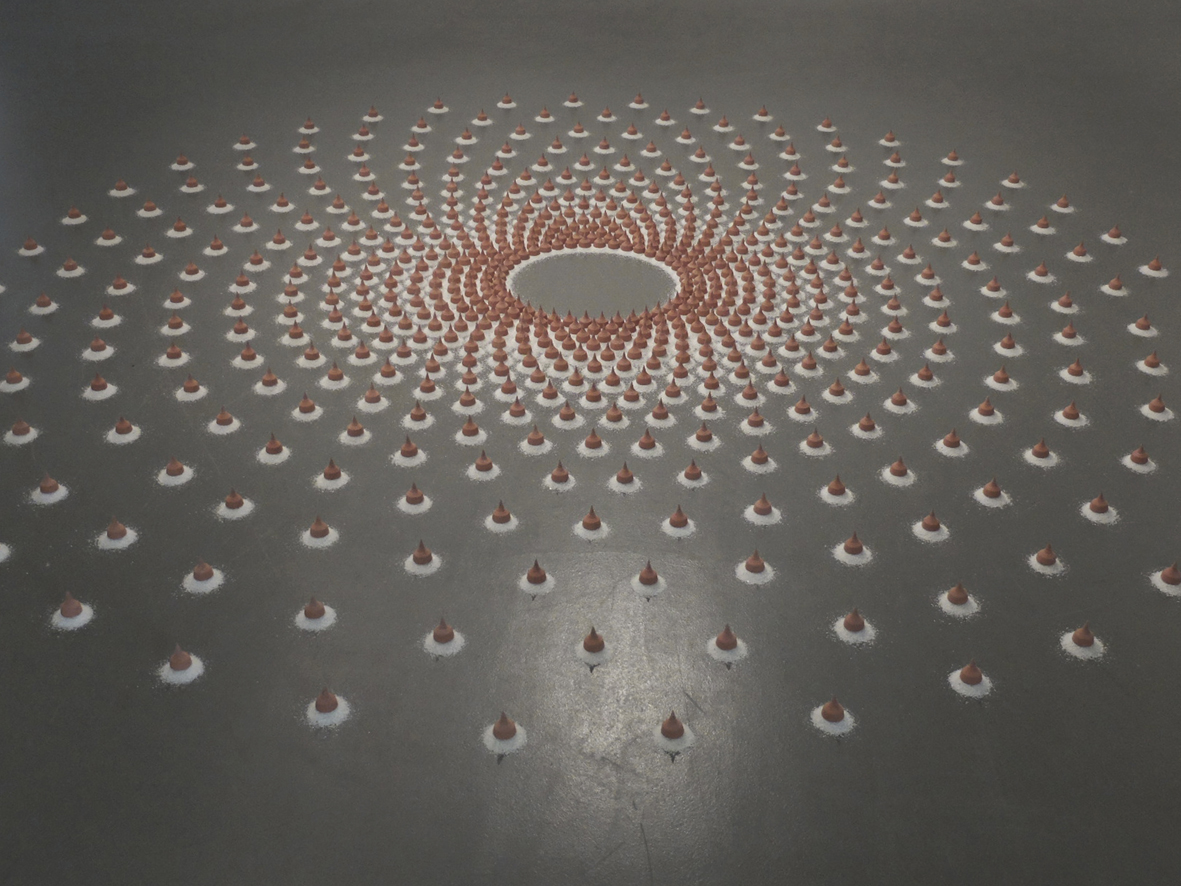 Albert Yonathan Setiawan, Mandala Study #4, 2015, 650 Terracotta pieces atop marble sand, 300 x 300 x 10 cm, Picture Courtesy of Sundaram Tagore Gallery
Collectors ask how they can install the work at home, clean it, store it; they ask if the artist can come in person and install. As a curator working for the gallery, I try to facilitate these aspects as well. These are important aspects of working with commercial galleries.
LV. What about museums?
LP. It is quite different. You do not have to think about the work sales. Also, normally people going to a museum expect a higher learning experience. However, museums may have a specific cultural agenda or a fundamental art collection to work with. So, there are other challenges.
One of the most exciting museum projects I developed was for the Queens Museum in New York. This project was part of the inToAsia Time Based Art Festival in 2015. The show I proposed, Architectural Landscapes: Southeast Asia In the Forefront, was a Southeast Asian group exhibition. As you know, the audience at the Queens Museum is very much mixed by ethnic minorities, so this was a perfect location for the event.
I also worked with a gallery in Chelsea, in New York. They have a different crowd, perhaps more exclusive, and very selective. Nonetheless, we had great numbers of visitors at both locations including students. This means there is interest in learning about contemporary art from Southeast Asia.
Architectural Landscapes| Southeast Asia In the Forefront. Exhibition tour with students. Photo Courtesy the Queens Museum.
LV. Do you have preferences in terms of media?
LP. I do not have a preference in terms of media; it can vary from photography, painting, performance art, and mixed or new media installations. The concept of the work is paramount to me. However, what matters the most, as curator, is to convey the artist's intention, while addressing the overarching framework of the project.
In the show I recently curated at Jim Thompson Art Center in Bangkok, The Game | Viet Nam by LE Brothers, I presented a 24 channel video work entitled The Game, a work by two Vietnamese artists, the LE Brothers. The work is mesmerizing; it is attractive at first glance, and increasingly engaging as the visitor unpacks each frame from the video work.
The Game | Viet Nam by LE Brothers. Installation view. Photo Courtesy The Jim Thompson Art Center
The exhibition as a whole compiles the 24 channels video work, a large photography installation, and a mixed media installation including two larger-then-life rifles – the AK47 and the AR15 – which relate with the Vietnam-American war. As a whole, the exhibition invites the audience to understand the conflict, and the post-conflict period. The artists' vision of the post war period is very relevant, as they represent the post-conflict generation growing up during the Doi Moi.
The Game | Viet Nam by LE Brothers. Installation view. Photo Courtesy The Jim Thompson Art Center
LV. In the near future, in terms of Southeast Asian contemporary, what are your current interests, and what are you working on now?
LP. I am particularly interested in issues of diaspora in Southeast Asian recent history; my research areas include diaspora and migration due to war – for instance, the Vietnam War, the Khmer Rouge regime, etc. – as well as to political asylum or migration caused by economic reasons.
As I have been advancing my research, two main projects emerged. One is a thematic volume for which I invited regional specialists to participate. I gave a conceptual briefing of the volume and asked them to respond based on their respective research. It is a group of writers, academics and curators – some are well established, some younger – that share deep knowledge on specific countries of the Southeast Asian region, including Cambodia, the Philippines, Thailand, Singapore, Indonesia, Myanmar, etc. The volume is expected to be released in late 2017 or early 2018 and will printed by a University Press.
The second project is a large and comprehensive exhibition which will take place at MAIIAM Contemporary Art Museum in Chiang Mai, Thailand, early 2018. This is a very interesting project on which I have been already working solidly for several months. Some of the selected artists are themselves diasporic, others have been working very successfully in their art practice tackling issues relating to diaspora such as the border, the relevance of geographical maps as a man-made national demarcation, as well as the notion of home. Many works have been specifically commissioned, others are existing works. I am extremely grateful for this opportunity, and I am very excited to be working with so many great artists, as well as a very skillful team of architects for the exhibition layout, and most importantly with a very supportive museum. Stay tuned; more updates will be released in the next coming months.
My next group show in New York will take place in Sundaram Tagore Gallery this coming October. This will be a full Thai show, presenting contemporary art works that challenge conventions!