Finding the Perfect Fit: Adult Toys for Trans Men
Looi visited a launch of adult toys for trans men and takes this opportunity to talk about the importance of self-representation for sexual communities.
In the course of their successful Netflix show, Grace and Frankie, two senior citizens played by Jane Fonda and Lily Tomlin have the idea to design and produce their own line of sex toys specifically for older women. Since the show is meant as a comedy, the idea is met with much hilarity. Their friends and family don't fully understand the reason for their desire to make sex toys and respond in due nature: they get upset or make jokes about it. However, their plan takes off and becomes one of the main plotlines of the show, running through several seasons. In doing so, Grace and Frankie does two very important things.
Grace (right) and Frankie inspect the first batch of their own sex toys. ©Netflix
First, the show introduces the topic of sexuality and sexual behavior of older people to mainstream media. (And indeed, another major plotline discusses homosexuality in older men, revolving around Grace and Frankie's ex-husbands, who have fallen in love with each other.) But more importantly, the show draws attention to the importance for sexually active persons to define and create their own sex practices. After all, Grace and Frankie decide to design their own sex toy because the currently available options are not fit for older women, whose bodies are not usually accounted for in the design of mainstream adult products. Arthritis simply doesn't mix well with modern vibrators that aim to pleasure full throttle!
Sex outside of the mainstream
I begin this blog post with a lengthy introduction about Grace and Frankie because of the way in which this show touches upon the importance of sexual self-representation—the idea that sexual communities define their own sex practices and have control over the media through which they define these sex practices. The notion of self-representation is central to the topic of today's blog: the launch of a product line designed by and for transgender men that took place November 23 at the Amsterdam based fetish brand Mister B.
Product display at the FTM product launch ©Mister B
Of course, sex toys and other adult products for trans masculine folk have been available for quite some time. Still, I think this event is significant for several reasons: it promotes the availability of adult products for trans men in a relatively mainstream retail environment; it heightens trans* visibility within the adult retail industry; and it brought the trans activist and porn star Buck Angel to the Netherlands, which is quite an event in its own right. But perhaps most importantly, the launch of the FTM adult product line draws attention to the different needs of trans masculine bodies as opposed to those of cis males when it comes to adult toys, while also challenging the primacy of genitalia in the cultural construction of gender identities and sex practices.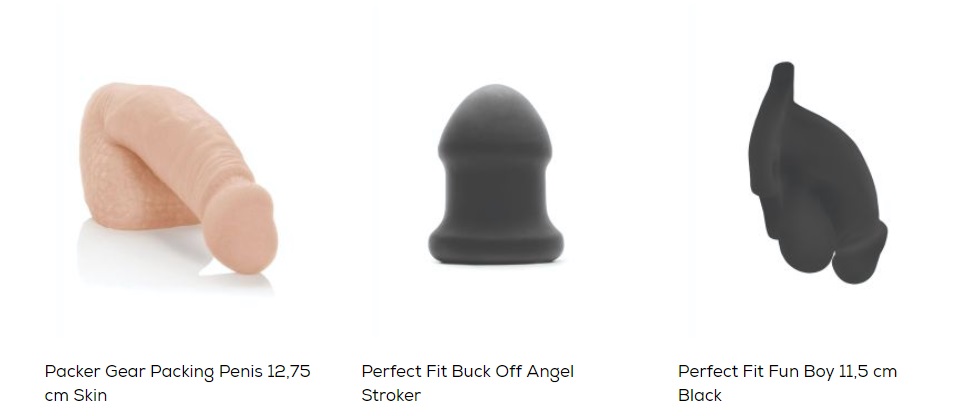 A sample of the FTM products available through the Mister B website. ©Mister B
Let me elaborate on this last point. Mister B was founded in 1994 and specializes in sex toys, clothing, and accessories tailored towards gay male S&M and leather communities. Many of the products this company carries, however, are made with cis men in mind and are thus not always suitable for trans men whose embodiment of masculinity cannot be reduced to merely their genitals. By introducing this line of adult products for trans men, Mister B acknowledges that the experiences of masculinity go beyond the shape of one's genitals, which, I believe, is an important step in the advancement of trans* visibility in gay male sexual cultures (and eventually mainstream culture as well). Mister B now caters to all men, whether they identify as cis or are of trans* experience.
"Buck Off"
The driving force behind most of the products that Mister B now stocks is the aforementioned Buck Angel, whose product line "Buck Off" is credited as the first line of sex toys and adult products designed specifically for trans men. Buck Angel speaks very openly about his trans* experiences, including the fact that he chose to not have genital reconstruction surgery (for instance, he has adopted the moniker "the man with a vagina"). His reason for entering the adult entertainment industry and later design adult products is that he never felt represented in these businesses. Before the last decade, as far as there was trans* representation in these industries, it mostly consisted of pornographic movies featuring trans women, but produced for the pleasure of self-identified cis gender heterosexual men. Even worse, within the industry trans* porn actors are often referred to with transphobic slurs such as "she-male" or "tranny".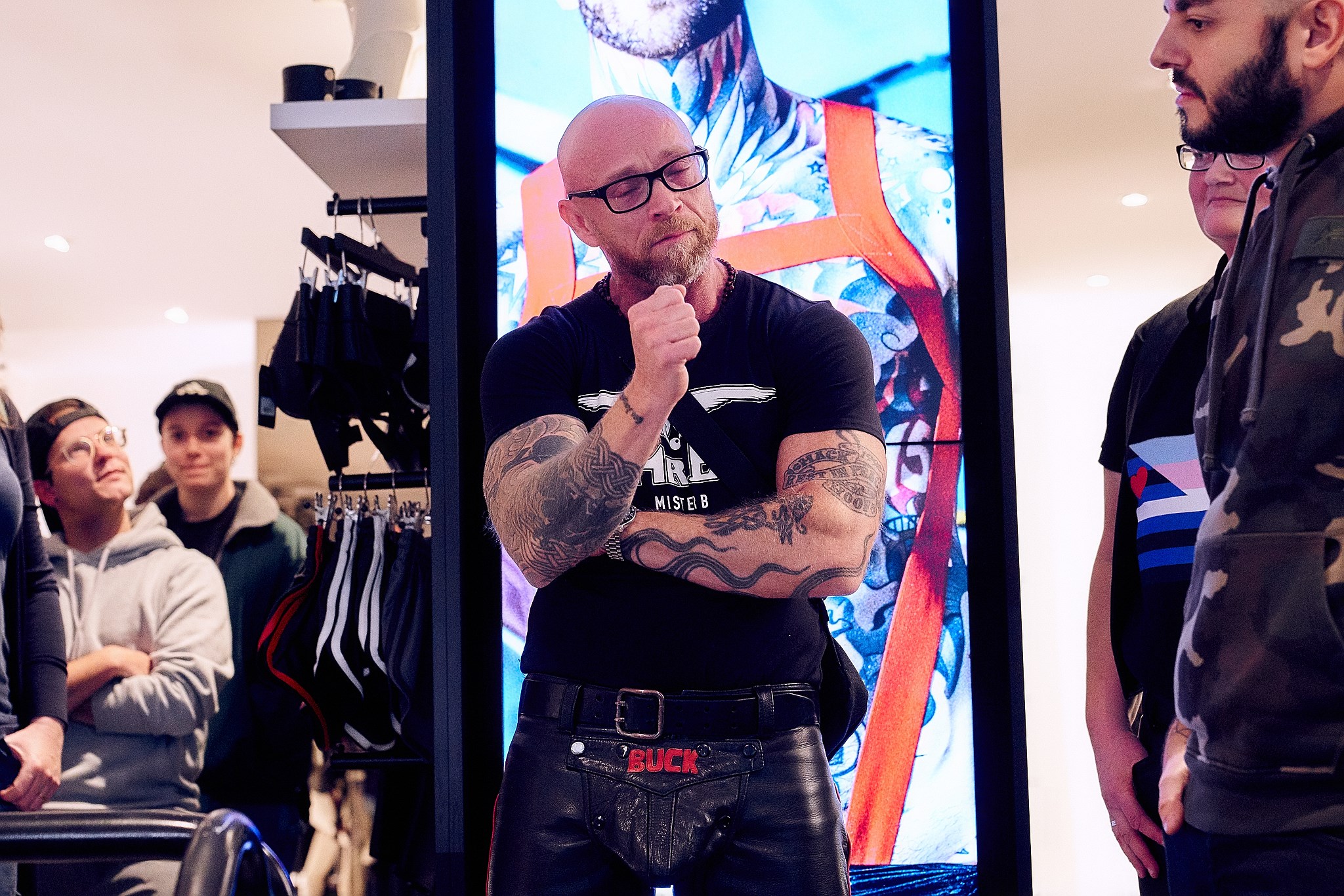 Buck Angel addresses the audience during the launch. ©Mister B
Queer scholars have stressed the importance of self-representation in pornography for sexual communities. For example, Tim Dean's study of pornographic productions emerging from the San Francisco based bareback community shows that this community defines itself through its own pornographic output, among other things. Nowadays, pornographic material plays a key role in the erotic development of the majority of people in Western countries, regardless of their sexual or gender identification or expression. Yet, if the pornography representing certain marginalized sexual communities is produced by (heterosexual) cis men and for a normative cis male audience, these communities might feel misrepresented or even disenfranchised.
Emancipating trans* bodies
Fortunately, these communities are taking control over the production of pornography, which has resulted in a wave of queer and indie pornographic productions that celebrate non-normative bodies and sexualities, and provides a space for marginalized sexual communities to be represented on their own terms. As a result, parts of the adult entertainment industry have made an emancipatory move towards more recognition and visibility of trans* performers and producers and their experiences. For the inaugural issue of the Transgender Studies Quarterly, queer scholar Eliza Steinbock writes: "The political strategy of countering stereotyped images with more diverse images of trans sexuality has been championed by various organizations: Adult Video News Awards acknowledged the pioneering work of Buck Angel and Allanah Starr; the Feminist Porn Awards honors trans* and genderqueer performers like Drew Deveaux and Jiz Lee; and the Berlin Porn Film Festival actively supports trans (post)pornographies".[1]
Buck Angel explains the process behind his product design, ©Buck Angel
Buck Angel's' "Buck Off" products perform a similar emancipating function. In a video he talks extensively about the process behind the different products he has developed. He reminds the (cis gendered) viewer that trans* bodies often have different needs or require different regimes of care. By producing his own line of adult products, Buck Angel takes control over the narratives about trans masculine bodies in the sex toys and adult products industry. And judging from the many product reviews that can be found on YouTube, these products are a welcome addition to the ways in which trans masculine folk define their own sex practices. Just take a look at the videos posted by uppercaseCHASE1 (see specifically this one, this one, and this one). The number of views and extensive comment sections below these videos attest to the community's wish to be represented in the adult product industry.
Mister B's decision to carry a product line designed for trans masculine folk is, then, a beautiful step forward. A step towards more visibility, recognition and emancipation. A step towards the rights of trans* folk to make decisions over their own bodies and the ways in which they enjoy erotic pleasure. Of course it is just one step, but when a community is still so marginalized worldwide, every single step counts.
Plus, I got this awesome selfie with mister Buck Angel himself out of the deal!
[1] Steinbock, Eliza. "Pornography." TSQ 1.1-2 (May 2014): 156-158.
© Looi van Kessel and Leiden Arts in Society Blog, 2018. Unauthorised use and/or duplication of this material without express and written permission from this site's author and/or owner is strictly prohibited. Excerpts and links may be used, provided that full and clear credit is given to Looi van Kessel and Leiden Arts in Society Blog with appropriate and specific direction to the original content.