Women in STEM in Kuwait City
The 'Women in STEM' conference in Kuwait last October showed how science can empower women.
Between October 23 and 25 2017, Kuwait City hosted a scientific event in which women were stars. Throughout the conference, it became clear that if women want to achieve in science, they must help each other and be willing to fail. As Professor Kim Binsted of University of Hawai'i mentioned, "Nobody really cares [if you fail]." She added: "It is important to emphasize, especially to students, that a successful career involves a lot of failures."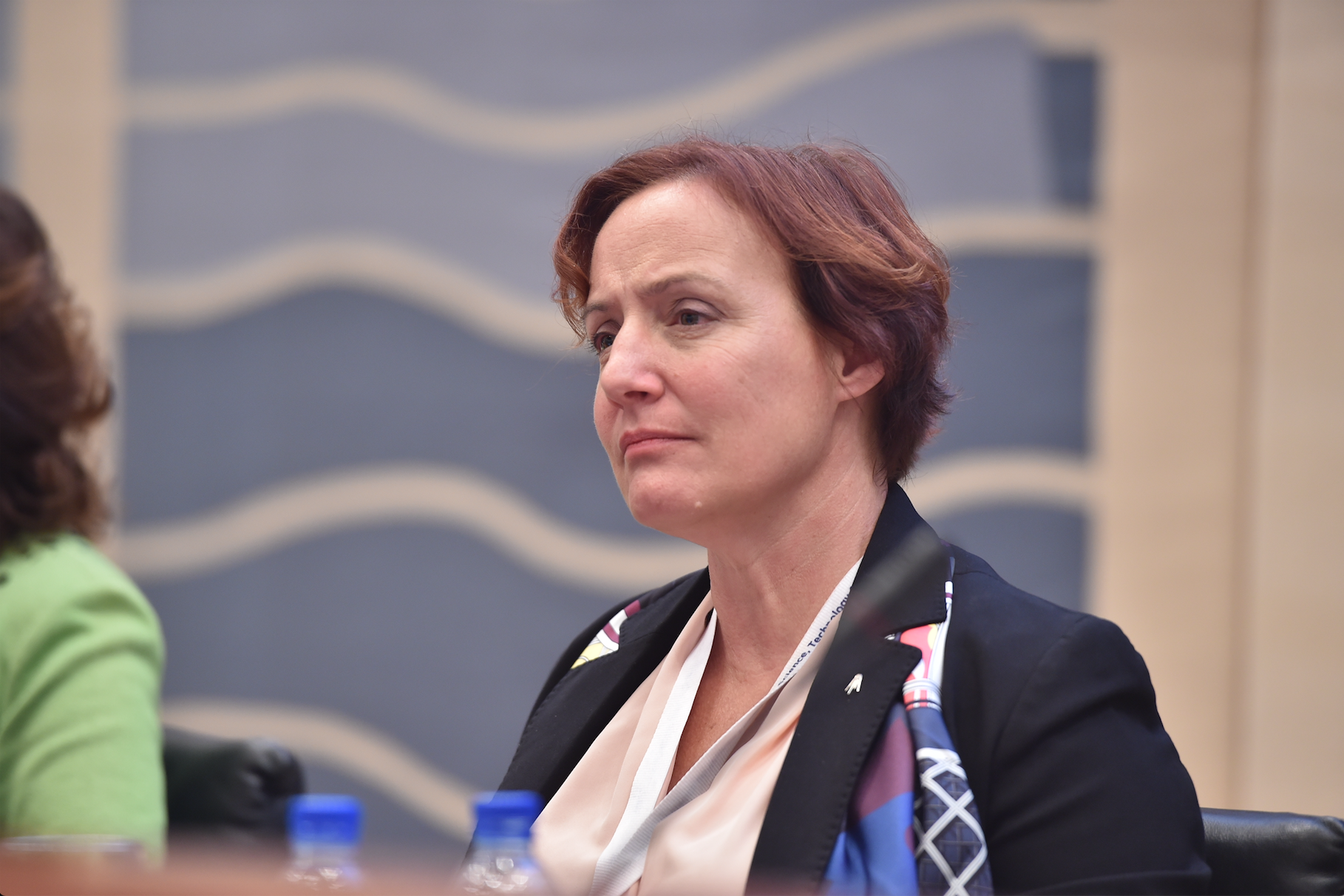 Dr. Kim Binsted, from the University of Hawai'i.
10 year of Women in STEM
For the second time, Kuwait City hosted the International Conference on Women Leaders in Science, Technology and Engineering, so-called 'Women in STEM'. During three days blessed with mild temperatures (circa 30 degrees Celsius) and dry air, various women, mostly senior academics, from all parts of the world discussed and presented to their fellow youngsters how 'science empowers women'.
As key note speaker HRH Princess Sumaya bint El Hassan notes, "Science is by definition, gender neutral. But science knowledge is not." So, throughout this conference, speakers have demonstrated the need to (re)affirm women's role on the advancement of science. And Prof. Faiza Al-Kharafi, President of WLSTE, reminded that the UN has declared the need for greater gender equality, specifically by enabling women equal use of technology.
The Venue
Organized by the Kuwait Foundation for the Advancement of Sciences (KFAS), the venue took place in The Arab Organizations Headquarters Building, or simply Arab Fund. Built in 1994, it is one of the most acclaimed buildings on the outskirts of Kuwait City. Its interiors marvel any visitor: the structural white marble conveys immaculateness, pointed by gigantic works celebrating crafts from the Middle East. The entrance hall is embellished with an enormous panel of Moroccan tiles; the walls are decorated with a mixture of traditional textiles and modern tapestries depicting impossible landscapes; all the space is pointed by delicately wood crafted doors and ceilings. Yet, the contemporary was not neglected: the building's decoration equally pays shows recent works, especially on Arabic calligraphy.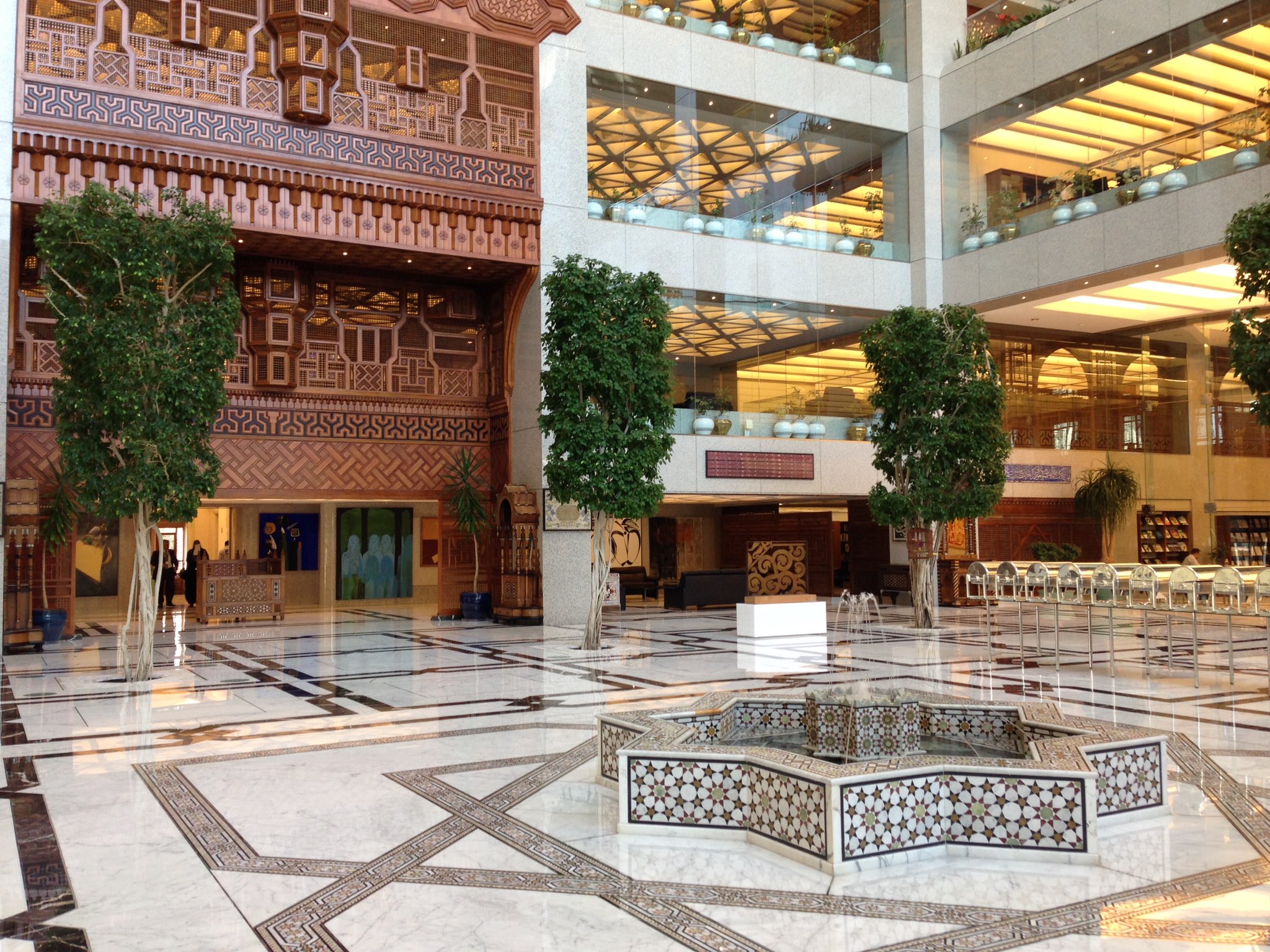 The sumptuous hall of the second floor, where lunch and coffee breaks took place.
Modern, traditional and contemporary artworks animated the whole event.
Women in science
Historically, Prof. Nadia Zachary reminds, "ancient Egyptians preferred to be governed by educated women than ignorant men." And in fact, history shows that women have always been interested in innovation and frequently acted as change-makers. In 1947, Chekz-American Gerty Theresa Cori became the third woman to be awarded a Nobel Prize in science. She was the first woman awarded (jointly with her husband Carl Cori) the Nobel Prize on Physiology or Medicine. Their work was distinguished for discovering the catalytic conversion of glycogen, opening path for further research on diabetes. Among the speakers, the conference counted with the presence of energy and nuclear physicist Rajaa Cherkaoui El Moursli, first Moroccan to win the prestigious L'Oréal-UNESCO award.
During the conference, women were reminded that one of the first obstacles against a career in science resides within the household: parents' unconditional approval and support remains mandatory for women who dare become a scientist. Dr. Samira Obar, Director General of the Kuwait Institute for Scientific Research shared her parents' encouragement towards her desire to pursue with a career in science, revealing: "I was gifted a microscope, it was my favorite present ever."
The story of American Dr. Emily Levesque is inspiring: in 1986, at age two, her brother, who is ten years her senior, had a school assignment. All the family went outdoors to look at Halley's Comet. From that night, she dreamt of becoming an astronomer, and today is a reputed scholar is astrophysics. Like her, Saudi Arabian Dr. Malak Abed always dreamed of being an entrepreneur.
Gender (In)equality in Science
In science, "I often see men treated as individuals, while women are treated as representative of their entire sex", says Dr. Kim Binsted. This inequality of treatment does not find parallel in statistics, that see a constant increase of 'Women in STEM'. In the context of the Arab World, says Dr. Adnan Shihab Eldin from KFAS, Women in STEM represent 37% of the force (against 33% of women in the EU space). But at a post-education phase, Arab women's possibilities diminish. After obtaining a STEM degree, a man is likely employed and will be paid more for his work, whereas women migrate to other fields.
In Mongolia, women and men are given the same opportunities. Science "is very neutral, there is no social pressure," notes Dr. Undraa Agvaanluvsan, who serves as member of the Mongolian parliament. Yet, she points, the "parity disappears" at the level of decision making.
Dr. Undraa Agvaanluvsan, Member of the Parliament of Mongolia, talking about Science and Leadership.
Nevertheless, success stories were abundant: high-achievers such as Arabian Prof. Selwa Al-Hazzaa told, "we have to work ten times harder than men. Anywhere." Her words recall the movie Hidden Figures that revealed the numerous obstacles Black women faced in NASA during the 1960s. Resilient like the characters in the movie, women have succeeded in the face of adversity. So, Al-Hazzaa reminded: "When one of us goes up, take another woman with you."
Another aspect that is important to cultivate is to "celebrate achievements", affirms Dr. Jacqueline Gill, who shared how to identify and cure from suffering from the impostor syndrome, especially for those pursuing an early career in STEM.
Giving Back
Another important aspect in the conference related to returning some of the prosperity that these women enjoyed throughout their lives. After their successes, they felt the need to give back to their communities. Dr. Fawzia Baba Aissa remembers how, after achieving professional stability in the academic field, she used her creativity to help change the Algerian Family Code. She created a song explaining the law in traditional dialects and targeted small communities. Thirty popular female artists performed the song in the whole country, creating a popular counter movement. The law was abolished in 2011.
Dr. Rana Dajari decided that the pleasure of reading should be celebrated. Through the project We Love Reading, a Library in Every Neighbourhood, she has created a worldwide network of volunteers that read books to children, refugees and thus create stronger bonds with their communities. The project has received several awards, including UNESCO's King Sejong Literacy Prize in 2014. Dajari recognizes that as a scientist, one owns a set of tools that may lead to success in unexpected fields. So, why not use them?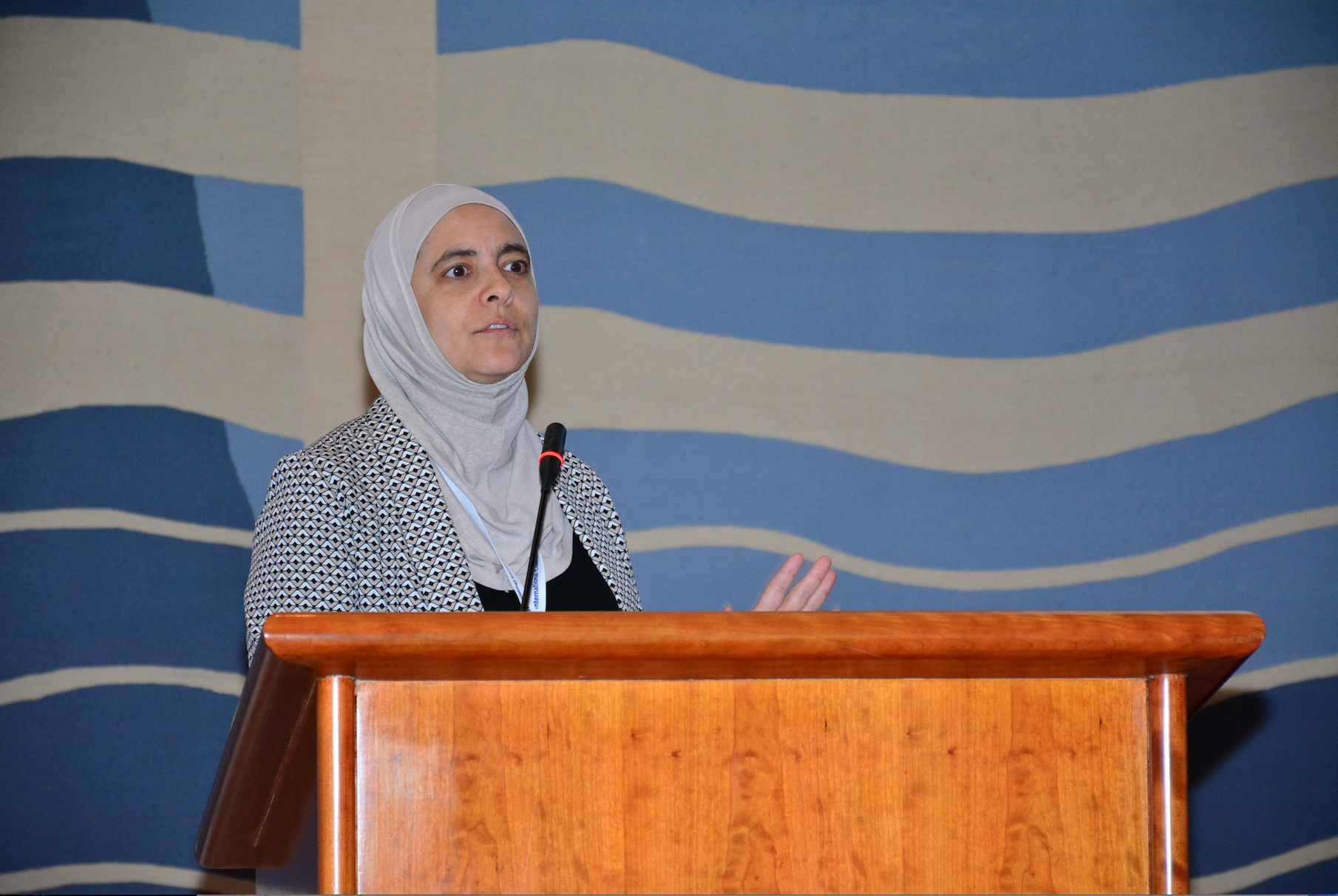 Raja Dajari, presenting the We Love Reading project.
What Next?
As Dr. Levesque mentioned, "It would be great if we celebrate scientists the same way we celebrate athletes." And that means no longer ignoring 50% of the world's population. As HRH Princess Sumaya bint El Hassan summed up: "I wholeheartedly agree that science empowers women, but I believe that women empower science."
From left to right. The higher organizing committee: Eng. Haifa AlMudhaf, Dr. Ameenah Farhan, Prof. Faiza Al Kharafi, Celeste Rohlfing (AAAS), Dr. Layla Al Musawi
The higher organizing committee and the KFAS must equally be celebrated for their capacity to assemble a meeting with so many interesting women, a set of interesting panels, a much-appreciated Kuwaiti hospitability and a very generous treatment of its guests. We wait for 2027.
© Leonor Veiga and Leiden Arts in Society Blog, 2017. Unauthorised use and/or duplication of this material without express and written permission from this site's author and/or owner is strictly prohibited. Excerpts and links may be used, provided that full and clear credit is given to Leonor Veiga and Leiden Arts in Society Blog with appropriate and specific direction to the original content.