A taste of the Early Modern period. Cooking and eating sixteenth and seventeenth century recipes.
What happens when Early Modernists get together for drinks and snacks? Modern beverages and food just won't do…
Image: Sophia Hendrikx. From left to right: escabeche, vin Angelique, and Lebkuchen
As any historian, Early Modernist or otherwise, will tell you, it is simply impossible to truly experience the past. And yet… some of us feel the urge to get as close to an authentic experience as possible. There are many things that make us feel closer to the past we are studying, touching a book or a piece of clothing (preferably well worn!) from the period, walking through period houses, collecting Early Modern crockery, or even (as one of us was once lucky enough to do) holding a Medieval sword … Cooking historical recipes is another one such activity, as is tasting the results. For that reason we decided to cater the January get together of the Leiden Early Modernists (click to sign up for the mailing list) following Early Modern recipes.
Below we include the recipes for 'angelic wine' (Francois Pierre de la Varenne, France, 1664), gingerbread (Sabina Welserin, Augsburg, mid- 16th century), and escabeche (Netherlands, late 16th century). While in particular rolling dough for several hours and drinking a very tasty wine afterwards contributed to a pleasant illusion of a near-authentic experience, honesty requires us to say that in order to cater to modern tastes, avoid allergies, and save endangered animals, the recipes have been adapted. More details below, and do try this at home.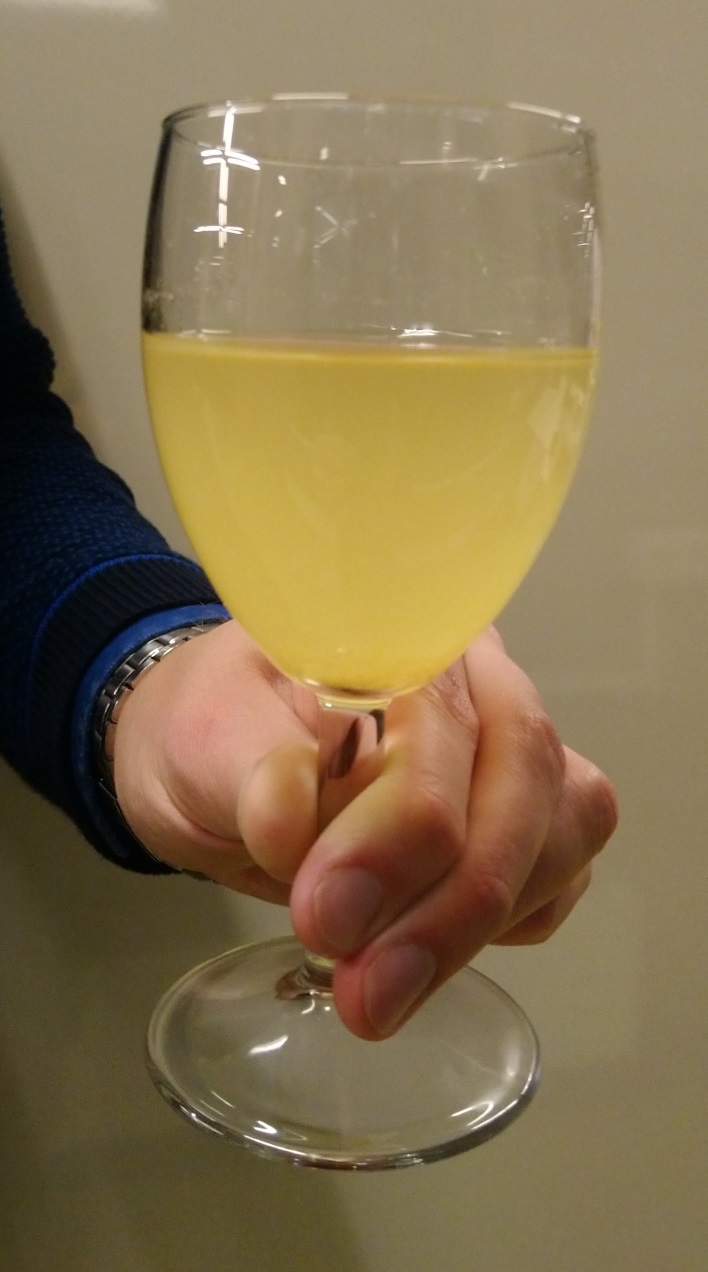 Image : Sophia Hendrikx (hand belongs to Tim Vergeer). Vin Angelique.
Vin Angelique
Le confiturier françois, François Pierre de la Varenne, 1664
Adapted by Sophia Hendrikx
Half a litre of white wine
A generous dash of ground anise (to taste)
Pinch of ground coriander (to taste)
Peel of one lemon
One (peeled) lemon in slices
One apple in slices
Sugar (to taste)
Orange blossom (to taste)
Mix well, then leave for half an hour, then pour through a sieve.
The original recipe contains a number of ingredients that we omitted: musk (musk deer are now as good as extinct), ambergris (still available but not within our budget and we do not endorse whale hunting) and oak moss (known to cause allergic reactions). These are all ingredients commonly used in perfumes and no doubt served to provide an angelic scent. Even without them though, the angelic taste remains.
Image: Sophia Hendrikx. Lebkuchen.
Lebkuchen (gingerbread)
Sabina Welserin, mid- 16th century
Adapted by Sophia Hendrikx
Mix 800 grams of rye flour and 800 grams of fine white flour (we recommend using 'Zeeuwse bloem') and add to this:
77 grams of ground cinnamon
46 grams of ground cloves
61 grams of ground cardamom
Ginger to taste
Boil about 0.35 litres of clear honey with about 490 grams of sugar and add this to the flour and spices. Knead it, then leave (covered and refrigerated) for at least a day.
Using a rolling pin, roll out the dough to about 0.5 cm or thinner (this is heavy, time consuming work, so allow several hours for this and allow yourself to skip the gym afterwards). Use a sharp cutter or knife.
Place your cookies on baking paper on a baking tray and bake for 8 minutes on 210-degrees Celsius.
The original does not specify which type of flour to use. The combination of rye flour and 'Zeeuwse bloem' results in firm and dark gingerbread, which is not too chewy.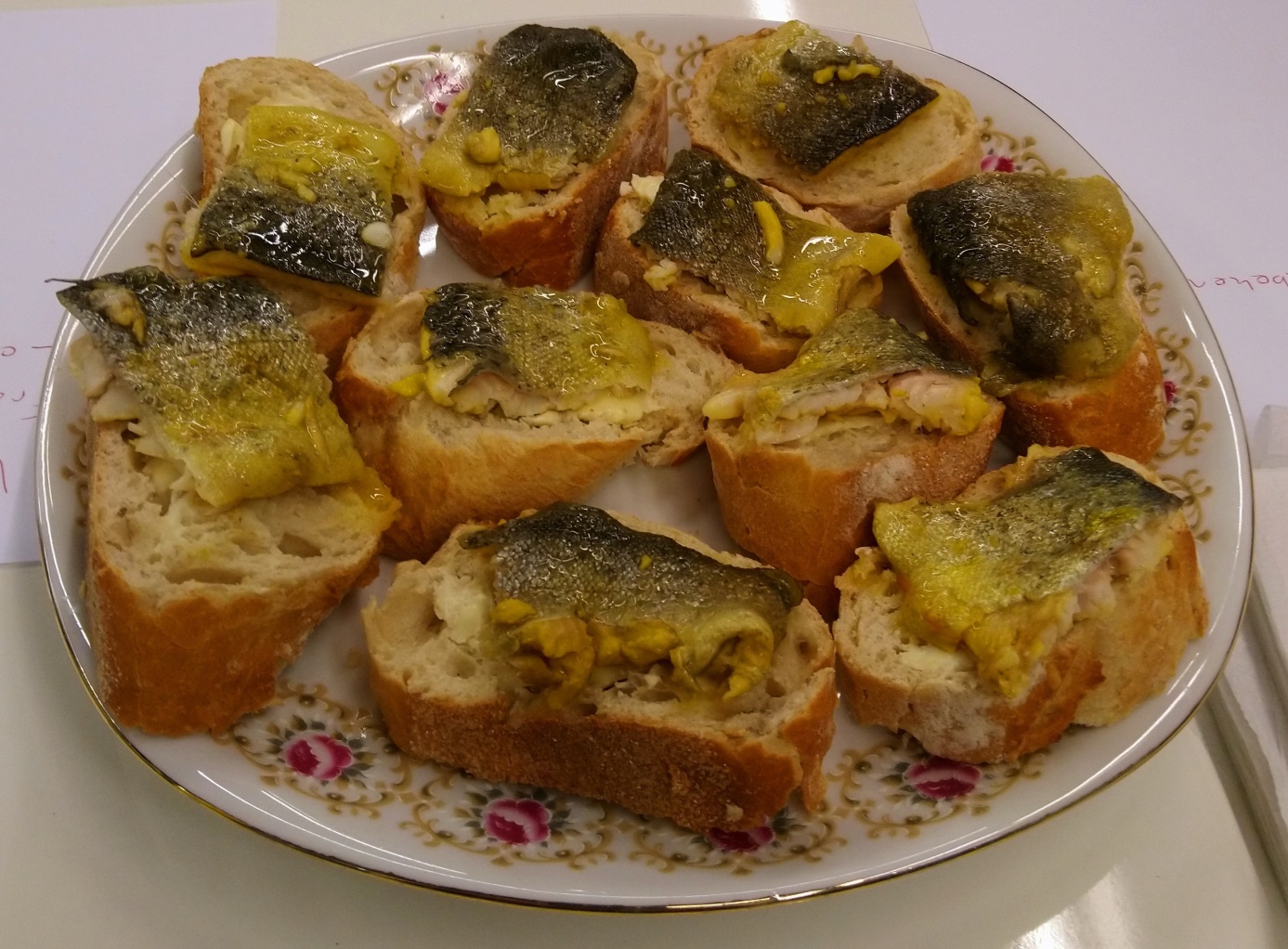 Image: Sophia Hendrikx. Escabeche
Escabeche
From an anonymous Dutch, late sixteenth century cook book
Adapted by Onno and Charlotte Kleyn (Volkskrant 16/12/2017)
Mix 500 ml of white wine with three tablespoons of red wine vinegar in a saucepan and bring to the boil. Stir in 2.8 grams of saffron, two cloves, a teaspoon of ground ginger, and five grams of salt, then simmer for 5 minutes. Put in a sliced lemon and allow to cool.
Remove any remaining bones from six fresh trout fillets. Heat 5 tablespoons of olive oil and fry the fish, one minute on the skin, then less than 1 minute on the other side. Carefully remove from the pan and place in a dish. Pour in the hot marinade—it should cover the fish—and spread the lemon slices on top. Leave to marinade in the refrigerator for at least a few hours.