The Rooster & the Pearl: A Little Aesopic Odyssey
Fables are very old and flexible. This is substantiated by a juxtaposition of several versions of the fable of The Rooster and the Pearl, which may be called a "metafable", since it is a fable about fables.
Illustration of the fable of the rooster and the pearl from an 1894 Japanese edition of La Fontaine's fables (source)
Fables are among the oldest genres in world literature. In fact, they are as old as Mesopotamia (Sumer, early 2nd millennium BC). We may distinguish two ways in which fables are used: either separately in other literary genres or grouped together in fable collections. The latter kind of vehicle, i.e. fable collections, has a long history, which continues until the present day. Such collections originally served as a repertory of fables to be inserted in other contexts. These collections were originally written in plain prose, to be adorned and elaborated by anyone who wanted to apply them to some specific end or goal in a more literary style. The first of these prose fable collections were in alphabetical order, to facilitate their use. A kind of general "moral" was prefixed to each fable for the same purpose (for heuristic reasons). Later fable collections had a more independent literary function, to be appreciated in their own right. The first of such literary collections, by Phaedrus in Latin (1st c. AD) and by Babrius in Greek (2nd c. AD?), were in verse.
When a fable collection is intended to be read consecutively as a book, the author may give particular emphasis on the opening fable of his or her collection, which is to say that he or she may use the first fable as a kind of referential statement about the collection as a whole. We may call such opening fables "meta-fables": they are fables about fables, serving as a kind of reference on how to read or interpret the entire collection.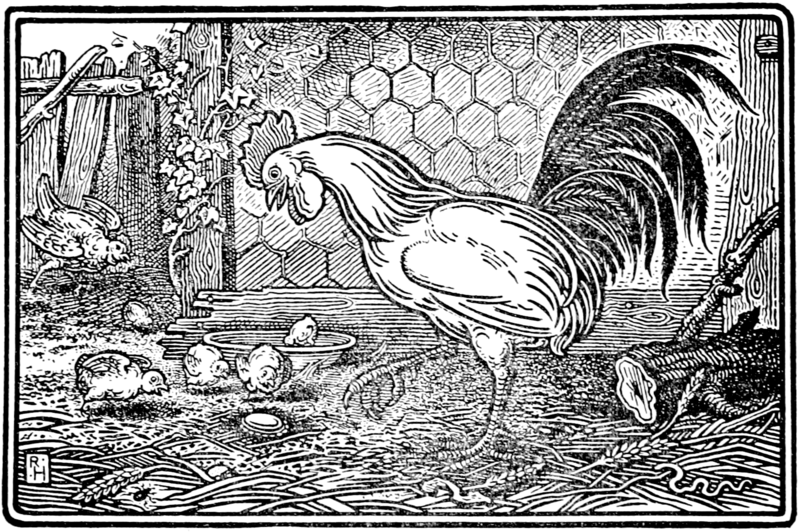 Illustration of the rooster and the pearl from a 1922 edition of The Fables of Aesop (source)
In this blog post (the first I ever wrote) I will focus on the use of one such metafable in some fable collections from different languages, times, and cultures. This fable, which is called the Rooster and the Pearl, is the most typical of all metafables. It occupies a key position in many different fable collections, from antiquity to modern times, written in many classical and modern languages, from German (Ulrich Boner, Der Edelstein [nomen est omen], c. 1280) and French (Gilles Corrozet, Les Fables du tresancien Esope 1542) to Portuguese and Spanish, both in verse and in prose, without or with illustrations (Der Stricker, Tierbispel, s. XIII; John Ogilby, The Fables of Aesop Paraphras'd in Verse: Adorn'd with Sculpture 1668; ), either lengthy or succinct – by John Lydgate (c. 1370-1450; Isopes Fabules) and Martin Luther, (1483-1546, Etliche Fabeln aus Esopo) respectively, exempli gratia).
The rooster and the pearl in John Ogilby's The fables of Aesop paraphras'd in verse: adorn'd with sculpture, and illustrated with annotations, 1668 (source)
The fable is about a rooster that finds a pearl on a dung hill. The rooster remarks that the pearl is of no use for him; he would rather prefer a grain of corn. The fabulists who put this metafable at the front of their collection explicitly or implicitly compare the rooster to those readers of their collection who do not recognize the value of their fables; of course the ideal and intended reader is supposed – unlike the rooster – to appreciate the "pearls" contained in the collection.
The rooster and the pearl, design: Randolph Caldecott, engraving: J.D. Cooper, 1883 (source)
Some of these wonderful fable collections I had to consult in the Leiden Library or the Internet. Other ones I am glad to have been able to buy (rather cheap or more expensive). For example, the most recent version (up to my knowledge) is in the charming little fable collection by Antonio García Muñoz (1957), which I bought in Madrid during one of my pleasant and happy stays at the Consejo Superior de Investigaciones Científicas when cooperating with the great Spanish fable scholar Francisco Rodríguez Adrados.
Aesopic Steinhowel illustration (ca. 1500) from a hand-colored edition at the University of Munich (source)
Let us begin by referring to the medieval Latin version by the monk Ademar (c. 1000 AD). His collection is preserved in the Leiden University Library (Leidensis Vossianus 8o 15). The best scientific edition is included in the magnificent series of Favolisti Latini Medievali ed Umanistici from the Università di Genova, established by the eminent Italian scholar Ferruccio Bertini. Ademar's version is concluded by an epimythium ("moral" after the fable). In another Latin version, from the so-called Romulus collection (recensio gallicana; ed. Georg Thiele, Heidelberg: Winter 1910 [repr. Hildesheim / Zürich / New York: Olms 1985]), the fable is equipped with both a promythium ("moral" before the fable) and an epimythium. Interestingly enough, Aesop, the legendary fabulist, is said to be the fable's narrator.
Samuell Croxall, The Fables of Aesop and Others, 1722 (source)
There are two roughly contemporaneous versions of our metafable (c. 1200 AD), both in rhyming verses – a post-classical device – one by Marie de France, the other in the anonymous Esopet in Medieval Dutch. Marie explicitly states that the fable is directed to both men and women.
FR EN
cume del cok e de la gemme; What for the rooster and gem is true
veu l'avums de humme e de femme; We've seen with men and women too
(ed. Charles Brucker, Louvain: Peeters 1991; transl. by Harriet Spiegel, Toronto UP 1994)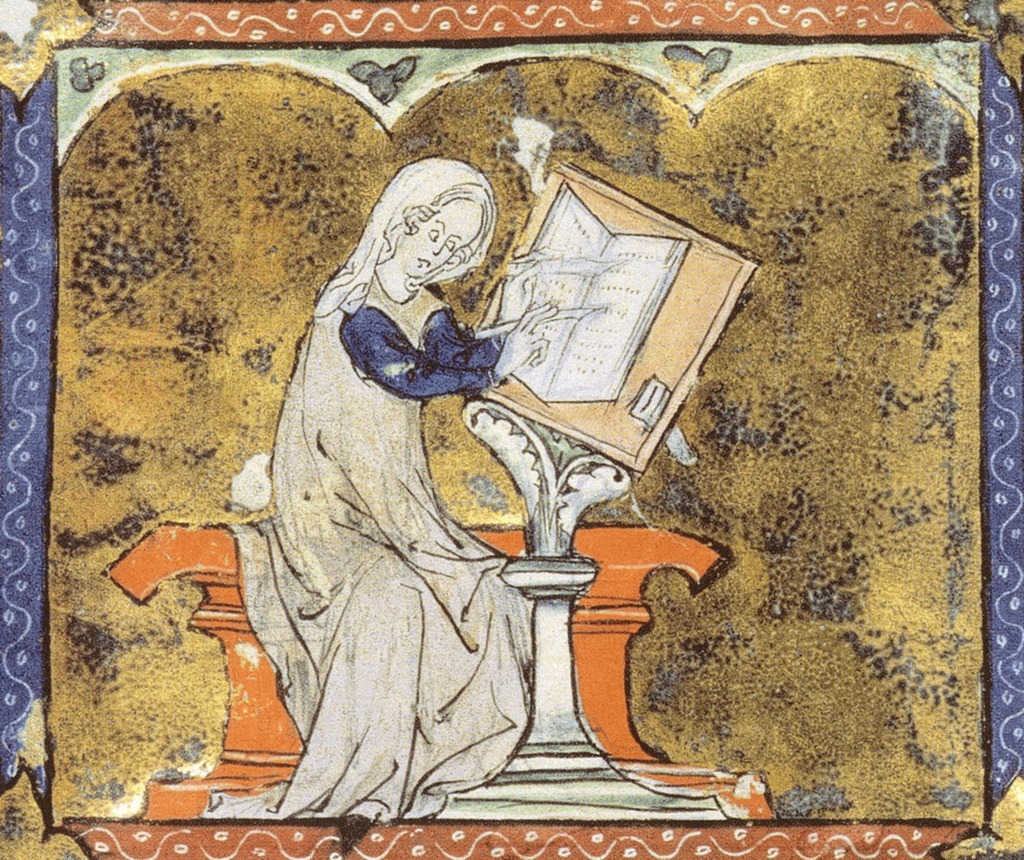 Marie de France, from an illuminated manuscript now in the Bibliothèque nationale de France: BnF, Arsenal Library, Ms. 3142 fol. 256 (source)
I would like to conclude this brief blog with a modern Dutch version of our metafable by Jan Post (1946), which, interestingly enough, simultaneously contains variations on three fables: first, the rooster in the fable does not find a pearl but a worm; second, the worm begs not to be eaten since he is so small, just like a tiny little Fish (!) in another classical fable; and third, the rooster is killed by a man, just like the bird-catcher by a snake elsewhere.
This poet may not be very well-known, but his original play with three fables at the same time testifies to the flexibility of the genre, which has contributed to its astounding vivacity throughout almost four millennia, from Sumer to the modern world.
The Rooster and the pearl (source)
Kindly benefiting from comments by my fellow blogsters Lieke, Sophia, Anna, and Lisanne, dedicated to my erudite and helpful research supervisor Prof. dr. Paul J. Smith.
Further Reading (highly recommended):
Speckenbach, K., "Die Fabel von der Fabel. Zur Überlieferungsgeschichte der Fabel von Hahn und Perle", Frühmittelalterliche Studien 12, 1978, 178-229.
© Gert-Jan van Dijk and Leiden Arts in Society Blog, 2016. Unauthorised use and/or duplication of this material without express and written permission from this site's author and/or owner is strictly prohibited. Excerpts and links may be used, provided that full and clear credit is given to Gert-Jan van Dijk and Leiden Arts in Society Blog with appropriate and specific direction to the original content.