Interview Helena Spanjaard: "Indonesian modern art should be studied by art historians"
For the first post on the field of Indonesian art in the Netherlands, the LUCAS member Leonor Veiga interviewed the renowned Dutch art historian Helena Spanjaard, who recently launched a new book.
In the next two posts I will write about the renowned Helena Spanjaard (b. 1951), the first Dutch art historian focusing on modern and contemporary art from Indonesia. Helena Spanjaard defended her PhD Dissertation "The Ideal of Indonesian Painting: the creation of a national cultural identity, 1900-1995" in 1998 at Leiden University (more on this subject on the second post); authored several books such as Modern Indonesian Painting (Sotheby's, 2003), Exploring Indonesian Painting, the collection of Dr. Oei Hong Djien (SNP Editions, 2004) and Indonesian Odyssey (Equinox, 2008); and curated several exhibitions of Indonesian art in the Netherlands and abroad.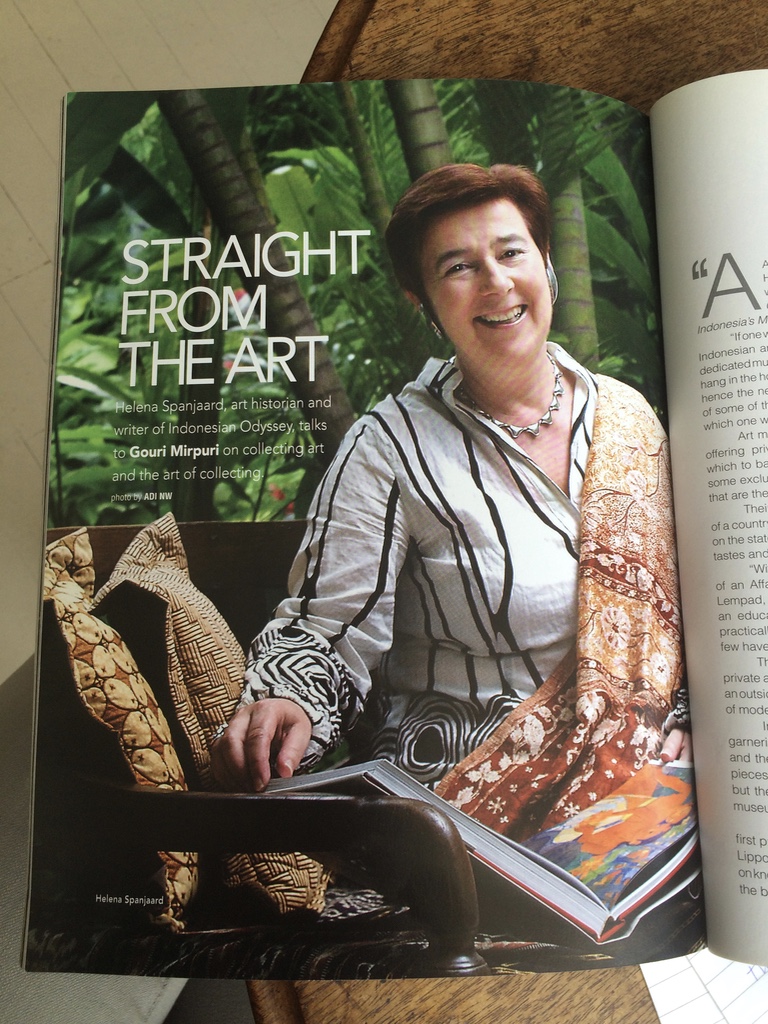 Helena Spanjaard was covered by international magazines about her work

Helena and I talked in her house in June 9th, after I learned she would publish a new book Artists and their Inspiration: a guide through Indonesian Art History (1930-2015). On June 17th, I went to the book launch at Arti et Amicitiate, the oldest Dutch artist's society, founded in 1839, in the centre of Amsterdam.
The ARTI et AMICITIAE Association, in Rokin, central Amsterdam

Interestingly, the questions I had prepared were, according to the author, all addressed in this book. So, Helena spoke freely to me. I will divide this story in two episodes: this post relates to the recent book, and the questions it addresses, while the next post will refer to Helena Spanjaard's own trajectory as a researcher in Leiden, in the Netherlands and in Indonesia. Like me (I started in September 2012), in her time, Helena was totally alone, doing research in a country with a long history of relations with Indonesia but where discourses of (modern) art history from Indonesia were non-existent. While the situation remains almost the same, her reflections on the origins of this problem are extremely pertinent.
LV. What does this new book, Artists and their Inspiration, bring new to the field of Indonesian art history?
HS. This is a good book for students; it is a comprehensive overview of Indonesian art in which I frame the intersections of art history – both modern and contemporary – in a new way. The overall research question is "How did the relationship between Western imported realism and Oriental symbolic art develop?" (p.12).
The newly released book

It is sometimes difficult to address words like 'tradition'. In this book, I stress the colonial relationship between the Netherlands and Indonesia. My best friend Jim Supangkat [an Indonesian art historian and curator] states that everything produced in Indonesia is Indonesian, thus he would probably not like my focus on a "Western imported realism". I remain careful with my affirmations, as my work resides between two cultures.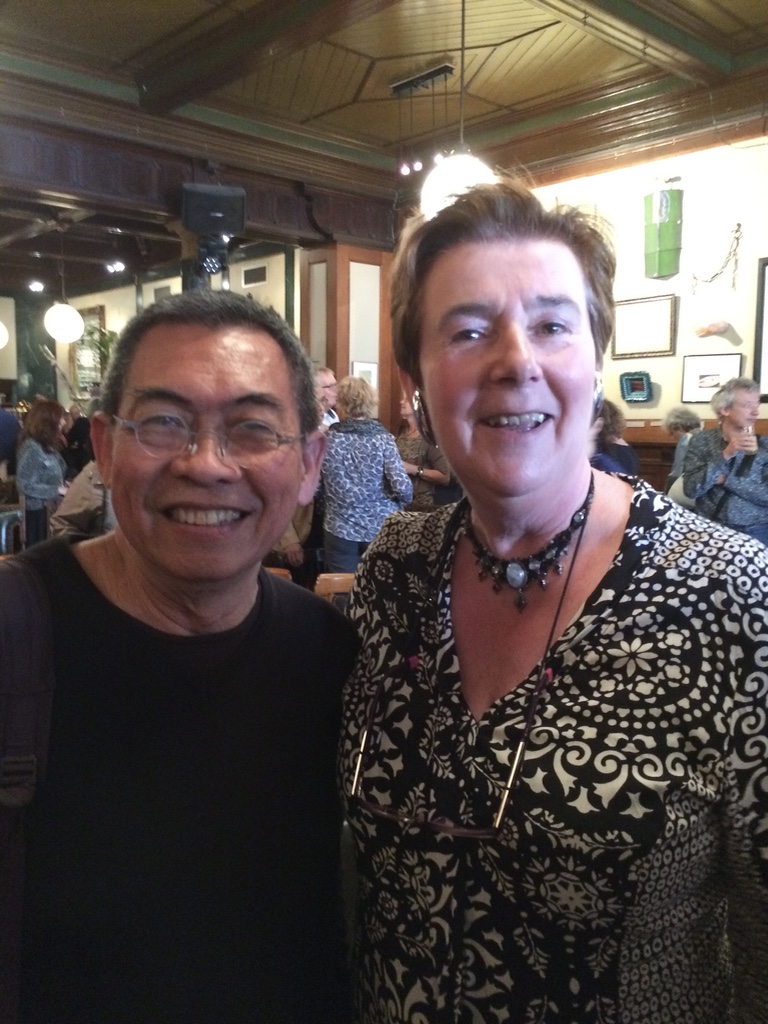 Helena Spanjaard and Indonesian artist FX Harsono at ARTI, on June 17 2016

One important aspect to remember is that oil painting came to Indonesia through the Dutch. During the colonial times, the curriculum of the few art schools – the emphasis has to be put in the ITB, the oldest art school of the country – was completely Dutch. Before the existence of art schools in the 1950s landscape painting was already an important genre that started in the 19th century. So, in this book, I propose that you can't talk about a modern art in Indonesia if you don't research colonial history. I want to prove this relation.
LV. How did this project start?
HS. I published work about the collections of some Indonesians [Exploring Indonesian Painting, the collection of Dr. Oei Hong Djien (SNP Editions, 2004) and Indonesian Odyssey (Equinox, 2008)]. I have been gentle to the people who pay me to write, but in this case I could follow a more academic, educative approach. In fact, I was not used to this freedom: this book is 100% Dutch funded. I am very happy that I finally had this possibility, as throughout my career, I had grants rejected in the Netherlands. I know the reason behind this rejection related to the total absence of Dutch art historians in the field of modern Indonesian art. The real problem is there are still not enough people working on these matters. I think that anyone writing [about Indonesian art] would do valuable work.
LV. On your book Modern Indonesian Painting and on chapter III of this book, "Modernity and Tradition: the development of new art concepts (1965-1995)", you propose an attitude 'back to the roots' by Indonesian artists. Can you say a bit more about this attitude?
HS. This is visible in the work of artists that went abroad, that studied in Europe, USA and Japan since the 1960s. In the colonial times, only the Indonesian elite had access to Dutch education. The Dutch schools were elite schools, where Dutch was spoken. For a lucky few, attending these schools meant the possibility of studying abroad, sometimes in the Netherlands.
In the 1960s, A.D. Pirous, a Bandung-based artist and professor in the Bandung academy, went to the United States to study at the Rochester Institute of Technology (1969-70). There, he specialised in graphic techniques. Upon his return to Bandung, he started merging European/Western visual vocabulary with local traditions.
AD Pirous (b. 1933) in his show in Kuala Lumpur in 2015

In my view, the Indonesians needed a generation to become equal to the colonizer and after rejected their influence again. Through the rejection, the styles become more and more international, while content becomes rooted, grounded in tradition. Artists that made renewals were those that studied abroad.
The book also has a chapter [chapter V] dedicated to Balinese art. When I say to people I write about Indonesian modern and contemporary art they respond "Oh, Rudolf Bonnet and Hofker" or "Oh ya, Balinese local art from Ubud". So, in this book, I propose five categories within Balinese contemporary art.
LV. Do you still follow an art historical approach?
HS. Yes. Despite my background that also included art and archaeology of South and Southeast Asia, I have grounded my research on colonial history, a circumstance that relates to my Dutch origin. My anthropological insights started from the contact with objects in their local context. There, they don't look like inside the Dutch museums: statues are decorated with flowers, milk, etc. It intrigued me to see such discrepancy.
Helena Spanjaard signing books at ARTI, June 17 2016
But essentially Indonesian modern art should be studied by art historians, both nationally and internationally.

More on the academic panorama, from Helena's time to this day, will follow in the next post.
© Leonor Veiga and Leiden Arts in Society Blog, 2016. Unauthorised use and/or duplication of this material without express and written permission from this site's author and/or owner is strictly prohibited. Excerpts and links may be used, provided that full and clear credit is given to Leonor Veiga and Leiden Arts in Society Blog with appropriate and specific direction to the original content.